College Men
Men's preview: West Coast Conference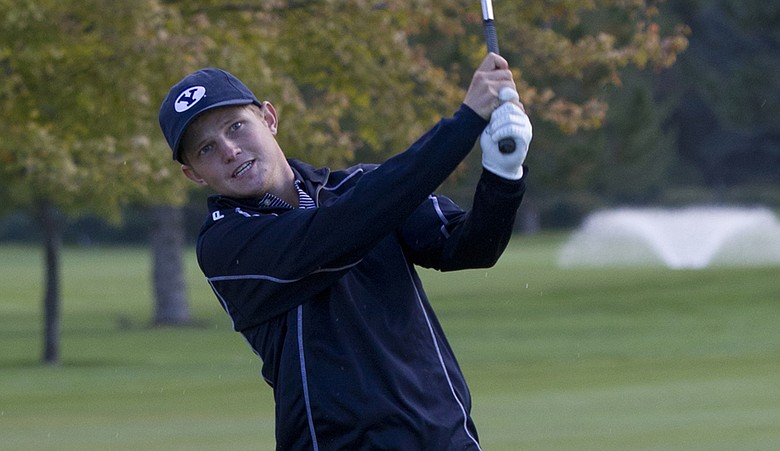 Thursday, February 16, 2012
A lot of players learn how to play golf from their parents. In that case, Zac Blair, a junior at BYU, lucked out.
Blair's father, Jimmy, was an All-American at BYU and is a former Utah Open champion. He's now one of the top players in the Utah PGA section.
"He has a great feel for the game of golf and he knows Zac's swing like the back of his hand," said BYU coach Bruce Brockbank. "He has taught Zac all he knows about the game."
After the past year, Jimmy is looking like a pretty good teacher. Zac had a win and a fifth-place finish this fall for the Cougars, in addition to having a strong summer that saw him win the Pacific Northwest Amateur and finish second at the Sunnehanna and the Sahalee Players.
"One of the reasons he had a good fall was because he spent 10 weeks on the road last summer playing amateur events," Brockbank said. "That really helped his confidence as he found success in some of the top tournaments."
Brockbank credits Blair's short game for his success this year, as well as his work ethic and consistency.
"I think he can chip and putt the ball as good as anyone I've seen play at the college level," he said.
Blair's accomplishments have also been impressive at the state level, where he's won five consecutive Utah amateur events. Blair is a three-time Utah Golf Association Player of the Year.
"Not sure that anyone has ever done that (win five in a row)," Brockbank said. "I'm just amazed at what he continues to accomplish."
So what does Brockbank expect to see this spring?
"My expectations for him? Well, shoot 65 every round to help his team!"
• • •
2007: Pepperdine
2008: San Diego
2009: San Francisco
2010: Pepperdine
2011: San Francisco
• • •
Conference capsules
St. Mary's (Golfweek/Sagarin Ranking: No. 43)

It was a great fall for the Gaels, who had two wins and two third-place finishes. St. Mary's was co-champions of the Fighting Irish Gridiron Classic and the Firestone Invitational, where Mac McClung collected a four-shot individual win.

San Francisco (No. 48)

There was one 10th-place finish, at the Fighting Irish Gridiron Golf Classic, but consistency was generally the key for the Dons this fall. San Francisco finished fourth, fifth and fourth in their other three events, including a program-low 16-under 268 in the opening round of the Alister MacKenzie.

San Diego (No. 75)

Led by Linus Vaisanen, San Diego won the Kauai Collegiate Invite, their last tournament of the fall. The win was the first under head coach Cory Scoggin, who was promoted from assistant coach after Tim Mickelson left. Other than that victory, the Torreros highest finish was a fourth-place showing at the Colorado Invite.

BYU (No. 83)

The best finish of the fall was a pair of sixth-place showings for the Cougars. Zac Blair was the bright spot, winning the season-opening William H. Tucker Intercollegiate and finishing fifth at the Pacific Invitational.

Loyola Marymount (No. 87)

It was a very consistent fall for the Lions, who finished fifth, sixth, third, fourth and seventh in their five events. They'll still be chasing their first victory this spring, however.

Pepperdine (No. 93)

After an excellent 2010-11 season, the Waves have dropped off this fall a bit, finishing fourth of six at the Husky Invite and 15th of 16 at the Prestige at PGA West to start the season.

Santa Clara (No. 185)

A sixth-place finish at the Kikkor Golf Husky Invitational was the highlight of the fall for Santa Clara, but the Broncos didn't finish better than eighth in their three other starts.

Gonzaga (No. 186)

Gonzaga finished fifth at the Kikkor Husky Invitational in September, but other than that, the Zags weren't able to finish better than 10th in their other three tournaments.

Conference championship

April 16-17, San Juan Oaks, Hollister, Calif.

Lance Ringler's prediction

San Diego.Often the top team does not win the WCC Championship. St. Mary's, San Franciso and San Diego will most likely seperate themselves from the pack once late spring gets here. Led by senior Alex Ching, I am going with the mild upset and San Diego to come out on top.
• • •
Complete coverage
Wondering how your favorite conference is shaping up headed into the spring season? Who is our favorite to pick up the automatic qualifier? Check out our conference-by-conference break down with our complete coverage page here.
• • •
Going social with Golfweek
Want to follow our college gurus on Twitter? Here are some quick links:
• You can follow blogger Asher Wildman here
• You can find Lance Ringler's college Twitter feed here
• Check out Ryan Lavner's witty commentary here
• For the latest on golf in social media, as well as college and junior news, check out D.J. Piehowski on Twitter here.
• And follow all of college golf on Facebook by clicking here
Golfweek.com readers: We value your input and welcome your comments, but please be respectful in this forum.
---
---
---
---
---
---
---
---
---
---
---
---
---
---
---
---
---
---
---
---
---