College Women
Women's preview: WAC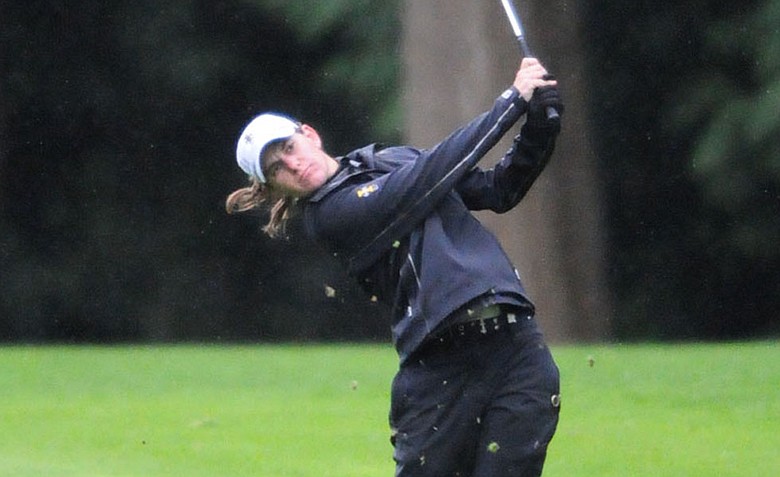 Friday, February 24, 2012
Kayla Mortellaro is the rare southerner who went north to play college golf. It was a calculated move on the Idaho senior's part, like just about everything she does when it comes to golf.
Idaho head coach Lisa Johnson explains that when Mortellaro, of Phoenix, visited Idaho while in high school, she realized it was "just something different."
"She felt that it was important for her to learn to play in the cold weather if she was going to make a run at being a strong professional golfer," Johnson explains. Mortellaro also gets along swimmingly with the staff sports psychologist, and it's when you add all these things together that you begin to see Idaho the way Mortellaro did four years ago: as the perfect choice.
What Mortellaro is taking from the school in terms of experience she is giving back tenfold. In fact, she has effectively put Idaho on the map. In three and a half years as a Vandal, Mortellaro has won or tied for first eight times, and has finished in the top 10 in 75 percent of her starts. But what really speaks to her consistency and strong mental game – the latter a characteristic that Johnson says sets her apart from other players – is that she has only finished outside the top 25 on the leaderboard one time in 36 career collegiate starts.
Johnson calls her the kind of player a cold weather school might hope to get only once in a blue moon, and she'll change this program for the better.
"She's the most successful player that I've ever coached. In the record books, she is the best player to ever play at Idaho," Johnson said. "She's won the most tournaments of any individual player, she finished the year with the best rankings, the list goes on and on."
If Mortellaro is forward-thinking, then so is her coach. It's how she's managed to build a schedule that includes both run-ins with conference opponents as well as tournaments loaded with top 20 teams. It's important when you have a player like Mortellaro on your roster.
"It's nice to play in some fields where you're one of the better ranked teams, an then it's nice to play against some challenging teams," Johnson said.
• • •
Top of the class: Idaho
Best player in the fall: Kayla Mortellaro, Idaho
• • •
Past champions
2007: Idaho
2008: Fresno State
2009: San Jose State
2010: San Jose State
2011: San Jose State
• • •
Conference capsules
Idaho (Golfweek/Sagarin Ranking: No. 58)

Senior Kayla Mortellaro plays a huge role in this team's success. Idaho is the dominant power in the WAC, and plays a tough schedule heavy in Pac-12 competition. A good way to keep getting better.

San Jose State (No. 74)

Slow start to a tough schedule; ended the fall with a fifth at the Rainbow Wahine. Senior Madeleine Ziegert adds a lot of spark to this team.

Fresno State (No. 81)

Two runner-up finishes in the middle of the fall. Schedule gets harder in the spring, and the Pacific Coast Intercollegiate will be a good pre-conference warm-up.

Nevada (No. 110)

Team scores improved as the fall season went on even if tournament finishes don't reflect it. Headed in the right direction for spring.

New Mexico State (No. 111)

Assembled a tough field of 14 for its own Price's Give 'Em Five Intercollegiate and finished seventh there for its top finish of the fall. A long roster with a lot of experience.

Hawaii (No. 175)

Fall left room for improvement as Hawaii generally found the bottom half of the leaderboard. The team starts the spring with tournaments hosted by Stanford and San Jose State, and plaing well there would be an opportunity to right the ship.

Conference championship

April 23-25, Longbow GC, Mesa, Ariz.

Lance Ringler's prediction

Idaho. San Jose State has had a good run the last few years and will push the Vandals this spring, but Idaho, led by senior All-American Kayla Mortellaro should lead the Vandals to the WAC winner's circle.
• • •
Complete coverage
Wondering how your favorite conference is shaping up headed into the spring season? Who is our favorite to pick up the automatic qualifier? Check out our conference-by-conference break down with our complete coverage page here.
• • •
Going social with Golfweek
Want to follow our college gurus on Twitter? Here are some quick links:
• You can follow blogger Asher Wildman here
• You can find Lance Ringler's college Twitter feed here
• Follow women's college golf with Julie Williams here
• And follow all of college golf on Facebook by clicking here
Golfweek.com readers: We value your input and welcome your comments, but please be respectful in this forum.
---
---
---
---
---
---
---
---
---
---
---
---
---
---
---
---
---
---
---
---
---