College Women
Women's preview: Big 12 Conference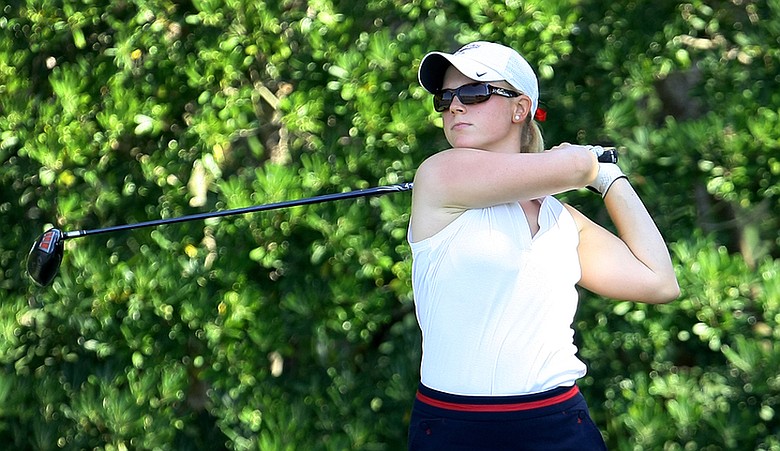 Saturday, January 14, 2012
Martha Richards has been waiting for a season like this. Since coming to Texas from Vanderbilt five years ago, she knew there would come a time when all the pieces would click. What resulted is a Texas squad that Richards calls her best yet.
"I do think that this is my strongest team mostly because we're older," Richards said. "We're a similar makeup to last year's team mostly because we didn't graduate anybody."
The results certainly back up Richards' claim. Texas won twice in the fall, and claims Golfweek's highest-ranked individual in senior Nicole Vandermade. Reigning Big 12 individual champion Madison Pressel completes the Longhorns' two-headed monster.
"They're both very talented, very competitive, but they're also very different so they both bring really nice things to our team," Richards said.
In the past, Haley Stephens had been a model of consistency for Texas, but struggled with her game in the fall. Add junior Desiree Dubreuil, who Richards calls "a shot in the arm" for Texas and freshman Bertine Strauss, who missed the final event because of pneumonia, and Texas looks extremely deep.
Not only is Texas stronger, but those around the Longhorns are, too. The Big 12, which sent only one team to the NCAA Championship in 2011 (Texas A&M) claims six teams in the top 30 in Golfweek's rankings. Texas checks in at No. 10.
Richards noted that there are a lot of those teams Texas has yet to see. Still, it's something to think about as Texas prepares to defend its Big 12 title.
"I feel good about where our conference is, I feel like we're kind of back on the rise," Richards said. "We're showing that we can be a really good golf conference."
• • •
Top of the class: Oklahoma State
Best player this fall: Nicole Vandermade, Texas
• • •
Past champions
2007: Texas A&M
2008: Oklahoma State
2009: Oklahoma State
2010: Texas A&M
2011: Texas
• • •
Conference capsules
Oklahoma State (Golfweek/Sagarin Ranking: No. 8)

Turned heads by starting the season with back-to-back wins under new head coach Alan Bratton. Worth noting: the Cowgirls ended the fall ranked higher than the Oklahoma State men (No. 23).

Texas (No. 10)

Opened and closed the fall with team wins in Texas, lacked spark in two other road matches. Looking for second consecutive Big 12 title.

Baylor (No. 21)

With a new head coach (former Florida assistant Jay Goble), Baylor won twice in the middle of its season. Three of top four scorers are seniors looking to advance to NCAAs for only the second time in program history.

Texas A&M (No. 23)

The only Big 12 team to make it to the national championship in 2011 (at home, no less). Sophomore Katerina Ruzickova is the Aggies' go-to player, and LSU transfer Mary Michael Maggio looks solid, too.

Oklahoma (No. 27)

Back-to-back wins mid-season mean the Sooners can't be glanced over. Sophomore Chirapat Jao-Javanil can go low, she just needs back-up.

Texas Tech (No. 28)

With five starts, this young Red Raider team was busy in the fall -- and had varied results. They can have success again this spring depending on which team shows up.

Iowa State (No. 33)

Decidedly less news out of Ames than last year. With the graduation of two key seniors last spring, Iowa State lost much of its spark, but with three top 5 finishes in the fall, perahps the Cyclones still are capable of finding a spot in the postseason.

Kansas State (No. 72)

Two runner-up finishes for the Wildcats this fall behind the solid play of Gianna Misenhelter. She leads this experienced squad week in, week out.

Missouri (No. 94)

In its last championship season before joining the SEC, the Tigers will need to make a push up the rankings for a shot at postseason.

Kansas (No. 110)

A lackluster fall from Kansas with a bright spot in sophomore Meghan Potee, who careered it at the Edwin Watts/Palmetto Intercollegiate to finish T-3. Lot of youngsters on this team.

Conference championship

April 27-29, Lawrence (Kan.) CC

Lance Ringler's prediction

Texas. The Longhorns have trended towards playing their best golf towards the end of the season under head coach Martha Richards. With a conference title to defend, look for Texas to claim its second Big 12 title in as many years - but, it won't be easy.
• • •
Complete coverage
Wondering how your favorite conference is shaping up headed into the spring season? Who is our favorite to pick up the automatic qualifier? Check out our conference-by-conference break down with our complete coverage page here.
• • •
Going social with Golfweek
Want to follow our college gurus on Twitter? Here are some quick links:
• You can follow blogger Asher Wildman here
• You can find Lance Ringler's college Twitter feed here
• Follow women's college golf with Julie Williams here
• And follow all of college golf on Facebook by clicking here
Golfweek.com readers: We value your input and welcome your comments, but please be respectful in this forum.
---
---
---
---
---
---
---
---
---
---
---
---
---
---
---
---
---
---
---
---
---