College Men
Men's preview: Atlantic Sun Conference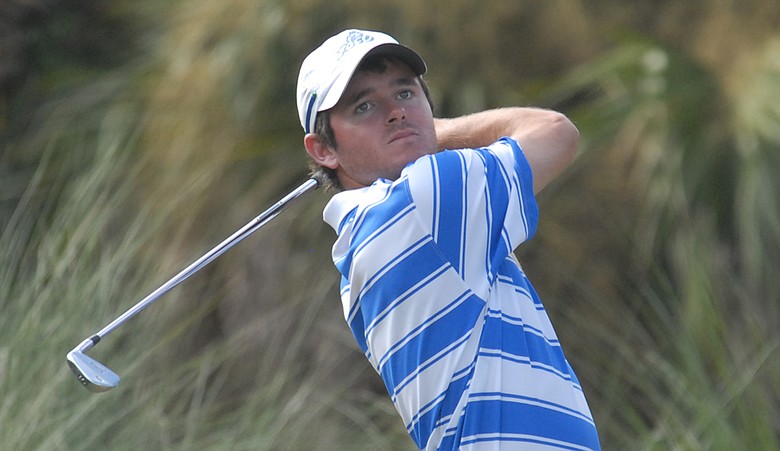 Saturday, January 14, 2012
The North Florida Ospreys may grab most of the Atlantic Sun Conference's headlines. And rightfully so – they are ranked No. 5 in the nation and have three top-50 players on their squad, including star Sean Dale.
But don't overlook another Florida team that played the fall season in near-flawless fashion.
The would be Brent Jensen's Florida Gulf Coast Eagles, who are up to No. 84 in the Golfweek/Sagarin College Rankings after winning four consecutive events to close the first half of the 2011-12 season.
FGCU has been led by Brandon Pena, a senior from Clewiston, Fla. Pena, who finished in the top 10 of four of his five fall events, won the Cobra-Puma Invitational and finished second at the Mission Inn Collegiate Classic.
The Eagles had a rough start to the season, finishing T-10 at the St. Mary's Invitational. Jensen, a St. Mary's graduate, was unable to accompany the team to California because of a death in the family.
"I know that's not an excuse, but I think there were just a lot of things going on that week," Jensen said. "I wasn't there to give any course knowledge, and everyone was also used to playing in Florida where there's none of the dramatic elevation changes or anything like that.
"After that tournament, we got a lot more consistent and started getting contributions from everyone."
In fact, they couldn't get any more consistent, winning their final four starts: the Cobra-Puma Invitational, the John Dallio Memorial, the Mission Inn Collegiate Classic and the Stetson Invitational.
"I think everyone just started to realize what it takes to get better," Jensen said. "They realized how to push each other on the course and push each other in the weight room."
The spring season leading up to the A-Sun Championship in Braselton, Ga., will be more difficult as FGCU will play the JU Invitational and then travel to events hosted by South Florida, Central Florida and Florida Atlantic.
"I expect to work hard and be prepared," Jensen said. "And hopefully we can beat some good teams along the way."
• • •
Top team from the fall: North Florida
Top player from the fall: Sean Dale, North Florida
• • •
Past champions
2007: East Tennessee State
2008: North Florida
2009: Campbell
2010: East Tennessee State
2011: Kennesaw State
• • •
Conference capsules
North Florida (Golfweek/Sagarin Ranking: No. 5)

The Ospreys were not only the obvious standout in the conference this fall, but one of the nation's premier teams. With Sean Dale (7), Kevin Phelan (37) and Kevin Aylwin (42) all ranking in the top 50 in the nation, UNF couldn't have had a better fall, winning twice and grabbing an impressive third-place showing at the prestigous Isleworth Collegiate Invitational.

Kennesaw State (No. 35)

The Owls, led by Jeff Karlsson and Matt Nagy, made their first trip to the NCAA Championship last spring. Playing a more difficult schedule this fall, the Owls finished ninth at the Carpet Capital and 11th at the Golfweek Conference Challenge, but defended their title at the Rees Jones Intercollegiate. Karlsson also posted a top 10 at the Western Refining All-American, college golf's "all-star game."

Florida Gulf Coast (No. 84)

Led by Brandon Pena, the Eagles closed the fall with four straight wins. Pena finished in the top 10 in four of his five fall starts, winning at the Cobra-Puma Invitational and finishing second at the Mission Inn Collegiate Classic.

Mercer (No. 114)

Led by James Beale, a sophomore from New Zealand, Mercer wasn't able to crack the top five in any fall events. The Bears sat fourth among a strong field through two rounds at the Brickyard, but faded back into a tie for eighth after a weak final round.

East Tennessee State (No. 123)

As a senior, Rhys Enoch may be the leader of ETSU, but the world saw the extent of Rhys Pugh's talent and potential at last year's Walker Cup, where he defeated college stars Patrick Rodgers and Kelly Kraft in singles. With a chance to shine on a national scale, ETSU finished dead last at the U.S. Collegiate, however.

South Carolina Upstate (No. 145)

The Spartans kicked off the season with a victory at the Rutgers Invite, with Adam Goins also taking the individual title. The results trailed off a bit after that with a ninth at Kiawah and a seventh at the Wendy's Classic.

Jacksonville (No. 176)

The Dolphins got off to a rocky start, but salvaged the fall with a fifth-place showing at the Savannah Intercollegiate and a victory at the Hummingbird Intercollegiate. Jamey Salmon had a pair of top 10s in the fall and will lead JU.

Belmont (No. 208)

The team results weren't great, with only one top five, but the Bruins got nice contributions from a wide range of players. Junior Elliot Wickenden and underclassmen Ted Moon and Ben Simpson will lead the way this fall for Belmont, a team that is still very young.

Stetson (No. 227)

It was a forgettable fall for most of the Hatters, but Sam Ryder picked up two individual victories, winning the Mission Inn Classic and the Stetson Invitational. Ryder, a senior, is a two-time second-team All-Atlantic Sun selection.

Lipscomb (No. 248)

The team results have been poor, apart from a second-place finish at the Murray State Invitational, however there have been some personal highlights for junior Blanton Farmer. The team still has plenty of time to get better, carrying no seniors and considering the potential of freshman Nate Johnson.

Conference championship

April 16-18, 2012, The Legends Course, Braselton, Ga.

Lance Ringler's prediction

Kennesaw State. North Florida has stormed the college golf world this fall and climbed into the top 10 entering the spring season, but I am going with the Owls - the defending A-Sun champs - to win again in 2012. Jay Moseley's squad turned a lot of heads with a trip to the NCAA finals a year ago and that experience - along with the conference win last year - will help them find a way to another conference title.
• • •
Complete coverage
Wondering how your favorite conference is shaping up headed into the spring season? Who is our favorite to pick up the automatic qualifier? Check out our conference-by-conference break down with our complete coverage page here.
• • •
Going social with Golfweek
Want to follow our college gurus on Twitter? Here are some quick links:
• You can follow blogger Asher Wildman here
• You can find Lance Ringler's college Twitter feed here
• Check out Ryan Lavner's witty commentary here
• For the latest on golf in social media, as well as college and junior news, check out D.J. Piehowski on Twitter here.
• And follow all of college golf on Facebook by clicking here
Golfweek.com readers: We value your input and welcome your comments, but please be respectful in this forum.
---
---
---
---
---
---
---
---
---
---
---
---
---
---
---
---
---
---
---
---
---