College Men
Men's preview: Big 12 Conference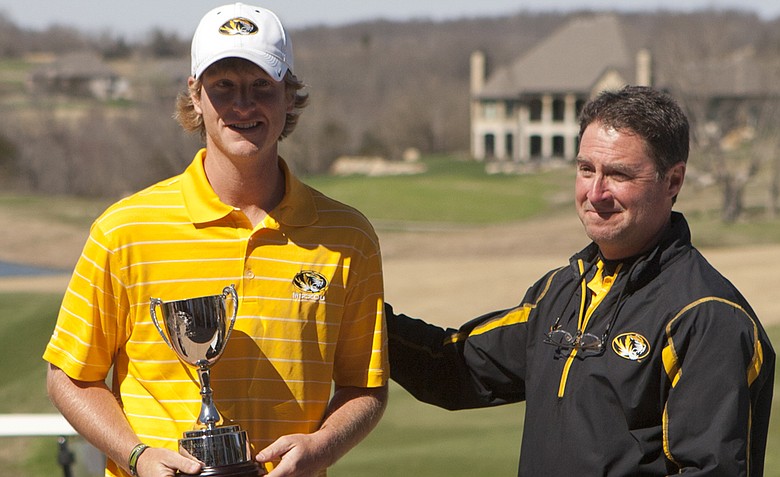 Saturday, January 14, 2012
The littlest putts used to give Jace Long the biggest problems. Now, his ability to overcome an early onset of the yips has helped the Missouri junior become one of the most prolific winners in college golf.
In spring 2010, Tigers coach Mark Leroux developed a plan to help Long sink more short putts. "He used to miss one or two every tournament," Leroux said. "Short ones – 18 inches, 24 inches. That'd be the difference right there."
So, in practice, the coach set up three tees 3 feet from the cup. Long had to then make 30 consecutive putts to move from that spot. When he did, they set up at 4 feet. Twenty in a row. Then 5 feet. Ten in a row.
Using a new routine that involved simply putting down a coin, lining up a putt and letting it go – no practice strokes, no time to let doubt creep in – Long won three consecutive events last spring, then shot a final-round 62 to share medalist honors at the NCAA Southeast Regional.
In the fall, Long won twice and never finished outside the top 19. He's risen to No. 53 in Golfweek's rankings.
There still is room for improvement, sure, particularly in terms of course management. Leroux recalled a moment during the final round at the 2011 NCAA regional, during Long's record-low round. On the par-5 16th at Golden Ocala, Long blasted his drive way right into the trees, and his ball came to rest on dirt and pine straw. Seeing a small gap through the trees -- emphasis on small -- he attempted a miracle shot that ricocheted off a pine tree and luckily stayed inbounds. He managed to save par, but the questionable decision-making nearly cost him a shot at the title.
"He just needs to keep growing," Leroux said. "Jace is a great talent."
• • •
Top of the class: Texas
Best player this fall: Dylan Frittelli, Texas
• • •
Past champions
2007: Oklahoma State
2008: Oklahoma State
2009: Oklahoma State
2010: Oklahoma State
2011: Oklahoma State
• • •
Wildman's Corner
• Asher Wildman visits with Texas standout Dylan Frittelli. Video.
• • •
Conference capsules
Texas (Golfweek/Sagarin Ranking: No. 1)

Three consecutive wins to close the fall, and the Longhorns boast the top two ranked players in college golf: senior Dylan Frittelli and freshman Jordan Spieth, who blew away the field at Isleworth. The team to beat this spring.

Texas A&M (No. 13)

The Aggies won at Royal Oaks, but more is expected in the spring with Jordan Russell and Cameron Peck rounding into form.

Oklahoma State (No. 23)

Unexpected departure of Peter Uihlein leaves a major void in the Cowboys' lineup. Without the 2011 Hogan Award winner, OK State went 3rd-10th-9th in the fall.

Baylor (No. 29)

Bears played well in their first three tournaments, and their ranking would have been even higher had Lorenzo Scotto not missed the final two events of the fall.

Oklahoma (No. 33)

Mediocre fall, highlighted by a victory at the David Toms. Other players must step up, however, to help Abraham Ancer.

Iowa State (No. 51)

Cyclones got better as the fall went on, culminating with a victory in October at the Bridgestone Invitational over teams like N.C. State, Virginia Tech and North Carolina.

Missouri (No. 65)

Even though the Tigers have yet to band together to win a team title, junior Jace Long has backed up his stellar sophomore season with another strong campaign.

Texas Tech (No. 77)

Low finishes in final two events of the fall (Jack Nicklaus and Isleworth) leave a bad taste for Red Raiders.

Kansas State (No. 110)

After starting the season as an individual, freshman Kyle Weldon has four top 20s in five official starts. That's promising stuff for a very young Wildcats team.

Kansas (No. 138)

Jayhawks no better than fifth (twice) in five starts, so plenty of room for improvement.

Conference championship

Big 12 Championship, April 27-29, Whispering Pines GC, Trinity, Texas

Lance Ringler's prediction

Texas. Sure, Texas A&M or possibly Oklahoma State could give the Longhorns a run this spring. But, at this point, not picking Texas to win the Big 12 title at Whispering Pines in April would be silly.
• • •
Complete coverage
Wondering how your favorite conference is shaping up headed into the spring season? Who is our favorite to pick up the automatic qualifier? Check out our conference-by-conference break down with our complete coverage page here.
• • •
Going social with Golfweek
Want to follow our college gurus on Twitter? Here are some quick links:
• You can follow blogger Asher Wildman here
• You can find Lance Ringler's college Twitter feed here
• Check out Ryan Lavner's witty commentary here
• For the latest on golf in social media, as well as college and junior news, check out D.J. Piehowski on Twitter here.
• And follow all of college golf on Facebook by clicking here
Golfweek.com readers: We value your input and welcome your comments, but please be respectful in this forum.
---
---
---
---
---
---
---
---
---
---
---
---
---
---
---
---
---
---
---
---
---