College Men
Men's preview: Colonial Athletic Association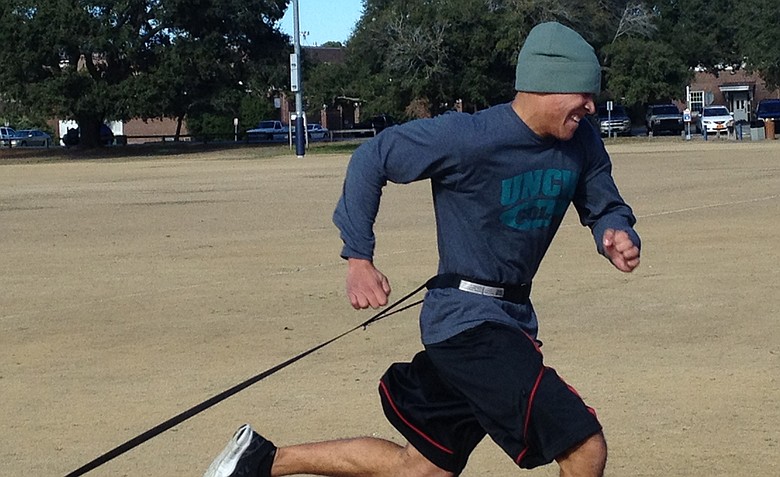 Friday, January 20, 2012
Just because the winter is the "unofficial" offseason for most schools in the country, it doesn't meant that's necessarily the case for players at UNC-Wilmington. During the cold winter months, members of the men's team train hard for a brutal competition in January known as the Iron Hawk Tough Man Competition.
"It's kind of like the tough man competition you see on ESPN," coach Matt Clark said.
The competition lasts three days and players compete in five events per day. After each event, points are distributed based on your finish. At the end of the three days, whoever has the most points with the best finishes is named the "Iron Hawk Tough Man."
"When I arrived at UNCW, I wanted to create a tradition," Clark said. "This is a good way to get the cobwebs off the guys, and besides, competition never hurt anyone."
Some of the events that the golfers participate in include a timed mile and a half run, vertical leap, as many sit-ups as they can in 90 seconds, 300-yard shuttles, squat 185 pounds until failure and holding 25-pound plates on each arm until one person remains.
Perhaps the most grueling of all the challenges is the final event on the final day of the competition. The marquee event is called the "Bleacher Creature." Golfers start on the floor of the basketball arena and climb up the stairs to the top of the arena and back down repeatedly. Everyone keeps going until there's only one man left standing.
After all the times, scores and finishes are calculated, one player is named the official "Iron Hawk," and a few are awarded T-shirts.
Every school does things differently, but Clark hopes to strengthen his team as well as keep a competitive atmosphere throughout the year to keep his players motivated.
The Seahawks had a disappointing fall in which they finished the first half of the season ranked 89th in the Golfweek/Sagarin rankings. Clark hopes this competition will get his players focused and motivated to compete against others when the season starts.
To start the spring, UNCW will host its own event, the Seahawk Intercollegiate, where it hopes to start strong and climb the rankings for a postseason push.
-- Asher Wildman
• • •
Top of the class: North Carolina-Wilmington
Best player this fall: Tyler Gruca, Georgia State
• • •
Past champions
2007: Old Dominion
2008: Georgia State
2009: VCU
2010: Towson
2011: UNCW
• • •
Conference capsules
UNC-Wilmington (Golfweek/Sagarin Rankings: No. 89)

Even with a sluggish start, the Seahawks received a boost by T-4 at Golfweek Conference Conference. No better than eighth in three other starts, though.

Georgia State (No. 116)

Bookend T-12s sandwiched around a strong fifth-place finish at the Autotrader.com Collegiate Classic. Tyler Gruca is the highest-ranked player in the conference, at No. 191.

Virginia Commonwealth (No. 127)

Two fourth-place finishes and three results outside the top 12 leave plenty of question marks for this team. Three top-21 finishes for Marc Dobias is tops on the team.

Old Dominion (No. 142)

Monarchs seem to be rounding into form after slow start; 2nd and 3rd, respectively, at final two events of fall.

James Madison (No. 177)

Plenty of highs and lows here. Victory at 17-team Barnabas Health Intercollegiate stands out among three low finishes, including a pair of last-place results.

William & Mary (No. 199)

Tribe unable to break through and get into serious contention; in five starts, no finish better than seventh.

George Mason (No. 233)

Patriots find themselves in the middle of the conference shuffle after failing to crack the top 7 in any tournament this fall.

Towson (No. 246)

Aside from a fourth at the Joe Agee Invite, disappointing start for the Tigers with three consecutive finishes outside the top 11 to conclude the fall.

Drexel (No. 277)

Bright spots: 4th, 5th; everything else: 12th, 19th, 18th.

Hofstra (No. 278)

Plenty of room for improvement with five middling finishes in the fall.

Conference championship

Colonial Athletic Association Championship, April 26-29, Wilmington Country Club, Wilmington, Del.

Lance Ringler's prediction

UNC-Wilmington. We have seen a different winner in each of the past five years in the Colonial. The Seahawks did not perform the way some expected this fall, but they should bounce back and be the clear favorite to win a second CAA title in a row.
• • •
Complete coverage
Wondering how your favorite conference is shaping up headed into the spring season? Who is our favorite to pick up the automatic qualifier? Check out our conference-by-conference break down with our complete coverage page here.
• • •
Going social with Golfweek
Want to follow our college gurus on Twitter? Here are some quick links:
• You can follow blogger Asher Wildman here
• You can find Lance Ringler's college Twitter feed here
• Check out Ryan Lavner's witty commentary here
• For the latest on golf in social media, as well as college and junior news, check out D.J. Piehowski on Twitter here.
• And follow all of college golf on Facebook by clicking here
Golfweek.com readers: We value your input and welcome your comments, but please be respectful in this forum.
---
---
---
---
---
---
---
---
---
---
---
---
---
---
---
---
---
---
---
---
---