President Clinton's round cut short at PGA West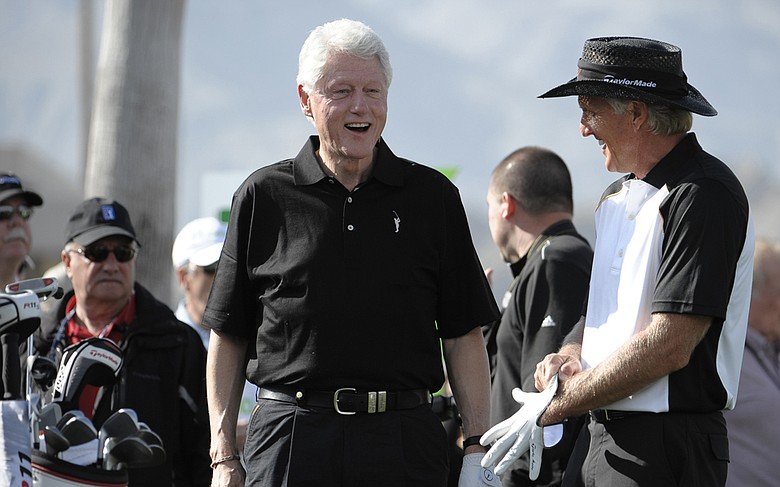 Saturday, January 21, 2012
LA QUINTA, Calif. -- On a day when the winds gusted to 50 mph, former President Bill Clinton arrived in relative calm to a smattering of applause from the fans Saturday at the Humana Challenge.
The appreciative welcome from the gallery started as soon as Clinton made it to the driving range, well ahead of his 10:20 a.m. tee time with Greg Norman on the Palmer Private Course at PGA West. The applause recurred through the day, which would end after the front nine, when play was called at 1:25 p.m. because of the wind.
On the range, Clinton was making solid contact regularly but losing the ball right with a gentle fade or, at worse, a slice. There were some grounders and drop hooks, but every once in awhile, the former Arkansas governor would get ahold of one and look like the 17-handicap that he claimed to be, but clearly wasn't this day.
The 42nd president also shook hands with Phil Mickelson and David Toms, both of whom were on the range, preparing for their tee times.
After about 25 minutes of warming up, Clinton made his way about 100 yards through a gantlet of autograph seekers and more applause to the putting green, which was ringed with fans trying to catch a glimpse of the former president as he worked on getting the speed at the Palmer course.
When Clinton's group of Norman, Scott McCarron and Mike McCallister, the chief executive officer of title sponsor Humana, stepped onto the tee, a crowd clearly larger than most galleries at the former Bob Hope event cheered for the former president.
Laughter ringed the tee when McCarron, a Reno, Nev., resident who lives much of the year in La Quinta, was introduced as being from Reno and ad-libbed that he lists the income-tax-free Silver State only for tax purposes.
So when it was Clinton's turn, he was introduced as William Jefferson Clinton, formerly of Washington, D.C., which prompted a chuckle from the president and the crowd.
On his opening tee shot, Clinton hit a slight pull down the left side, but more than adequate. He turned to playing partner Norman, said "one down" and punctuated the shot with a high-five.
Little did we know that with the exception of a solid drive on the fourth hole that Clinton's nearly three-hour front nine would be marred with shots left, right and very rarely in the center of the fairway.
When Clinton made a double-bogey 6 after missing a short putt on the first hole, Clinton pulled the ball back and tried it again; very similar to the rest of us amateurs when we can't believe we missed a putt.
As the round progressed, Clinton's game worsened, but he never really let it get to him. He was friendly with everyone, greating fans and waving. He signed autographs and at times slipped into a picture or two with fans along the ropes.
At the same time, the fans showered Clinton with cries of "good luck to you" or "thanks for coming" and even one greeting of "best president ever."
Maybe the most exasperated Clinton got was when he hit what he thought was a good shot into the par-3 fifth hole, but the ball barely cleared the water fronting the green and landed in the rocks.
Clinton cursed, slammed his club down onto the tee and looked forlornly toward Norman, who said, "Good swing."
Clinton came close to hitting only one fan: Dennis Giannetti of nearby Indian Wells and Boulder, Colo., had Clinton's third shot graze a pants leg. Giannetti, coincidentally, said he was drawn to the event Saturday because of Clinton.
"It's our first time," Giannetti said of his trip to the Humana Challenge. "We probably wouldn't come if he wasn't here. I like President Clinton."
By the looks of the crowds, many came to see the former president play what clearly wasn't his best game.
But the reality is that Clinton is in this for the long haul. His golf game is not what matters to him or the fans who came to see him.
Clinton in a small way sacrificed a little dignity Saturday to raise money not only for his foundation but also other charities in the Coachella Valley.
Norman's assessment of Clinton's game was, ahem, charitable.
"I was pleasantly surprised," Norman said. "I thought his rotation was good. His feel for the game, obviously it wasn't there, but his passion for the game was there."
Norman and Clinton will have to wait to play their first 18 holes together in the U.S. It might come next year as Norman, an Australian who lives in South Florida, said he would return to the desert if asked by his friend. For now, the next round together is uncertain.
"I think it's a jinx or something," Norman said of not being able to play a full round with Clinton since Australia in 1994. "We haven't been able to make it yet. But hopefully we'll be able to do it."
Golfweek.com readers: We value your input and welcome your comments, but please be respectful in this forum.
---
---
---
---
---
---
---
---
---
---
---
---
---
---
---
---
---
---
---
---
---