College Men
Men's preview: Conference USA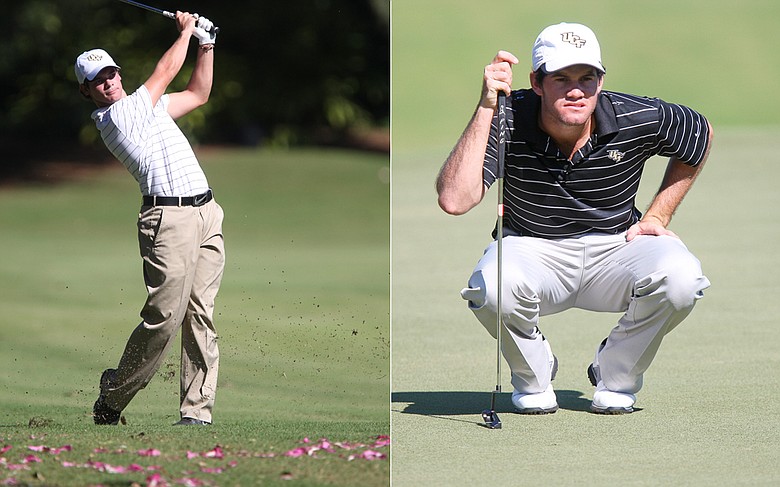 Monday, January 23, 2012
In December 2010, Central Florida coach Bryce Wallor received a tip from senior Nuno Henriques, who had heard a few students at NCAA Division II Lynn University were interested in playing for the Knights.
---
Video
Wildman's Corner: Coach Bryce Wallor
---
"They sort of fell into my lap," Wallor said.
And now, behind the remarkable play of newcomers Ricardo Gouveia and Jose Joia, the Knights this fall cracked the top 20 nationally and have established themselves as the class of Conference USA.
Dedicated college golf followers will know the names. At Lynn, Gouveia won the Phil Mickelson Award as the most outstanding freshman in Division II, and Joia earned first-team All-American honors in his lone season at the Boca Raton, Fla., school.
"They want to be good," Wallor said of Gouveia (41) and Joia (78), both of whom are inside the top 80 in Golfweek's rankings. "They want to set team records and play the best golf they can."
UCF won twice in the fall but may be even better in the spring, when sophomore Greg Eason is expected to return after sitting out two events (wrist injury). Brad Schneider (No. 59) won medalist honors at the season-opener. Gouveia followed that up with a win in the Knights' next event, the Adams Cup. And then Joia, playing in one of the toughest events of the fall, tied for 10th at Isleworth.
Asked his projection for the spring season, Wallor said: "I think the sky might be the limit for this team. They're capable of doing anything they want to do."
• • •
Top of the class: Central Florida
Best player this fall: Ricardo Gouveia, UCF
• • •
Past champions
2007: Tulsa
2008: UAB
2009: Central Florida
2010: Central Florida
2011: Central Florida
• • •
Conference capsules
Central Florida (Golfweek/Sagarin Ranking: No. 19)

Victories at their first two events were encouraging, but the Knights finished no better than eighth at top-tier events. A healthy Greg Eason could initiate that jump to the next level.

UAB (No. 28)

Four different players have finished fifth or better individually in an event this season, helping the Blazers to a surprising start.

Tulsa (No. 36)

After an auspicious start -- second in the season-opener -- the Hurricane hasn't finished better than fifth in four starts.

Memphis (No. 38)

Impressive victory at the Wolfpack Intercollegiate, in which three Tigers finished in the top 10, set the tone for a decent fall.

East Carolina (No. 44)

The only thing missing from the Pirates' resume so far is a win; senior Harold Varner, meanwhile, picked up his second individual title.

SMU (No. 55)

Up-and-down fall for the Mustangs. Need more consistency from Max Buckley and Harry Higgs, who have played relatively well in spots.

Houston (No. 69)

Won Notre Dame's event, but also had three other finishes outside the top 8. That may be a better indicator.

Southern Miss (No. 108)

Poor finishes sandwiched around a team title at the 13-team Squire Creek Invite. That title was school's first since '05.

Marshall (No. 150)

The Herd ended the fall poorly, with a 10th and 13th in their past two events.

Rice (No. 218)

Rough start for the Owls; no finish inside the top 11 in four starts last fall.

Texas-El Paso (No. 221)

Ninth-place finish at their last event this fall, the Herb Wimberly, was the lone highlight for the Miners.

Conference championship

Conference USA, April 22-24, Texarkana Country Club, Texarkana, Ark.

Lance Ringler's prediction

Tulsa. Going with what looks like an upset at this point in the season. Tulsa underachieved this past fall and should close the gap on UCF this spring. Don't be surprised if UAB hangs around as well as Memphis.
• • •
Complete coverage
Wondering how your favorite conference is shaping up headed into the spring season? Who is our favorite to pick up the automatic qualifier? Check out our conference-by-conference break down with our complete coverage page here.
• • •
Going social with Golfweek
Want to follow our college gurus on Twitter? Here are some quick links:
• You can follow blogger Asher Wildman here
• You can find Lance Ringler's college Twitter feed here
• Check out Ryan Lavner's witty commentary here
• For the latest on golf in social media, as well as college and junior news, check out D.J. Piehowski on Twitter here.
• And follow all of college golf on Facebook by clicking here
Golfweek.com readers: We value your input and welcome your comments, but please be respectful in this forum.
---
---
---
---
---
---
---
---
---
---
---
---
---
---
---
---
---
---
---
---
---