College Men
Men's preview: Metro Atlantic Athletic Conference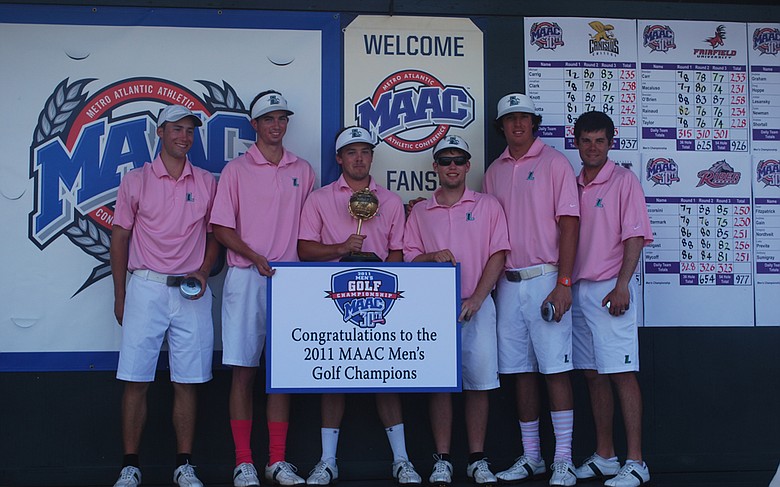 Thursday, January 26, 2012
When you think of conference dominance in college golf, you probably look at Oklahoma State in the Big 12 or Georgia Tech in the ACC. However, there is a school in the Northeast that deserves some attention for its dominance in the Metro Atlantic Athletic Conference.
This year, the Loyola Greyhounds will be going for their fifth consecutive conference title when the MAAC Championship is held in May at Disney's Magnolia course near Orlando.
Second-year coach Chris Baloga knows teams will be targeting his squad and that the tournament will be tough.
"When conference championships get under way, rankings don't mean anything," Baloga said. "Our school is like anyone else's in the conference in that we all take pride trying to win MAAC titles."
Last year, when Loyola won its fourth straight title, senior Alex Redfearn was the first player to win a conference title each year as a member of the starting lineup. This year, senior Ryan McCarthy (older brother of Virginia freshman Denny McCarthy) will try to be the next Greyhound to play for four straight MAAC-champion teams.
"I think to be a part of a four-peat like that, as a player that has to be really cool," Baloga said. "I know as the coach of this team that when May comes around on the calendar, the guys get really excited."
This year, Loyola should once again be a heavy favorite to win the MAAC. The Greyhounds have three experienced seniors who Baloga says know what they are doing. Loyola also has freshman Bart George, who has played in all of the team's tournaments so far this season.
To close out the fall, Loyola traveled south to play at the Mission Inn Fall Intercollegiate, in Howey-in-the-Hills, Fla. The Greyhounds placed second, nine shots behind tournament champion Florida Gulf Coast.
Baloga and his team will have one more opportunity to play golf in the Sunshine State before they return in May for the MAAC Championship. In mid-March, the team will play in Orlando at UCF's Rio Pinar Invitational.
"This year, I think the guys will be really prepared to make a run at the MAAC," Baloga said. "Our schedule was set up to play down South and out West often for challenging courses and fields."
The Oklahoma State Cowboys will have plenty of eyes on them when they go for a sixth straight Big 12 title, but some eyes should be on Loyola, as well. The Greyhounds are going for a fifth consecutive conference title, and that's a feat worthy of national recognition.
• • •
Top team from the fall: Loyola Unv.
Top player from the fall: Ryan McCarthy, Loyola
• • •
Past champions
2007: Siena
2008: Loyola Univ.
2009: Loyola Univ.
2010: Loyola Univ.
2011: Loyola Univ.
• • •
Conference capsules
Loyola-Maryland (Golfweek/Sagarin Ranking: No. 144)

The Greyhounds had a pair of runner-up finishes this fall, at the Mission Inn Collegiate and the Miromar Lakes Collegiate. Winners of four straight MAAC Conference championships, Loyola looks good again with three solid seniors and two-time Maryland Player of the Year Chris Baloga at the helm.

Saint Peter's College (No. 225)

Saint Peter's had three runner-up finishes this fall, led by T.J. Sumigray and freshman Eric Edmunds. Saint Peter's finished the fall season with a prefect 10-0 head-to-head record against MAAC opponents.

Iona College (No. 251)

Dylan Newman (T-13) led the Gaels to a fourth-place finish at the Fairleigh Dickinson Invitational and also had a top-10 finish at the Barnabas Heath, where Iona finished 10th. Doug Hoppe recorded a top-10 at the Connecticut Cup, leading the Gaels to a sixth-place finish to open the season.

Siena College (No. 258)

Led by second-place finisher Justin Deitz, Siena closed the fall with a runner-up finish at the Leigh Invitational. The Saints also had a third-place showing at the ECAC, as well a seventh place at Cornell.

Fairfield University (No. 273)

The highlight of the fall for the Stags was a final-round push to earn fourth place at the ECAC Men's Championship, where Scott Rainaud finished T-8. The rest of the fall was forgettable for Fairfield, who finished last at Rutger's, 16th of 17 at Hartford, 13th of 16 at the Connecticut Cup and in the middle of a huge pack at the NEIGA Championship.

Canisius College (No. 276)

There was one victory for the Golden Griffins in the fall. Unfortunately, it came at the Little Three Championship, a 36-hole tournament against St. Bonaventure and Niagara. Apart from that, Canisius finished last, seventh of 10, 11th of 12 and 14th of 16 in their other events.

Manhattan College (No. 280)

Matt Creamer led Manhattan this fall, winning the one-day Susquehanna Fall Invitational and leading the Jaspers to the team title as well. Creamer also had a top 10 at the Central Connecticut St. Fall Invite, where the team finished sixth.

Rider University (No. 287)

It was a bleak fall for Rider, who last once and second-to-last twice. The Broncs also finished 14th of 16 in their only other start. James Buttermark led Rider this fall, but his best finish was a T-34 at the Rutgers Invitational.

Niagara University (No. 290)

The Purple Eagles of Niagara only cracked the top 10 in one event this fall – other than the three-team Little Three Championship. That was a ninth-place showing at the fall-ending ECAC Men's Championship.

Conference championship

April 27-29, Disney's Magnolia Course in Lake Buena Vista, Fla.

Lance Ringler's prediction

Loyola University. With three seniors in the starting lineup, the Greyhounds will be the heavy favorite to make it five Metro Atlantic Athletic Conference titles in a row.
• • •
Complete coverage
Wondering how your favorite conference is shaping up headed into the spring season? Who is our favorite to pick up the automatic qualifier? Check out our conference-by-conference break down with our complete coverage page here.
• • •
Going social with Golfweek
Want to follow our college gurus on Twitter? Here are some quick links:
• You can follow blogger Asher Wildman here
• You can find Lance Ringler's college Twitter feed here
• Check out Ryan Lavner's witty commentary here
• For the latest on golf in social media, as well as college and junior news, check out D.J. Piehowski on Twitter here.
• And follow all of college golf on Facebook by clicking here
Golfweek.com readers: We value your input and welcome your comments, but please be respectful in this forum.
---
---
---
---
---
---
---
---
---
---
---
---
---
---
---
---
---
---
---
---
---