College Men
Men's preview: Missouri Valley Conference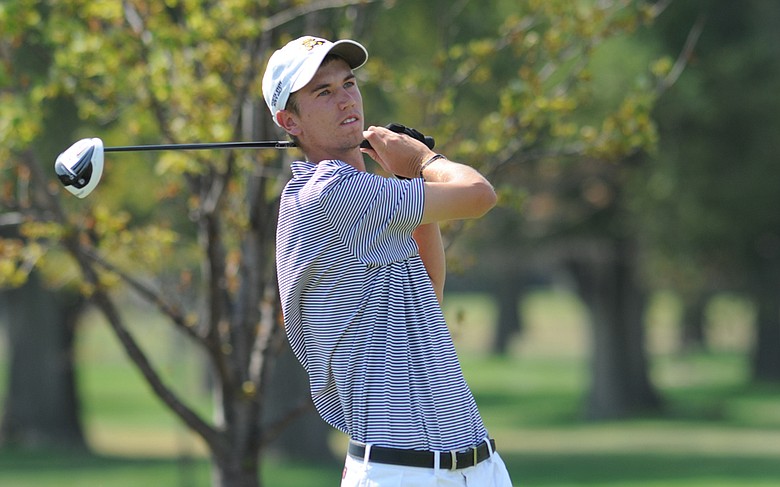 Monday, January 30, 2012
Wichita State coach Grier Jones says even Hunter Sparks doesn't know how good he can become.
That's a scary thought to consider.
Sparks, a junior, has won twice this fall while making his school relevant in the rankings. He won the Kansas Amateur last July. He finished third in the Oklahoma Open last August.
And Jones still feels as though there is some untapped potential, even now.
"Is he working hard enough? No," the coach said. "But then again, my wife tells me my idea of working at it is different than everybody else's."
Fair enough. But Sparks' evolution as a player mirrors that of the entire Wichita State team. In fall 2010, the Shockers struggled through what was perhaps the worst fall they've ever had under Jones. That's a span of 16 years. "They all had the ability," Jones said, "but they were just going along at a leisurely pace."
Though the Shockers quickened their stride last spring, they finished the season ranked outside the top 100 (No. 115). For whatever reason - not even Jones knows - they rededicated themselves this year, opening the fall season with back-to-back wins, and they haven't finished outside the top 3 in four starts. Their success has manifested itself in other ways, too - they are now No. 22 in the Golfweek/Sagarin rankings.
And during this stretch, no Wichita State player performed like Sparks. He shared medalist honors at the season-opener (with a teammate), was within striking distance before the Attack of the Bees the following week, tied for seventh at VCU and then, in the final event of the fall, shot 68-65-66 to top the field at the Herb Wimberly.
"Golf's a game of streaks," Jones said. "I'm sure he wishes that the fall didn't end."
• • •
Top of the class: Wichita State
Best player this fall: Hunter Sparks, Wichita State
• • •
Past champions
2007: Illinois State
2008: Wichita State
2009: Wichita State
2010: Wichita State
2011: Wichita State
• • •
Conference capsules
Wichita State (Golfweek/Sagarin Ranking: No. 22)

Shockers have been arguably the most surprising team in college golf, starting the season with back-to-back wins and finishing no worse than third.

Southwest Missouri State (No. 133)

Solid start to the year for the Bears, who have two runner-up finishes in five starts.

Southern Illinois (No. 156)

Jake Erickson won the individual title and helped lead Salukis to win at Skyhawk Fall Classic. Also two 3rds for Southern Illinois.

Illinois State (No. 175)

Shaky start for the Redbirds, with their best finish coming at the Bill Ross Intercollegiate (5th). Other than that, two finishes outside top 14.

Northern Iowa (No. 178)

Placing second at Louisville's event was the main highlight of a quiet fall for the Panthers.

Evansville (No. 184)

Four top 20s for Canadian Quinn Vilneff is tops on the team, helping the Purple Aces to four top 5s in the team race.

Creighton (No. 202)

Bluejays tailed off as the fall wore on, finishing 9th and 19th in their final two starts, respectively.

Bradley (No. 238)

Braves posted best result of the fall (7th) at Kiawah, where freshman Danny Masrin earned his first top-20 finish.

Drake (No. 241)

Bulldogs have yet to crack the top 5 in the team race, with their best finish of the season coming at the Jim Dallio (6th).

Conference championship

April 30-May 1, Prairie Dunes, Hutchinson, Kan.

Lance Ringler's prediction

Wichita State. Let's be realistic here. They could change the name of this event to the Diet Pepsi Shocker Classic.
• • •
Complete coverage
Wondering how your favorite conference is shaping up headed into the spring season? Who is our favorite to pick up the automatic qualifier? Check out our conference-by-conference break down with our complete coverage page here.
• • •
Going social with Golfweek
Want to follow our college gurus on Twitter? Here are some quick links:
• You can follow blogger Asher Wildman here
• You can find Lance Ringler's college Twitter feed here
• Check out Ryan Lavner's witty commentary here
• For the latest on golf in social media, as well as college and junior news, check out D.J. Piehowski on Twitter here.
• And follow all of college golf on Facebook by clicking here
Golfweek.com readers: We value your input and welcome your comments, but please be respectful in this forum.
---
---
---
---
---
---
---
---
---
---
---
---
---
---
---
---
---
---
---
---
---