College Men
Men's preview: Mountain West Conference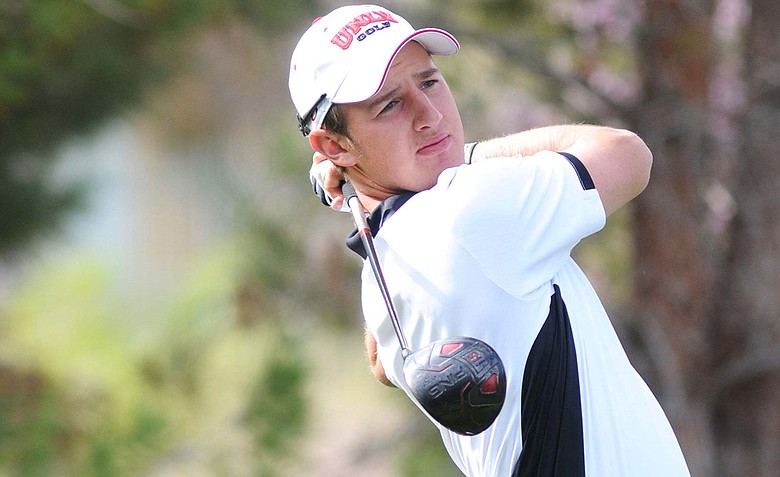 Wednesday, February 1, 2012
It was a record-breaking fall for the UNLV men's golf team.
The Rebels won a season-high three times in four events while setting two tournament records.
UNLV shot 20 under at the Gene Miranda Falcon Invitational at Eisenhower GC's Blue Course in Colorado Springs, Colo., and then posted 34 under at the Herb Wimberly Intercollegiate at NMSU GC in Las Cruces, N.M.
"It showed that the team was able to go low," Rebels head coach Dwaine Knight said. "That was a real confidence booster for us. We played well on two good golf courses. To be in position in those three tournaments and to get the wins was really a nice step for this team."
The ability to go low has been a staple of Knight's teams over the past 25 years.
UNLV set an NCAA Championship record of 34 under en route to a national title in 1998. Oklahoma State and Georgia Tech would break the mark with 36 under in 2000.
The Rebels have also qualified for a school-record 23 straight NCAA Regionals.
"You don't go into a tournament trying to break records," Knight said. "You just get yourselves in position and if you have a shot at it and if guys are playing well, then you keep trying to make birdies out there.
"And that's what we ended up doing last fall."
UNLV opened and capped the fall with tournament victories and added a title at the William H. Tucker Invitational at the UNM Championship Course in Albuquerque, N.M.
Five Rebels finished the fall with sub-73 stroke averages, including senior Derek Ernst, who shot an even 70 and notched three top 5s in four events.
"The fall sets you up going into the spring and gives you some momentum," Knight said. "But again, you have to reload and get back out there and see what you have."
• • •
Top of the class: UNLV
Best player this fall: Julien Brun, TCU
• • •
Past champions
2007: BYU
2008: Colorado State
2009: TCU
2010: Colorado State
2011: San Diego State
• • •
Conference capsules
UNLV (Golfweek/Sagarin Ranking: No. 15)

Rebels won a school-record three fall events, including breaking tournament records with a 20-under 844 at the Falcon Invite and a 34-under 818 at the Herb Wimberly Intercollegiate. Senior Derek Ernst led conference with a 70 stroke average during the fall.

San Diego State (No. 21)

Aztecs played in just three fall events, but recorded a fourth-place finish to go along with two third-place finishes at the Alister MacKenzie Invitational and The Prestige at PGA West – both won by second-ranked Oregon. Todd Baek is ranked No. 15 according to the Golfweek/Sagarin men's collegiate individual rankings.

New Mexico (No. 24)

Lobos had a strong fall, notching two-runner-up finishes and a win at the Lone Star Invitational, where they shot a 3-under 861. Junior John Caitlin, ranked No. 27 by Golfweek, was third at the Lone Star, which was New Mexico's first tournament victory in 13 months.

TCU (No. 46)

Horned Frogs notched pair of runner-up finishes during the fall. Freshman Julien Brun is the conference's highest-rated golfer at No. 12 in Golfweek's rankings and was second in the conference with a 70.7 average. Brun and teammate Daniel Jennevret finished first and second, respectively, at the season-opening Turning Stone Tiger Intercollegiate.

Colorado State (No. 64)

Rams capped fall with their second third-place tournament finish, shooting a 7-over 859 at the Pacific Invitational in Stockton, Calif. Senior Zahkai Brown led the team with a 71.3 average.

Boise State (No. 121)

Broncos put up top-5 finishes in all four of their fall events, including a second-place finish at the Jim Colbert Intercollegiate in October.

Wyoming (No. 141)

Cowboys will play six spring events after competing in five during the fall. Wyoming notched just one top 5 during the fall, finishing fourth at the season-opening Battle in the Tetons.

Air Force (No. 152)

Capped fall with Service Academy Classic title, but had just one other top 10 and failed to record lower than 10-over in all five tournaments.

Conference championship

May 4-6, OMNI Tucson (Ariz.) National

Lance Ringler's prediction

New Mexico. I have been on the Lobos bandwagon all season long and no reason to stop now. Not only do I think they can win the MWC in early May, this team could surprise come postseason time.
• • •
Complete coverage
Wondering how your favorite conference is shaping up headed into the spring season? Who is our favorite to pick up the automatic qualifier? Check out our conference-by-conference break down with our complete coverage page here.
• • •
Going social with Golfweek
Want to follow our college gurus on Twitter? Here are some quick links:
• You can follow blogger Asher Wildman here
• You can find Lance Ringler's college Twitter feed here
• Check out Ryan Lavner's witty commentary here
• For the latest on golf in social media, as well as college and junior news, check out D.J. Piehowski on Twitter here.
• And follow all of college golf on Facebook by clicking here
Golfweek.com readers: We value your input and welcome your comments, but please be respectful in this forum.
---
---
---
---
---
---
---
---
---
---
---
---
---
---
---
---
---
---
---
---
---