Junior Boys
5 Things: Zhang knocked out at U.S. Junior Amateur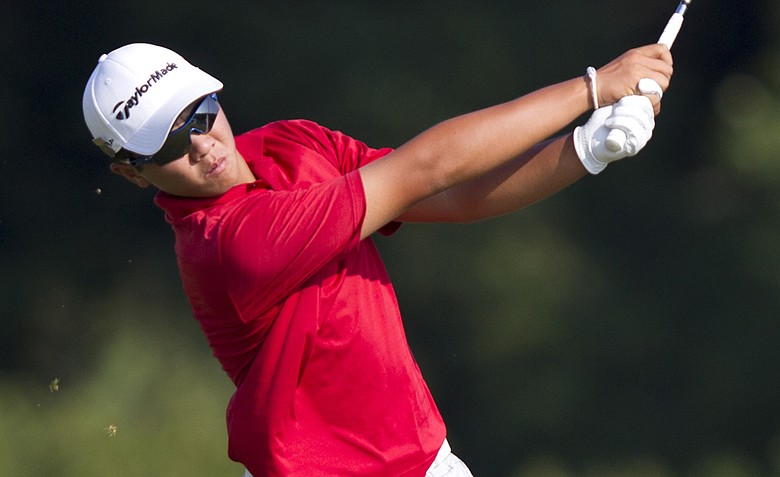 Wednesday, July 18, 2012
STRATHAM, N.H. -– For those looking for major upsets Wednesday at the U.S. Junior Amateur, the Round of 64 didn't provide much.
Jim Liu, co-medalist and 2010 champion, won his match. So did the two other co-medalists, Nicolas Echavarria and Shintaro Ban.
Beau Hossler is still alive after a 4-and-2 victory over Sean Smothers.
And other notables, such as Tae Wan Lee and Douglas Ghim, also advanced.
But not every high seed was spared and among those heading home is 14-year-old Andy Zhang, who never led during his match.
• • •
1. ZHANG-IT: Andy Zhang spent a little time on the range after Tuesday's final round of stroke play working on his drives – nothing technical, just a little mental-rejuvenation.
Unfortunately for the 2012 U.S. Open qualifier, the troubles off the tee continued Wednesday. Zhang again failed to hit fairways – only this time it hurt him.
"I couldn't get my driver going the whole week," said Zhang, who lost 5 and 4 to Sam Horsfield in the Round of 64. "Had to save my shots from rough every time. . . . I didn't play as good as I wanted."
The 14-year-old fell behind early, dropping the first hole. He won back a point on No. 3, but dropped the next hole. He never led during the match.
"I'm trying to figure out a way [to fix my drive], but I'm still working on it," Zhang said.
Zhang will return home to Florida for a couple days before playing an AJGA event at Jones Creek Golf Club in Augusta, Ga., July 24-26 – that's a tournament in six straight weeks for Zhang. He also has the U.S. Amateur planned for next month.
Plenty of opportunities to end his driving woes.
"I don't worry that much," Zhang said.
• • •
2. TEXAS TOAST: Branson Davis and Vincent Whaley spent some time after their match-play victories Wednesday chatting around the practice green.
The McKinney (Texas) Boyd High teammates had plenty to talk about after they both advanced to the Round of 32.
"It's a lot of fun being here together," said Davis, who won 4 and 3 over Jooho Lee. "It's not really nerve-wracking when your closest friend is with you. We both have to keep going."
Davis will play Derek Bard on Thursday morning while Whaley, who notched a 3-and-2 victory over Tom Swnason, will face Nicolo Galletti.
"It's good for our high school team too because it shows that we should have another good year," said Whaley, who, along with Davis, will be a senior this upcoming season.
Whaley said there's a little friendly competition going on between him and Davis.
"We push each other," Whaley said. "If he wins, I'm going to want to win, too."
Said Davis: "We don't want to get eliminated before the other one."
• • •
3. BRAGGING RIGHTS: Scottie Scheffler turned in the performance of the day on Wednesday, cruising to a 7-and-6 victory over Brandon Bauman to advance to the Round of 32.
He's already got bragging rights – for at least this week anyways ­– over sister, Callie, who missed the cut at the U.S. Girls' Junior Tuesday in Daly City, Calif.
Mother, Diane, traveled with Scottie to Stratham while father, Scott, is with Callie in California. So with Callie done for the week, could there be a family reunion of sorts in New Hampshire?
"Nah," Scottie said. "I don't think there's a point in that. It would be too expensive."
Scheffler broke two course records last month in his hometown of Dallas, shooting 10-under 61 at Northwood Club and 9-under 61 at Dallas Country Club.
And there's little doubt now that strong play has continued this week.
• • •
4. STAYIN' ALIVE: The three co-medalists ­– Jim Liu, Nicolas Echavarria and Shintaro Ban – did not disappoint Wednesday, winning their first-round matches.
Liu, trying for his second U.S. Junior title, notched a 5-and-4 victory over Nicholas Crozier, had won a 7-for-1 playoff earlier in the morning to get the last seed. Echavarria rallied for a 2-up win over Jacob Ross. And Ban registered a 4-and-3 victory over Hartej Gill.
They may have handled the pressure well Wednesday, but the targets still aren't coming off their backs. Liu gets James Riley in the Round of 32 while Echavarria will face Jake Shuman and Ban will meet Joo-Young Lee.
• • •
5. SHORT SHOTS: Just two matches went to extra holes Wednesday. Tae Wan Lee defeated Joshua Lee in 19 holes while Jake Shuman needed 19 holes to defeat Justin Suh. . . . Fifth-seeded Carter Jenkins saw his U.S. Junior title hopes come to an end, losing to Matthew Scobie, 1 up. . . . Two rounds will be played on Thursday and among the notable Round of 32 matches are Douglas Ghim vs. Connor Black, Zecheng Dou vs. Victor Wiggins, who defeated local favorite Connor Greenleaf, and Scottie Scheffler vs. Tae Wan Lee.
• • •
2012 U.S. Junior Amateur Match Play results
Jim Liu def. Nicholas Crozier, 5 and 4
James Riley def. Michael Pisciotta, 2 and 1
Eric Ricard def. John Oda, 3 and 1
Robby Shelton def. Brad Dalke, 3 and 2
Vincent Whaley def. Tom Swanson, 2 and 1
Nicolo Galletti def. Austin Eof, 3 and 2
Douglas Ghim def. Robert Geibel, 2 and 1
Connor Black def. Nick Hardy, 4 and 3
Zecheng Dou def. Corey Eddings, 4 and 3
Victor Wiggins def. Connor Greenleaf, 2 and 1
Dylan Wu def. Matthew Mahle, 2 and 1
Maverick McNealy def. D. Cameron Young, 1 up
Matthew Scobie def. Carter Jenkins, 1 up
Cameron Champ def. Anthony Alex, 4 and 2
Scottie Scheffler def. Brandon Bauman, 7 and 6
Tae Wan Lee def. Joshua Lee, 19 holes
Nicolas Echavarria def. Jacob Ross, 2 up
Jake Shuman def. Justin Suh, 19 holes
Rigel Fernandes def. Max McGreevy, 2 and 1
Charles Cai def. Adam Wood, 2 and 1
Branson Davis def. Jooho Lee, 4 and 3
Derek Bard def. William Zalatoris, 5 and 4
Richard Hattori def. Khaled Attieh, 3 and 2
Ryan Stovash def. Jorge Garcia, 4 and 3
Shintaro Ban def. Hartej Gill, 4 and 3
Joo-Young Lee def. Derek Bayley, 3 and 2
David Lee def. Caleb Proveaux, 5 and 4
Zachary Bauchou def. Jackson Weede, 4 and 3
Andrej Bevins def. Andrew Bonner, 2 up
Beau Hossler def. Sean Smothers, 4 and 2
Sam Horsfield def. Andy Zhang, 5 and 4
Andy Hyeon def. Nicholas Jan, 4 and 2
Golfweek.com readers: We value your input and welcome your comments, but please be respectful in this forum.
---
---
---
---
---
---
---
---
---
---
---
---
---
---
---
---
---
---
---
---
---