Dawson talks down idea of Portrush hosting an Open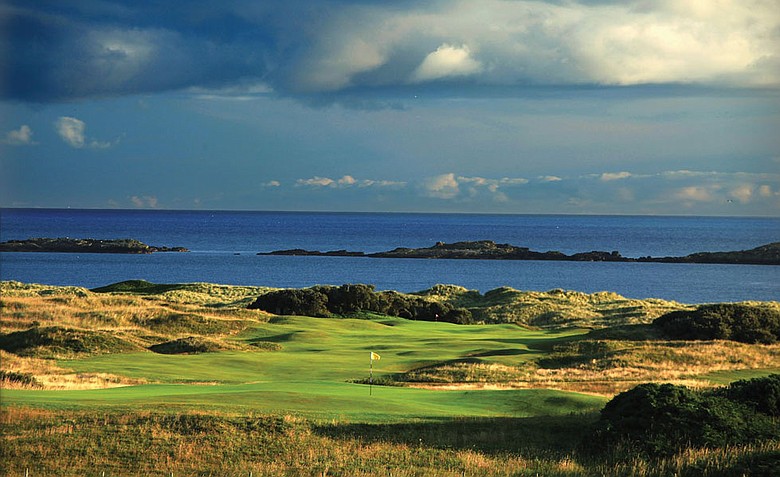 Wednesday, July 18, 2012
LYTHAM ST. ANNES, England - Scratch Royal Portrush from staging the Open Championship any time soon. Doesn't sound like the Northern Irish links is even on the R&A's list of potential future venues.
---
Photo Gallery
2012 Open Championship: Tuesday, in pictures
Check out images of Tiger Woods, Rickie Fowler, Rory McIlroy and the rest of the field during a practice round on Tuesday at Royal Lytham and St. Annes, site of the 2012 Open Championship.
---
Shame.
R&A chief executive Peter Dawson was grilled quite extensively about Royal Portrush when he faced the media for his annual press conference on the eve of the championship. Unfortunately for lovers of Royal Portrush, Dawson accentuated the negatives far more than the positives.
"It's a favorite of mine. Wonderful golf course, wonderful challenge," Dawson said. "It was great to see how successful the Irish Open was and particularly the enthusiasm of the spectators."
So far, so good, but listen to the negatives.
"We're talking 20,000 grandstand seats here. I doubt they had 2,000 at the Irish Open," Dawson said. "You're talking about a tented village here I would estimate 10 or more times the size it was at the Irish Open. And the crowd size at the Irish Open, whilst it was very good, was only as good as perhaps the lowest crowd we expect at an Open venue, i.e., Turnberry."
Dawson doesn't sound as if he's jumped on the Portrush bandwagon, does he?
Royal Portrush staged the Open Championship in 1951 when colorful Max Faulkner won the title. The Open Championship has never been back. The sectarian problems that plagued the area for nearly four decades largely dictated its omission from the Open rotation.
It came back onto the agenda largely because of the major successes of Northern Ireland heroes Graeme McDowell, Rory McIlroy and defending Open Champion Darren Clarke.
About 120,000 people turned up to watch this year's Irish Open. The tournament was sold out weeks before the event began. Needless to say, that only added to the pressure on the R&A to reconsider this great links for its marquee tournament.
Dawson clearly isn't bowing to the pressure. He had other logistical obstacles he seemed to hint were too big to overcome.
"Where would you put the big grandstand complex? The practice ground would need a lot of work. We don't have a finishing hole that would have the grandstands around it. There would be much work to do for an Open to go to Portrush."
Truth be told, there is much work to take an Open Championship to existing venues. Turnberry isn't an easy venue to get to and has problems in terms of traffic. Ditto on the traffic problems for Royal St George's.
The difference with Turnberry and Royal St George's is they're already on the rotation. The R&A already has the necessary infrastructure plans and costings in place for these venues. Royal Portrush would be starting from scratch.
"A huge amount of money would need to be spent, in my estimation, to make Royal Portrush a sensible choice," Dawson said. "The commercial aspects are quite onerous.
"There would be considerable added expense on the ground at the golf course in drainage, facilities for tented villages, electrical cabling, fiber-optic cabling, and all of that."
Portrush is so far down the list of potential Open venues that Dawson didn't even have a ballpark figure on estimated costs.
The most telling sign the Open isn't going to Northern Ireland any time soon came when Dawson said: "We don't feel short of Open venues now."
Links aficionados – especially McDowell, McIlroy and Clarke – will lament this latest development. Royal Portrush is a good-enough course to stage an Open Championship, but Faulkner's status as the only man to lift the old Claret Jug off mainland Britain seems secure for some time to come.

Golfweek.com readers: We value your input and welcome your comments, but please be respectful in this forum.
---
---
---
---
---
---
---
---
---
---
---
---
---
---
---
---
---
---
---
---
---