Toy Box notes: Els uses new Callaway utility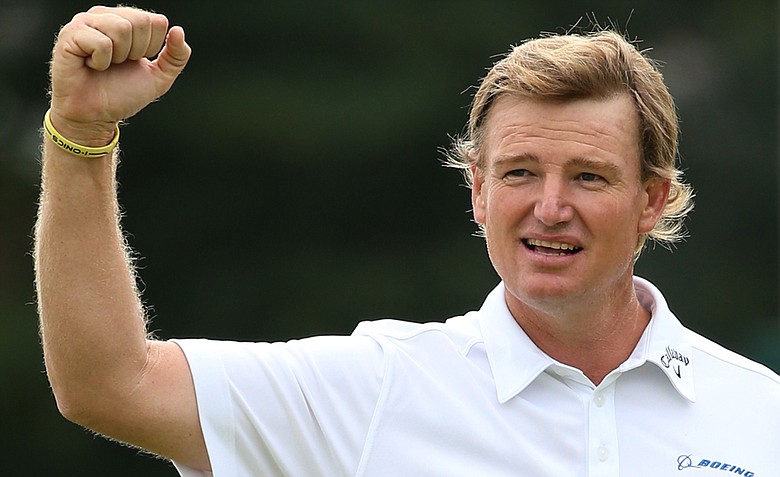 Tuesday, October 15, 2013
Although Callaway Golf officials have said on several occasions that the X Utility Prototype is designed for touring pros and will not be sold to consumers, the pendulum may be swinging in the other direction.
Ernie Els carried three of the clubs in the Open Championship.
"I told Roger (Cleveland) he should make a whole set," joked Els, who carried the only three lofts that are made – 18, 21 and 24 degrees. This left Els in an unusual situation: A 5-iron was the longest iron in his bag.
A utility club looks a lot like a beefed-up iron and is sometimes called a utility iron. Generally the utilities have small, hollow heads with a wide sole. A hybrid, on the other hand, is slightly larger and looks more like a small fairway wood.
Because of high demand for the X Utility, Callaway shipped every available head to England for the Open. Cleveland, who designed the new club, was on site at Royal Lytham and personally bent the three utilities (one-half degree flat) used by Els.
Graeme McDowell, who tied for fifth, had an 18-degree X Utility in his bag.
• • •
Els carries all Callaway: Besides the utility clubs, Els' all-Callaway bag included Razr Fit driver (8.5 degree, 45 inches), X-Tour 08 3-wood (15 degree), Razr X Muscleback irons (5-PW), Jaws wedges (52 and 60 degree) and an Odyssey White Hot XG No. 1 Belly (44.5 inches, 71.5-degree lie angle, 3 degrees of loft). He played a Callaway Hex Black Tour ball.
• • •
Top finishers use KBS shafts: Els used the 130-gram KBS Tour X-flex steel shaft in his irons, wedges and utilities. Amateurs might pay attention to this strategy. In particular, matching the shafts in irons and hybrids/utilities is gaining a measure of acceptance among skilled players.
Adam Scott, runner-up in the Open, played the same KBS Tour X-flex shaft in his Titleist irons.
The KBS Tour shaft is designed for a rhythmic swing, while the KBS C-Taper is earmarked for a faster tempo. A Tour 90 shaft, intended primarily for amateurs, is available as well.
• • •
Fujikura shaft in Els' driver: Fujikura also played an important role for Els. His driver shaft was the Fujikura Motore Speeder VC 7.2.
Els used the Speeder 757 for years before switching to the VC version. The new model is a high-kick, mid-to-low launch, low-spin shaft. It also was played at the Open Championship by Padraig Harrington, Jim Furyk and Francesco Molinari.
The purple shaft used by Els should not be confused with the white Motore Speeder VC.2 Tour Spec driver shaft used by Louis Oosthuizen, Steve Stricker and Rory McIlroy. This is the lowest-launching, lowest-spinning shaft in the Motore Speeder line.
• • •
Short shots: Scott Stallings won the PGA Tour's True South Classic with a Mitsubishi Kuro Kage 70 X-flex in his Titleist 909D3 driver (8.5 degree) and Diamana White Board 83 X-flex in his Titleist 909F2 3-wood (13.5 degree). It was the first victory on the PGA Tour for the new Kuro Kage. . . . 126 of 156 players in the Open Championship used True Temper shafts in their iron sets. . . . Aldila won the wood shaft and hybrid shaft manufacturer counts at the Open Championship and has captured both counts at 30 of 32 PGA Tour events this year. . . . At the True South Classic, 12 new Titleist 913 drivers were in play. . . . On the eve of the Open Championship, Tiger Woods went to fresh grooves in one club, his Nike VR Pro 60-degree wedge.
• • •
By the numbers Here are the equipment category leaders from the Open Championship:
Balls: Titleist 86, TaylorMade 19, Callaway 17, Srixon 15, Nike 14, Bridgestone 5
Drivers: TaylorMade 52, Titleist 28, Callaway 24, Ping 16, Nike 14, Cleveland 7
Fairway woods: TaylorMade 89, Titleist 49, Callaway 36, Ping 18, Nike 17, Cleveland 12, Adams 11
Irons: Titleist 33, TaylorMade 30, Callaway 22, Ping 17, Nike 15, Mizuno 8
Wedges (lob, sand and approach): Titleist 123, TaylorMade 47, Callaway 41, Cleveland 37, Nike 32, Ping 29
Hybrids: TaylorMade 24, Titleist 19, Adams 10, Callaway 4
Utilities (iron-like hybrids): Callaway 18, Mizuno 13, Srixon 4, Titleist 3, Fourteen 3
Putters: Odyssey 53, Titleist 43, Ping 17, TaylorMade 14, Nike 12
Gloves: FootJoy 54, Titleist 27, Callaway 18, TaylorMade 18
Shoes: FootJoy 82, Adidas 27, Nike 16
– Golfweek research
Golfweek.com readers: We value your input and welcome your comments, but please be respectful in this forum.
---
---
---
---
---
---
---
---
---
---
---
---
---
---
---
---
---
---
---
---
---