College Women
2012 Golfweek All-Americans: College women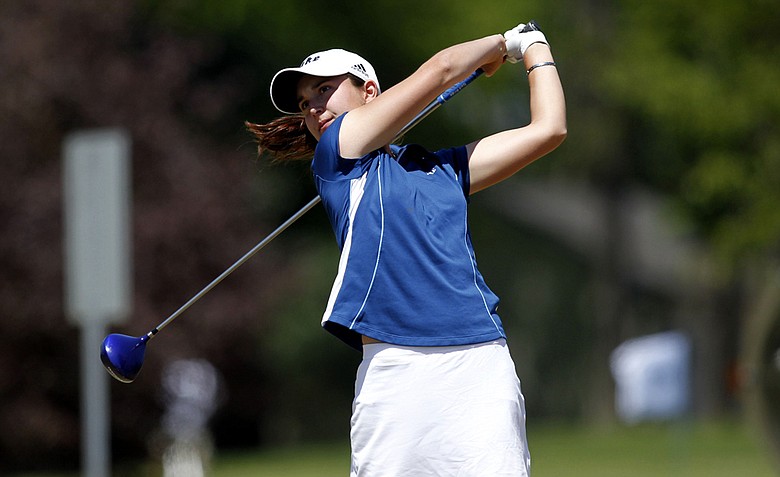 Monday, June 11, 2012
Lindy Duncan never has been quite so consistent. Despite that, the Duke junior closed a year during which she won four individual titles with this statement: "I'm still trying to get better, because there is a lot of room to improve."
Duncan finished the 2011-12 season atop the Golfweek/Sagarin College Rankings to earn
Golfweek's Player of the Year honor. In a season that was about more than just winning, she finished inside the top 10 in all 10 starts, and posted 21 rounds at even par or better. That resulted in a season scoring average of 71.07, second-best in Duke history, behind current LPGA player Amanda Blumenherst.
"Player of the Year is a big deal because I try to be a very consistent player, and this year was my most consistent I've ever had in the college events," said Duncan, from Fort Lauderdale, Fla. "That's been huge."
It also was a breakout season for Alabama's Mic Potter, Golfweek's Coach of the Year. The 29-year coaching veteran closed his seventh year at Alabama with his – and the program's – first national title. Along with maiden Southeastern Conference (2010) and NCAA regional (2011) titles, it completes a triple crown for the Crimson Tide.
Potter, who arrived at Alabama after more than two decades at Furman, led his team to three regular-season victories. The Tide controlled the NCAA Championship for much of the week, but the title ultimately came down to the last player on the last hole.
At the final hole, 'Bama senior Brooke Pancake stood over a lengthy birdie putt, needing a par to seal the victory. It must have given Potter some comfort to hear her say simply, "I got this."
With the championship safely in Alabama's hands, Potter delivered this line: "From 4 feet, right to left, there is no one I'd rather have (putting)."
For Pancake's part, there's no coach for whom she'd rather deliver a national title. It was long overdue for Potter.
"This means so much to Mic. I can't even explain it," Pancake said. "He is an amazing coach."
• • •
First team
Lindy Duncan, jr., Duke
Emily Tubert, so., Arkansas
Marina Alex, sr., Vanderbilt
Giulia Molinaro, sr., Arizona State
Brooke Pancake, sr., Alabama
Erynne Lee, fr., UCLA*
Lisa McCloskey, sr., USC
Jennifer Kirby, jr., Alabama
Cassy Isagawa, fr., Oregon*
Stephanie Meadow, so., Alabama
• • •
Second team
Katie Burnett, sr., South Carolina
Doris Chen, fr., USC*
Tiffany Lua, jr., UCLA
Lee Lopez, jr., UCLA
Laura Gonzalez, jr., Purdue
Manon Gidali, fr., Arizona*
Marta Silva Zamora, sr., Georgia
Sophia Popov, so., USCww
Emilie Burger, jr., Georgia
Austin Ernst, so., LSU
• • •
Third team
Lauren Stratton, jr., Vanderbilt
Erica Popson, jr., Tennessee
Paula Reto, jr., Purdue
Camilla Hedberg, fr., Florida*
Daniela Holmqvist, sr., California
Maria Salinas, sr., Florida State
Madelene Sagstrom, fr., LSU
Brittany Altomare, jr., Virginia
Tessa Teachman, sr., LSU
Chirapat Jao-Javanil, so., Oklahoma
• • •
Honorable Mention
Katerina Ruzickova, so., Texas AM
Caroline Powers, jr., Michigan State
Kelsey Vines, jr., Oklahoma State
Kristina Merkle, jr., Tulsa
Alex Stewart, so., Colorado
Catherine O'Donnell, sr., North Carolina
Gabriella Dominguez, jr., Texas Tech
Victoria Trapani, fr., Auburn
Hayley Davis, fr., Baylor
Ani Gulugian, so., UCLA
Joanne Lee, so., California
Casey Grice, so., North Carolina
Marta Sanz, so., Auburn
Cheyenne Woods, sr., Wake Forest
Justine Lee, so., Arizona State
Emily Talley, sr., Colorado
Grace Na, so., Pepperdine
Kimberly Kaufman, jr., Texas Tech
SooBin Kim, fr., Washington
Sally Watson, jr., Stanford
* – all-freshman team
Note: Teams determined by players' order in Golfweek/Sagarin College Rankings
Golfweek.com readers: We value your input and welcome your comments, but please be respectful in this forum.
---
---
---
---
---
---
---
---
---
---
---
---
---
---
---
---
---
---
---
---
---