College Men
Texas' Fields, 'Bama's Thomas earn honors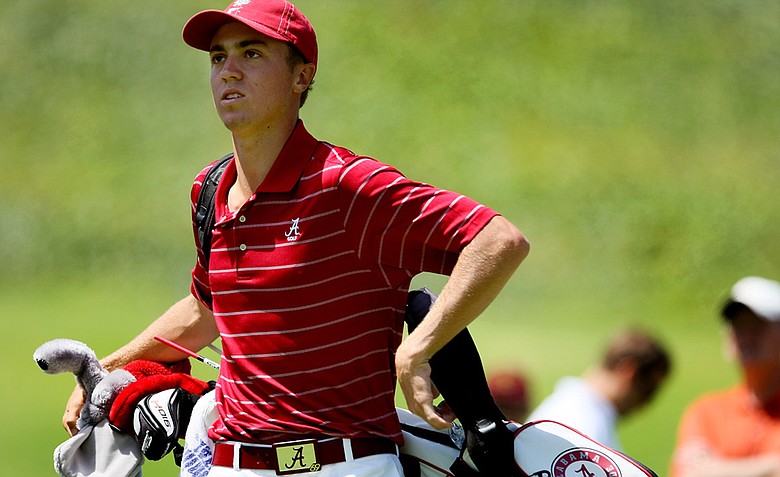 Wednesday, June 13, 2012
During the regular season, Texas won six tournaments, boasted two of the top three players in the country and held the No. 1 ranking for all but two weeks.
"That's a lot of pressure entering nationals," Longhorns coach John Fields said, "because people said all the time that we have the best team in college golf, maybe one of the best of all time. But if you fail, whose fault is it?"
Fortunately for Fields, that question went unanswered. The Longhorns edged Alabama, 3-2, at the NCAA Division I Men's Championship to give Texas its first national title since 1972. For his part in the program's breakthrough, Fields was named Golfweek's Coach of the Year.
"It's extra special because you take alot of shots from your contemporaries,"said Fields, 53, who completed his 15th season at Texas. "When you're out there recruiting and you haven't won one and you're at Texas, they say, 'That guy can't coach. He's the worst coach in America. He doesn't get kids where they need to go.' They throw mud.
"To have something like this happen, it kind of vindicates you. It's an opportunity to say, 'Well, all that hard work paid off.' "
Though his team left Riviera disappointed, Alabama freshman Justin Thomas returned home feeling emboldened by the fact that he had emerged as the top player in college golf. Seemingly always overshadowed by Texas' Jordan Spieth and others during his junior career, Thomas, of Goshen, Ky., won his first college event, then went on a tear in the spring, bringing home titles at the Puerto Rico Classic, SEC Championship and NCAA Southeast Regional.
Earlier this month, he won the Phil Mickelson (top freshman) and Jack Nicklaus (top player) awards, and now Thomas has added another honor: Golfweek's Player of the Year, after finishing the 2011-12 season No. 1 in the Golfweek/Sagarin College Rankings.
"I expected to play well," said Thomas, 19, "but I never dreamed I'd win four times and be in contention so often. It definitely was cool to make a name for myself and play the way I did in the spring."
Golfweek's first-team All-Americans
FIRST TEAM
Justin Thomas, Fr., Alabama*
Jordan Spieth, Fr., Texas*
Dylan Frittelli, Sr., Texas
Patrick Rodgers, Fr., Stanford*
Chris Williams, Jr., Washington
Eugene Wong, Sr., Oregon
Blayne Barber, Jr., Auburn
Julien Brun, Fr., TCU*
T.J. Vogel, Jr., Florida
Daniel Miernicki, Sr., Oregon
SECOND TEAM
Patrick Cantlay, So., UCLA
Stephan Jaeger, Sr., Tenn.-Chattanooga
Cory Whitsett, So., Alabama
Luke Guthrie, Sr., Illinois
Pedro Figueiredo, Jr., UCLA
Ben Kohles, Sr., Virginia
Julio Vegas, Jr., Texas
Bobby Wyatt, So., Alabama
Andrew Yun, Jr., Stanford
Brooks Koepka, Sr., Florida State
THIRD TEAM
J.J. Spaun, Sr., San Diego State
Steve Lim, Sr., USC
Thomas Pieters, So., Illinois
James White, Sr., Georgia Tech
Sean Dale, Jr., North Florida
Cheng-Tsung Pan, Fr., Washington*
Max Homa, Jr., California
Robert Karlsson, Sr., Liberty
Peter Williamson, Sr., Dartmouth
Corbin Mills, Jr., Clemson
HONORABLE MENTION
Julian Suri, Jr., Duke
Anders Albertson, Fr., Georgia Tech
Ethan Tracy, Sr., Arkansas
Talor Gooch, So., Oklahoma State
Michael Kim, Fr., California
Joakim Mikkelsen, Sr., Baylor
Brandon Hagy, So., California
Zachary Blair, Jr., BYU
Sang Yi, Sr., LSU
Jeffrey Kang, So., USC
Kevin Aylwin, Sr., North Florida
Nate McCoy, Sr., Iowa State
Dominic Bozzelli, Jr., Auburn
Josh Anderson, Sr., Pepperdine
Cameron Peck, Jr., Texas A&M
Max Scodro, Sr., Notre Dame
Sebastian Cappelen, So., Arkansas
Hunter Hamrick, Sr., Alabama
Corey Conners, So., Kent State
Ricardo Gouveia, So., Central Florida
• * all-freshman team
Note: Teams determined by players' order in Golfweek/Sagarin College Rankings
Golfweek.com readers: We value your input and welcome your comments, but please be respectful in this forum.
---
---
---
---
---
---
---
---
---
---
---
---
---
---
---
---
---
---
---
---
---