Variety abounds in choosing your grips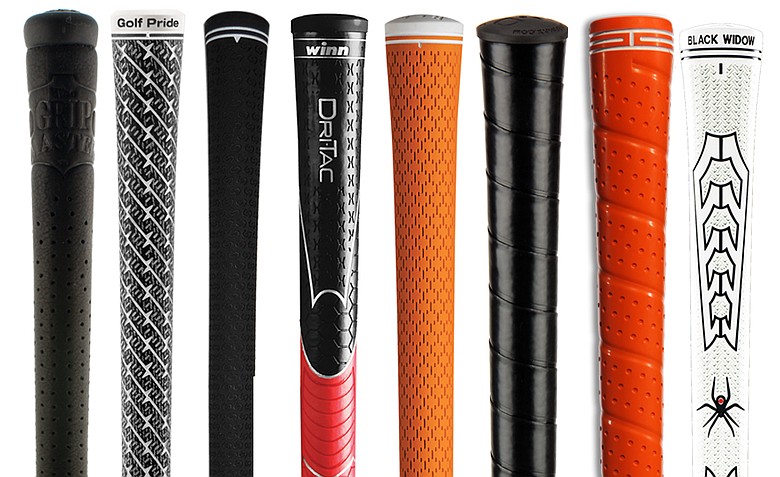 Monday, January 20, 2014
It is often said the grip is the only part of the golf club actually touched by golfers. Consequently, feeling comfortable with a grip is crucial. This is accomplished by finding the proper size and style of grip.
Golf grips for 2012 exemplify the best of the old and new in this fundamental area of golf equipment.
Best of the new: New colors are everywhere. New firmer materials and new softer materials provide golfers with unprecedented choices in grip texture and feel.
Best of the old: Cord, the original version of the all-weather grip, is coming back. So is leather. Meanwhile, the ribbed grip (often called the Reminder) is still around.
The Reminder has a rib, or thin raised area, running the length of the grip in a straight line. This rib, normally situated near the back of the grip, helps a golfer take the same grip every time.
Virtually all grips are available in ribbed and round (no rib) versions.
"In the U.K. and Asia, the Reminder is still used by the majority of golfers," said Bob Lamkin, president and CEO of Lamkin Grips. "In the United States, the round grip is used by the majority of golfers."
Most grips also are sold in standard, mid-sized and undersized versions. Some grips also are made in jumbo sizes.
How often should grips be changed?
Here are some general guidelines: For once-per-week golfers who sometimes hit range balls, changing grips once a year is sufficient. For golfers who play and practice more frequently, twice per year is a good idea.
• • •
Black Widow Fusion II
The skinny: The Fusion II represents Black Widow's attempt to combine the traction of cord with the softer feel of a textured surface. Black Widow grips are known for their distinctive look, and the Fusion II is available in black cord or white cord.
Cost: $5.99 for standard size
Available: Immediate
• • •
JumboMax Original
The skinny: JumboMax grips are gigantic. They are bigger than any "jumbo"grip on the market. Stock sizes are labeled small, medium, large and extra large, but all of them are big. Golfers should be diligent in choosing the proper size. The grips are a favorite with golfers suffering from hand maladies such as arthritis. JumboMax literature claims bigger grips promote a more relaxed grip pressure for all golfers.
Cost: $10.99 for standard size
Available: Immediate
• • •
The Grip Master
The skinny: Australia-based Grip Master, seeking to emulate the wrap-on leather grips of the past, invented a process for making slip-on leather grips. The grip, available in an array of sizes, is sold throughout the world. The company claims the grips will last as long as three years with proper care.
Cost: $24.95 for standard size with Pittards leather, more expensive with other leathers
Available: Immediate
• • •
Pure P2 Wrap
The skinny: The P2 Wrap is Pure's tackiest grip. For 2012, the company has unveiled an eye-catching collection of colors and is emphasizing its efforts at grip customization with names and logos. Pure advocates installation of its grip with an air gun, eliminating tape and solvent.
Cost: $6.49 for standard size
Available: Immediate
• • •
UST Mamiya Soft Touch
The skinny: UST Mamiya is a huge supplier of aftermarket golf shafts, so the company decided to produce grips to go along with its shafts. The Soft Touch is made of polyurethane to dampen vibration. As the name implies, it is smooth and soft. Furthermore, it is designed to be used in all types of weather.
Cost: $5.99 for standard size
Available: Immediate
• • •
Lamkin R.E.L. 3GEN
The skinny: Named after the patriarch of the Lamkin grip family, Robert E. Lamkin, this grip is all about feel. It is made of a softer material with a minimal surface pattern. 3GEN is an advanced synthetic rubber designed to minimize vibration at impact. The R.E.L is available in a rainbow of colors.
Cost: $4.99 for standard size
Available: Immediate
• • •
Golf Pride Z-Grip Cord
The skinny: Golf Pride calls the Z-Grip an "aggressive" grip because of its material and pattern. It is a firm cord grip with lots of cord – a throwback to the glory days of all-weather grips. It also has deep grooves in its surface pattern. Golf Pride confirms the greatest interest so far has come from skilled players, drawn by the Z-shaped texture pattern of the cord.
Cost: $9.59 for standard size
Available: Immediate
• • •
Winn Dri-Tac
The skinny: This is Winn's tackiest grip and reflects a simple mission statement: Combine comfortable feel with non-slip performance in all types of weather. It is made of polymer material and is available in many colors. Winn has been one of the leaders in introducing vivid colors to modern golf grips, and Dri-Tac reflects the company's philosophy of offering colorful yet functional grips. It also comes in Dri-Tac Wrap Lite.
Cost: $6.19 for standard size
Available: Immediate
• • •
Boccieri Secret Grip
The skinny: This grip was one of the surprise attractions at the 2012 PGA Merchandise Show. Inventor Steve Boccieri, known mostly for his Heavy Putter, is the king of counterweighting. He places a heavy counterweight in the grip end of every club he sells. This changes the balance point and feel. Now Boccieri is doing the same with this grip. Made of dense rubber, it weighs 92 grams, almost twice the weight of a standard grip. It has a 17-gram tungsten weight molded into the butt of the grip.
Cost: $16.99 for standard size (full-set discounts available)
Available: April 1
Golfweek.com readers: We value your input and welcome your comments, but please be respectful in this forum.
---
---
---
---
---
---
---
---
---
---
---
---
---
---
---
---
---
---
---
---
---