East: South Carolina wins; Michigan State delivers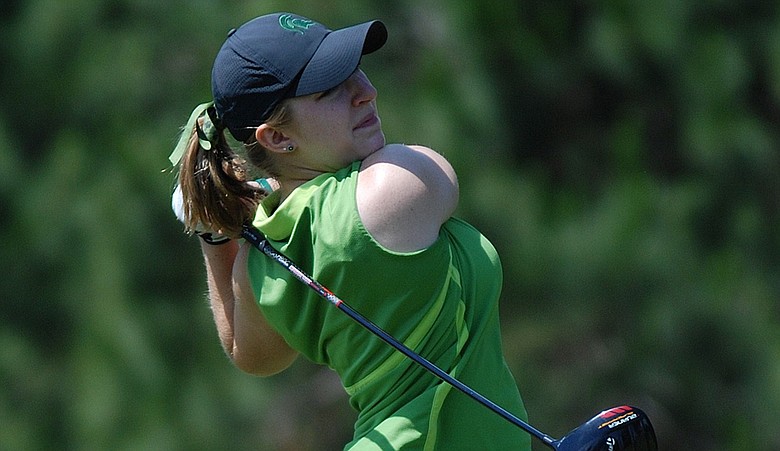 Saturday, May 12, 2012
Scores
Team winner: South Carolina (873)
Individual winner: Katerina Ruzickova (213)
Also moving on: Teams – T-2. Texas A&M, Texas (878) T-4. Alabama (879) T-4. Florida (879) T-6. Arizona State (887) T-6. Michigan State (887) T-6. Duke (887)
Individuals: T-7. Kelsey Vines, Oklahoma State (217), T-10. Margarita Ramos, Arizona (218)
Sheer determination: The tears welling up behind the sunglasses of Stacy Slobodnik-Stoll were a mixture of joy and relief. Michigan State entered the final round in 12th place, in danger of missing the NCAA Championship for the third consecutive year.
Slobodnik-Stoll took her team to the famous creamery here in State College last night. This morning, she gave them a stern pep talk.
"I don't want to be the little kid looking in again, watching nationals saying 'We should have been there,' " Slobodnik-Stoll said. "I said that, I would say, a little forcefully. It's one thing if your team isn't capable of doing it. It's another if you have a team that's capable and they don't do it, especially in the big moments."
Message received.
At one point on the back nine (their front nine), the Spartans were 12 under. Senior Lindsey Solberg notched seven birdies, and five of them were from within 4 feet. Her school-record 67 included a double-bogey on the par-5 fifth, a relatively benign hole.
"We've always said about Lindsey, the bigger the show, the better she plays," said Slobodnik-Stoll.
Solberg, the lone senior in the lineup, said last year's team was too busy riding the high of winning the Big Ten Championship to focus on the task of advancing through regionals. They tried not to make that mistake again.
The Spartans finished in a tie for sixth with Duke and Arizona State. Their 5-under 283 was the day's second-lowest round.
• • •
Like golf for chocolate:: Arizona State managed to keep its perfect record intact: They advanced to the NCAA Championship for the 20th consecutive year. This was, however, their closest call.
What motivated the players to get in gear? Having to spend the next 24 hours with two extremely disappointed coaches if they didn't make it.
"It would be brutal," said sophomore Justine Lee.
Luellen promised her girls a trip to nearby Hershey, Pa., for chocolate and roller coasters if they made it through. And if they didn't?
"Push-ups," she joked.
• • •
Short shots: South Carolina won the East Regional for the second time in three years. They were the eighth seed coming into the week and led after all three rounds. Suzie Lee notched an 11 on her third hole (No. 12) during the second round but rebounded with a 4-under 68 that included an eagle on the par-4 sixth. Senior Katie Burnett tied for third overall to lead the Gamecocks. … Texas A&M's Katerina Ruzickova opened with a 5-under 67 and held on to win the individual race after a pair of 73s. Her teammates used water bottles to drench her on the ninth green (her last hole). Ruzickova said that throughout the season she has played her best golf the last round. This week, she made an effort to "get the work done the first round." … Texas posted the day's lowest round, 6-under 282, to vault into second place with in-state rival A&M. It marked the fourth time in the last five years that the Longhorns have advanced out of regional action seeded outside the top eight. Even more impressive, the Longhorns managed it without Madison Pressel, who is out with a shoulder injury.
"We've really made a lot of progress this semester just getting them in a frame of mind where they understand that they really have to get after it," said Texas coach Martha Richards. "Women's college golf isn't like what it used to be. You've really got to play well."
Golfweek.com readers: We value your input and welcome your comments, but please be respectful in this forum.
---
---