Duncan earns NGCA Player of the Year; Lee top freshman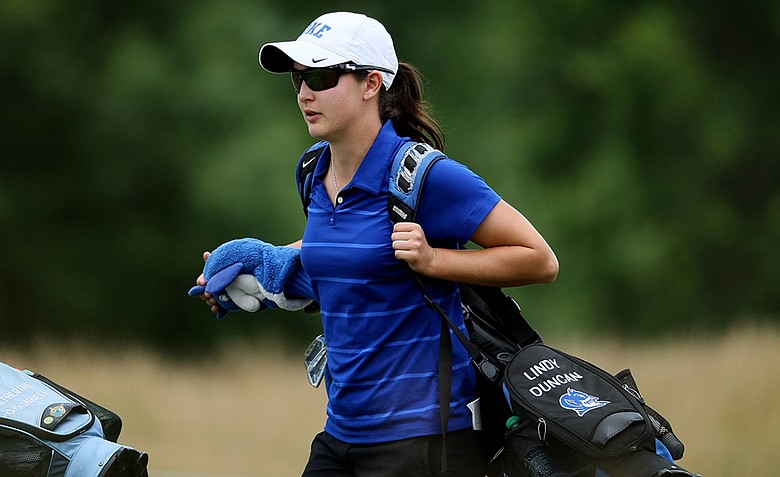 Saturday, May 26, 2012
FRANKLIN, Tenn. – The NCAA Women's Championship closed May 25 with the announcement of the annual National Golf Coaches Association Awards and All-American teams.
Duke junior Lindy Duncan became the third Blue Devil to win the Player of the Year award. Duncan ended the year atop the Golfweek/Sagarin College Rankings. UCLA's Erynne Lee was named the Freshman of the Year.
Amy Anderson, a North Dakota State junior who missed an individual playoff at regional by one shot, was awarded the Dinah Shore Trophy Award. The honor annually is given to a female college golfer who maintains a strong grade point average, contributes to the team and demonstrates leadership qualities off the course. Past recipients include Amanda Blumenherst (Duke), Stacy Lewis (Arkansas) and Karin Sjodin (Oklahoma State).
Ashley McKenny, Samantha Troyanovich and Stephanie Wagstaff of Tulane earned the Kim Moore Spirit Award, given to players who demonstrate a great spirit toward the game of golf and a positive attitude in the face of challenges.
Other awards:
Eaton Golf Pride NGCA National Coach of the Year: Mic Potter (Alabama)
Eaton Golf Pride NGCA Regional Coaches of the Year
East Region: Potter
Central Region: Veronique Drouin-Luttrell (Oklahoma)
West Region: Carrie Forsyth (UCLA)
Eaton Golf Pride NGCA Assistant Golf Coach of the Year: Patricia Earley (North Carolina)
All-Americans
First Team
Marina Alex, Vanderbilt
Doris Chen, USC
Lindy Duncan, Duke
Chirapat Jao-Javanil, Oklahoma
Jennifer Kirby, Alabama
Erynne Lee, UCLA
Lee Lopez, UCLA
Lisa McCloskey, USC
Giulia Molinaro, Arizona State
Brooke Pancake, Alabama
Lauren Stratton, Vanderbilt
Emily Tubert, Arkansas
Second Team
Brittany Altomare, Virginia
Emilie Burger, Georgia
Katie Burnett, South Carolina
Hayley Davis, Baylor
Manon Gidali, Arizona
Laura Gonzalez, Purdue
Cassy Isagawa, Oregon
Tiffany Lua, UCLA
Stephanie Meadow, Alabama
Katerina Ruzickova, Texas A&M
Kelsey Vines, Oklahoma State
Honorable Mention
Gabriella Dominguez, Texas Tech
Austin Ernst, LSU
Ani Gulugian, UCLA
Camilla Hedberg, Florida
Daniela Holmqvist, California
Kimberly Kaufman, Texas Tech
Justine Lee, Arizona State
Brittany Marchand, North Carolina State
Grace Na, Pepperdine
Katherine Perry, North Carolina
Sophia Popov, USC
Caroline Powers, Michigan State
Portland Rosen, Virginia
Madelene Sagstrom, LSU
Maria Salinas, Florida State
Marta Sanz, Auburn
Emily Talley, Colorado
Tessa Teachman, LSU
Marta Silva Zamora, Georgia
Golfweek.com readers: We value your input and welcome your comments, but please be respectful in this forum.
---
---