Western Wall offers day of prayer, reflection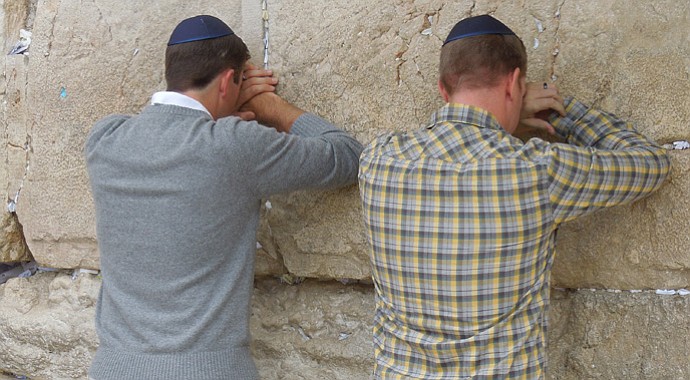 Wednesday, November 14, 2012
---
Photo Gallery
A trip to Israel: Stars spread gospel of golf
Sean Foley, Hunter Mahan, Amy Alcott and Michael Thompson traveled to Israel in mid-November and our Adam Schupak is there to chronicle their visit.
---
JERUSALEM – 6,500.
That's how many prayer notes are crumpled, nestled, squeezed and even stuck with gum into the Western Wall every day.
"That's a lot of mail being delivered upstairs," said our tour guide Yaniv.
With Yaniv leading the way, we ventured beneath the streets and houses to tour the archaeological site of the biblical city captured by King David more than 3,000 years ago. Underground tunnels led us near the western retaining wall of King Herod's Temple Mount. For generations, it was considered to be the last remnant of the Second Temple as well as the most sacred site for Judaism. Yaniv's advice? Leave our prayers at the tunnel location, where notes are left in smaller quantity.
"Think of here as FedEx," he said.
The Western Wall, also known as the Wailing Wall, is one of the most remarkable architectural structures I've ever seen. It is 2,000 years old and stretches the equivalent of seven city blocks. As Rabbi Shmuel Rabinovitch, Israel's rabbi to its holy sites, said of the Kotel (the wall's Hebrew name), "Here is a place where God hears your prayers."
Whether they are answered remains to be seen, but here all faiths are welcome. In its simplicity and powerfulness, the Western Wall symbolizes the historical heritage of the Jewish nation, and spurs those who stand before it to recite deeply felt prayers. It's not just for tourists. Whom did we run into but the Israeli national soccer team seeking a little divine intervention before its match with Belarus on Wednesday.
One of the beauties of Jerusalem is that it is a holy city to three religions – Judaism, Christianity and Islam – and we experienced a little of each: ruins from the Byzantine churches and Crusader citadels, impressive European-style stone buildings, the Dome of the Rock, the oldest preserved Islamic structure in the world, and synagogues of every variety.
It's not every day you can say you walked in the footsteps of Jesus Christ. We stood on stone floors estimated to be from the year 324, touched the red vase known as "the belly button of the world," and marveled at the craftsmanship of an earlier era. We toured the Chapel of St. Helena, a 12th-century Armenian church, Golgotha (also known as Calvary), where Christ is believed to have been crucified, and the Church of the Holy Sepulchre, where according to Christian tradition, Christ was buried and ascended into heaven after his Resurrection.
I'll repeat the words of our trip guide, Shalom Kleiman, who said, "That is a theoretical decision. That's for you to decide."
No matter our varying personal beliefs, the group agreed it was a day of prayer and pilgrimage that we will not soon forget. And yet it left Amy Alcott, the former LPGA star, feeling small and insignificant, she said.
"I feel like an astronaut looking down on the world," Alcott said. "Think of the golf courses of Scotland and England that we consider to be old."
She was right. Suddenly the Old Course didn't seem so old.
• • •
UP NEXT: Amy Alcott's "life-changing experience"
Golfweek.com readers: We value your input and welcome your comments, but please be respectful in this forum.
---
---
---
---
---
---
---
---
---
---
---
---
---
---
---
---
---
---
---
---
---