Miceli: Where's the statistical evidence?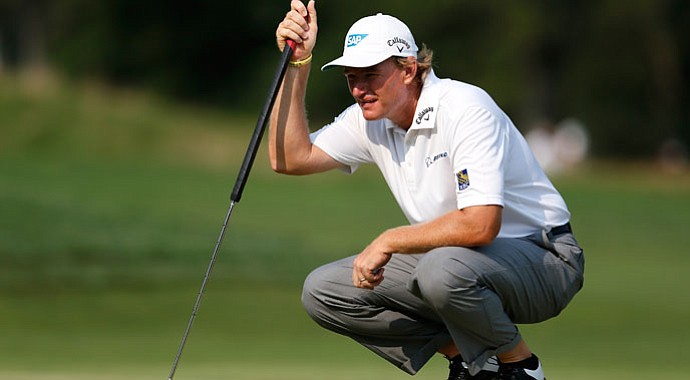 Tuesday, December 4, 2012
---
Photo Gallery
Photos: Players that use belly/long putters
Here is a photo gallery of the PGA Tour, LPGA and Champions Tour players that use belly and long putters.
---
Reader poll
Yes, I would favor a ban on anchoring a golf club

51%

No, I would not favor a ban on anchoring a golf club

45%

Doesn't matter, I will use an anchored club anyway

3%
2586 total votes.
Use a long putter? Never tried it.
• • •
The anchored putting stroke has been around longer than the Surlyn-covered golf ball, metal woods or hybrids.
It predates Whistling Straits, Erin Hills and Chambers Bay, all courses that have hosted or soon will be major-championship venues.
Yet, for some inconceivable reason, the U.S. Golf Association and the R&A plan to outlaw anchoring in the next rules cycle, starting in 2016.
Why?
It's not that the governing bodies haven't looked critically at the stroke before; they have, and opted to pass on a rules change. It's not that they haven't found it repugnant before; they have, but again they decided to look the other way.
But now, golf's power brokers have decided the time has come to ban anchoring.
No specific statistical evidence will be forthcoming as it was when the larger-volume, U-shaped grooves were banned in 2010.
The decision simply stems from the belief within the USGA and R&A that the anchored stroke is not a putting stroke that belongs in golf.
Of course, a similar argument was made in 1998 against Casey Martin, who, because of a degenerative circulatory disorder in his right leg, wanted to use a cart to pursue his dream of professional golf. Carts are not part of competitive golf, the game's guardians argued. Thankfully, compassion, public opinion – and, of course, the U.S. Supreme Court – sided with Martin.
Martin rode his cart for a couple of years on the PGA Tour, then rode off into the sunset as a professional. Golf was not harmed in the least.
Was golf harmed when Keegan Bradley won the 2011 PGA Championship wielding a belly putter? Not if you followed the news media's overwhelmingly positive coverage.
How great was it when Ernie Els turned back the clock this summer at Royal Lytham & St. Annes? His victory produced some of the same positive vibes as in 1986 when Jack Nicklaus came out of hibernation at Augusta National to win his 18th and last major.

Nicklaus did it with a putter best described as ill-conceived for the purpose for which it was designed.
The MacGregor Response ZT model sold out fast among everyday golfers but never caught on with the professionals.
Neither has the long or belly putting stroke. It is used by less than a quarter of the golfers on the PGA Tour, even less so on the European and LPGA tours.
The reason is simple: PGA Tour green speeds typically are the slickest of any worldwide tour.
The anchored stroke came into vogue recently because of slick greens and tucked hole locations that bordered on good sense. For every major winner who used a belly or long putter, I can name three times as many major-championship setups that were inherently unfair because the USGA, R&A or PGA of America wanted the hardest test. Not the fairest; the hardest.
So when players try to find weapons or strokes to counter the attempts by the keepers of the majors, they are slapped down from time to time. Yet another example took place this morning.
Golf has evolved over the centuries. However, the ban on the anchoring stroke will halt any growth of the game that the governing bodies say they are trying to protect.
• • •
Editor's note: Check out all of our in-depth stories on the anchoring issue here.
Golfweek.com readers: We value your input and welcome your comments, but please be respectful in this forum.
---
---
---
---
---
---
---
---
---
---
---
---
---
---
---
---
---
---
---
---
---