5 Things: Bolli climbs money list with Web.com win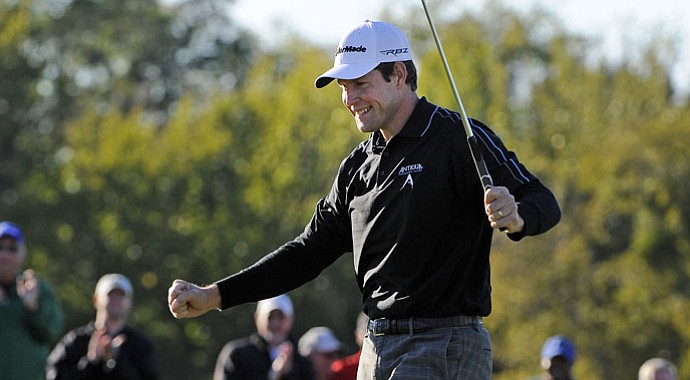 Sunday, October 28, 2012
Twenty-five PGA Tour cards were handed out Sunday in the Dallas suburbs as the Web.com Tour season came to a close. As is always the case when PGA Tour cards are on the line, there was plenty of drama. Here are 5 Things you need to know from the Web.com Tour Championship.
• • •
1. BOLLI ROLLS: Justin Bolli shot a final-round 65 at TPC Craig Ranch to win the Web.com Tour Championship and earn a return to the PGA Tour. Bolli started the week at 44th on the money list, but the $180,000 winner's check moved him to ninth.
"I can't say I expected it, but it was one of those days where everything went my way,"said Bolli, who finished at 16-under 268. He capped the win with a 10-foot birdie putt on the final hole. Bolli started the final round two shots behind co-leaders Justin Hicks and James Hahn, but made eight birdies for a two-shot win over Hahn.
This was Bolli's fourth career Web.com Tour victory. He last played the PGA tour in 2010, finishing 215th on the money list after making just four cuts in 23 starts.
• • •
2. BUBBLE BOYS: Bolli was one of three players to move into the top 25 on the money list in the season's final week. Morgan Hoffmann, who tied for third at TPC Craig Ranch, jumped from 31st to 19th on the money list. Doug Labelle II moved from 26th to 24th on the money list with a T-13 this week.
With three players moving inside the magic number, three players had to move out. Hudson Swafford, Joseph Bramlett and Camilo Benedetti were bumped out. They started the week as Nos. 23-25 on the money list.
Benedetti finished 26th on the money list, just $940 short of No. 25 Jim Herman.
Swafford finished 39th in the 60-man field this week; the Web.com Tour rookie also missed a PGA Tour card by two shots at the 2011 Q-School after a final-round 65. Bramlett, who earned a PGA Tour card in his first Q-School attempt in 2010, finished 31st this week. Swafford and Bramlett finished 27th and 28th on the Web.com Tour money list, respectively.
Benedetti made a weekend rally, and was in the projected top 25 on the money list during the final round, but fell just short of a PGA Tour card once again.
He started this week with rounds of 72-73, putting him T-49 after two rounds. He shot 66-67 on the weekend, though, to move up 30 spots on the leaderboard. It wasn't enough. Benedetti, who turned pro in 2002, has never held a PGA Tour card, narrowly missing several times.
He missed his card by a shot at Q-School in 2010 after making bogey on the final hole. He was in fourth place through two rounds of last year's Web.com Tour Championship before shooting 74-73 to finish fifth at 4-under 284, three shots away from earning a PGA Tour card.
Those players who came close to Tour cards have a consolation. The top 40 on the Web.com Tour money list are exempt into the final stage of PGA Tour Q-School.
• • •
3. CLINGING TO A CARD: James Hahn's brilliant up-and-down on the final hole didn't determine the champion, but it did have a big impact on the tournament. Hahn hit his second shot on the par-5 18th hole some 30 yards right of the green, but chipped to 2 feet to make birdie.
His birdie bumped Adam Hadwin out of the top 25 on the money list, and allowed Herman to grab the final card.
Hahn arrived at the 18th hole in a three-way tie for second with Hoffmann and Hadwin. Hoffmann's PGA Tour card was secure, but Hadwin was clinging to the 25th spot on the money list as Hahn played No. 18. Had Hahn made par, Hadwin would've remained at T-2 and earned the final PGA Tour card.
Hadwin, who started the week at No. 48 on the money list, finished 30th.
• • •
4. STAYING ON TOP: Casey Wittenberg tied for ninth at the Web.com Tour Championship to hold on to the top spot on the money list. He won twice this season and finished in the top 25 in 12 of 24 starts, including eight top 10s. The No. 1 position on the money list is very important.
The Web.com Tour's leading money winner gains entry into the following year's Players Championship and is fully exempt for the entire Tour season, meaning he is eligible for every "open" PGA Tour event. The other 24 Web.com Tour graduates get into tournaments on a space-available basis, and their standing in their eligibility category is reshuffled throughout the season based on money earned.
Wittenberg also finished 10th at this year's U.S. Open. This will be his second PGA Tour season, and first since 2009. Wittenberg, the 2003 U.S. Amateur runner-up, turned pro in 2004.
• • •
5. BIG LEAP: Morgan Hoffmann, a 2011 first-team All-American at Oklahoma State, started this season without Web.com Tour status after failing to advance out of the second stage of PGA Tour Q-School. Now he has a PGA Tour card. He started this week at No. 31 on the money list but earned a PGA Tour card with his T-3 finish at TPC Craig Ranch. He shot 7-under 64 in the final round, to move up eight spots on the leaderboard.
Hoffmann used sponsor exemptions and Monday qualifiers to piece together 13 starts on the Web.com Tour this season. He had seven top 10s in those 13 starts, including a playoff loss at the Chiquita Classic. He also finished 29th at this year's U.S. Open.
Golfweek.com readers: We value your input and welcome your comments, but please be respectful in this forum.
---
---
---
---
---
---
---
---
---
---
---
---
---
---
---
---
---
---
---
---
---