College Women
Women's Midweek Report: Sooners break records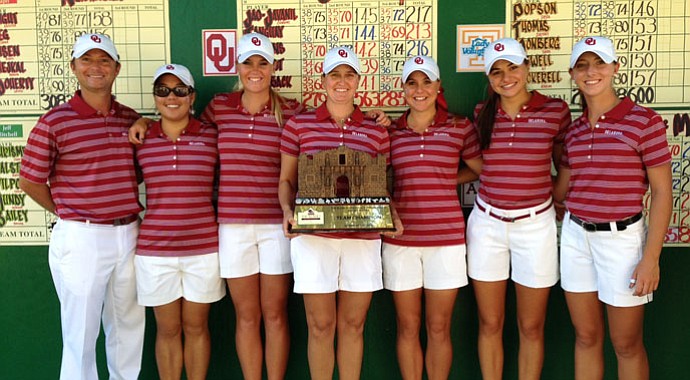 Wednesday, October 31, 2012
Welcome to Golfweek's Midweek Report. We wanted to use this hump day to update you on all the latest college news and give you a quick glance at what to look ahead to this weekend.
• • •
THE BIG 5
Stories you need to know now
TEAMS
1. Oklahoma: Not two weeks after breakings its own 18- and 54-hole records at the Susie Maxwell Berning Invitational, Oklahoma reset both of those on Oct. 30, plus the 36-hole scoring record. It was some week for the Sooners at the Alamo Invitational, and they left with an eight-shot victory over runner-up Texas A&M. That makes back-to-back victories to end their fall season.
2. Florida: The Gators' fall season could easily be considered the best in the country. A victory at the Betsy Rawls Longhorn Invitational is the second in four fall starts, and a Florida player has won the individual title in every one of those. Two victories in a fall season is the most for a Florida team since 2006.
3. Alabama: Give credit where credit is due. The Crimson Tide played just as well at the Betsy Rawls as Florida did, ending 54 holes of regulation tied with the Gators at 1-under 863. Losing a tiebreaker (tournament officials counted the fifth player's final-round score for each team) was an unfortunate end to a good week.
4. Oklahoma State: The Landfall Tradition might have just been an 18-hole tournament, thanks to Hurricane Sandy, but Oklahoma State delivered a solid round of 4-over 292 on Day 1 to eventually win the event. It caps a fall season during which Oklahoma State finished inside the top 5 in three of four starts.
5. Duke: The Blue Devils deserve a nod for their second-round performance at Landfall. Before play was called for weather mid-way through that round, Duke was mounting a charge. The Blue Devils were leading by four shots when Round 2 was canceled, scores wiped and the tournament declared an 18-hole event.
INDIVIDUALS
1. Camilla Hedberg, Florida: It was some fall for the Florida sophomore. In addition to two collegiate victories, at the Cougar Classic and the Betsy Rawls Longhorn Invitational, Hedberg also was the low college player at the Women's World Amateur Team Championship in Antalya, Turkey. She was T-2 at the event.
2. Jennifer Kirby, Alabama: Just as her team finished tied for first at the Betsy Rawls, so did Kirby, thanks in part to her opening two rounds of 3-under 69. She lost a playoff to Hedberg.
3. Kim Kaufman, Texas Tech: The senior won her first collegiate title at the Landfall Tradition, something that was long overdue for a player of Kaufman's caliber. So far in 2012, Kaufman has advanced to the semifinals at the U.S. Women's Amateur Public Links, finished third at the Canadian Women's Amateur and defended her title at the South Dakota Women's Amateur. She's a gem for the Red Raiders.
4. Erynne Lee, UCLA: Lee, last year's Freshman of the Year, had her best finish at the Betsy Rawls in three sophomore starts. A final-roud 68 lifted her to T-3 as the team recorded its third consecutive eighth-place finish.
5. Lauren Taylor, Baylor: The English player was one of the most promising freshmen at the beginning of the year after making headlines as the 2011 Women's British Amateur champion. She finished second at The Alamo to cap the fall. It's her best collegiate finish so far.
BEST OF THE BEST
How the top 5 teams in the Golfweek/Sagarin College Rankings fared
1. Washington: DNP
2. USC: DNP
3. Oklahoma: Won, The Alamo
4. Duke: 2nd, Landfall Tradition
5. Florida: Won, Betsy Rawls Longhorn Invitational
How the top 5 individuals in the Golfweek/Sagarin College Rankings fared
1. Isabelle Lendl, Florida: 10th, Betsy Rawls Longhorn Invitational
2. Kimberly Kaufman, Texas Tech: Won, Landfall Tradition
3. SooBin Kim, Washington: DNP
4. Lindsey Weaver, Notre Dame: T-3, Landfall Tradition
5. Kelsey Vines, Landfall Tradition: 2nd, Landfall Tradition
• • •
TOURNAMENT RESULTS
Tournament (team champion; individual winner)
Landfall Tradition (Oklahoma State; Kim Kaufman, Texas Tech)
The Alamo Invitational (Oklahoma; Maribel Lopez Porras, Tulane)
Betsy Rawls Longhorn Invitational (Florida; Camilla Hedberg, Florida)
Golfweek.com readers: We value your input and welcome your comments, but please be respectful in this forum.
---
---
---
---
---
---
---
---
---
---
---
---
---
---
---
---
---
---
---
---
---