Notes: Schwartzel shoots 69 despite injury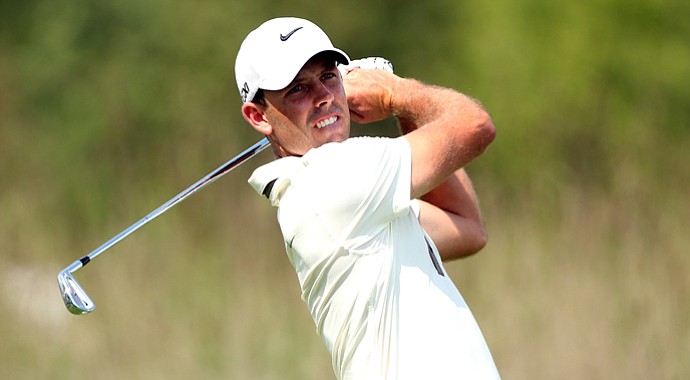 Thursday, September 6, 2012
CARMEL, Ind. – Charl Schwartzel left Boston after a final-round 71 at the Deutsche Bank Championship feeling 50-50 that he would make the trip to Indianapolis.
The South African had reinjured a rib joint that he originally had hurt the week before the U.S. Open, and in Boston, the pain returned.
"If I was injured and pulled out and someone else could get in, I would have maybe not played," Schwartzel said after a first-round 3-under 69 on Thursday at Crooked Stick Golf Club. "But there's no one to fill the spot, so if I don't play, no one else gets in, so I might as well play. We'll see how far it gets. I guess at the stage where I feel it's going to go, I'll just stop.
At 68th on the FedEx Cup playoff list, Schwartzel would have to do something very special to get into the top 30 in two weeks at the Tour Championship, the final event of the playoffs. But Schwartzel is just trying to get through one day at a time, which seems increasingly difficult.
"At 14, I was close to going," Schwartzel said of the rib joint. "So it was very sore. But it seems to come and go."
• • •
SCORING FEST: Wet conditions, ball in hand and receptive greens created ideal scoring conditions in the first round at Pete Dye's Crooked Stick, with 60 of the 70 players shooting par or better.
With Crooked Stick playing as a par 72 at 7,497 yards, the course yielded a scoring average of 69.471, with only five holes playing over par.
The easiest hole on the course was the par-5 15th, which played to a 4.20 stroke average. The hole yielded eight eagles, 43 birdies and only three bogeys.
For perspective, the lowest tournament score on the PGA Tour this year was 24 under at the Humana Challenge and the True South Classic.
With four players (Webb Simpson, Bo Van Pelt, Rory McIlroy and Graham DeLaet) at 8 under in the first round, Tiger Woods and Vijay Singh at 7 under and the fact that the tee times have been moved up with more rain on its way this week, expect Crooked Stick to get increasingly wet and the scoring fest to continue.
• • •
PENALTY FOR McDOWELL: For Graeme McDowell, a first-round 68 proved to be bittersweet when the Northern Irishman was dinged with a two-shot penalty for touching a loose impediment in a greenside bunker at the ninth hole.
For a short time, McDowell appeared to have shot 66, which would have left him two shots off the lead. When he exited the scoring trailer, the truth came out: McDowell had called a penalty on himself.
"I had a fairly large leaf, branch behind my ball in the trap, and in the process of getting in there to try and address the ball, I brushed the top by the leaf," McDowell said after signing his scorecard Thursday. "It didn't move; I didn't improve my lie in any way, shape or form, but it's a two‑shot penalty for touching a loose impediment in a hazard."
Yes, we are all aware of the rule after Carl Pettersson brushed a leaf on his backswing on the first hole of the final round of the PGA Championship and was docked two shots.
In the case of McDowell, his caddie told his boss to be careful of the leaf, but McDowell misunderstood and it cost him two shots.
"Before I got into the bunker, my caddie said to me, you can't touch that leaf," McDowell said. "I thought he meant, as in, you can't remove it. I kind of misinterpreted what he was saying, and I didn't give the branch the correct amount of respect."
• • •
SHORT SHOTS: All four players on top of the leaderboard managed not to get into a greenside bunker in the first round. . . . Graham DeLaet made 159 feet, 5 inches of putts in the first round, leading the tournament in that category. Rory McIlroy made only 41 feet, 9 inches, less than a third of DeLaet's total, yet both are tied for the lead. . . . It's not probable that the four co-leaders will win this week. Of the 38 stroke-play events on the PGA Tour in 2012, only three times has the first-round leader gone on to win.
Golfweek.com readers: We value your input and welcome your comments, but please be respectful in this forum.
---
---
---
---
---
---
---
---
---
---
---
---
---
---
---
---
---
---
---
---
---