College Men
College preview: Top 30 men's preseason rankings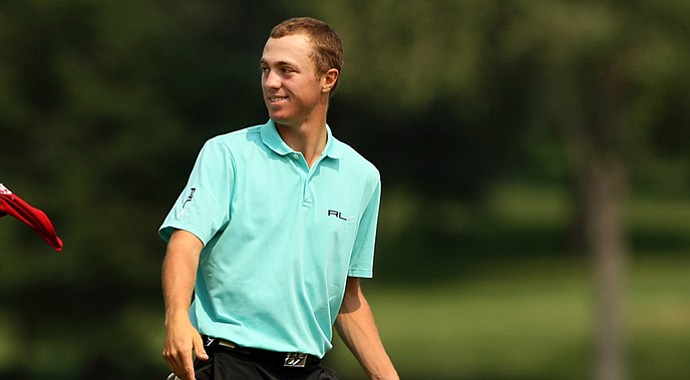 Friday, September 7, 2012
The 2012-13 college golf season starts in earnest this week, and our staff of experts took at list at every college squad and put together their top 30 squads entering the fall season.
Does Texas have enough firepower to repeat as NCAA champion? Will Cal ride a fantastic summer from the likes of Michael Weaver to a the top spot? Can UCLA overcome the loss of star Patrick Cantlay? And can anyone compete with Alabama's depth, including Justin Thomas and Bobby Wyatt?
All of those questions will be answered in the coming weeks, as each of those teams will try to make an early statement heading into the spring season.
Check out our preseason rankings and a link to each team's preview capsule:
No. 1 Alabama

The Tide returned their top three players from last season: Haskins Award winner Justin Thomas, Sunnehanna Amateur champion and U.S. Amateur medalist Bobby Wyatt and Cory Whitsett. Capsule.

No. 2 California

The deep and talented Golden Bears, winners of last year's Pac-12 Championship and NCAA West Regional, return five starters, including three All-Americans. Capsule.

No. 3 Texas

The Longhorns return four of five players who participated in the Longhorns' victory at last year's NCAA Championship, lead by Jordan Spieth. Capsule.

No. 4 Georgia Tech

This is a young team, with just one senior on its roster. Sophomore Anders Albertson is the Yellow Jackets' top returner, ranking 32nd in last year's Golfweek/Sagarin College Rankings. Capsule.

No. 5 UCLA

The Bruins will have a tall task, having to replace 2012 Hogan Award winner Patrick Cantlay. The Bruins have plenty of depth. All-Americans Pedro Figueiredo and Anton Arboleda will anchor the lineup. Capsule.

No. 6 Washington

The Huskies have plenty of talent to contend for a national title. Senior Chris Williams and sophomore Cheng-Tsung Pan should continue to lead the way. Capsule.

No. 7 Arkansas

Arkansas will look to rebound from last season's disappointment of not reaching the NCAA Championship. The Razorbacks won seven times last season and that winning instinct should kick in again. Capsule.

No. 8 Florida

It's possible that one of the best one-two punches in college golf reside in Gainesville, Fla. Seniors T.J. Vogel and Tyler McCumber, Florida's top two leaders in stroke average, respectively, in 2011-12, return to lead the Gators. Capsule.

No. 9 Texas AM

Much of the Texas A&M's success this season rests on the health of junior Cameron Peck, who experienced some back problems at the end of last season. Capsule.

No. 10 Stanford

Stanford returns a lot of firepower from last year's squad, which was among the nation's elite teams during the regular season before underperforming down the stretch. Capsule.

No. 11 Auburn

Dominic Bozzelli, Michael Johnson and the rest of the Auburn Tigers will look to improve on a top-5 ranking last season without Blayne Barber. Capsule.

No. 12 USC

Junior Jeffrey Kang will lead a veteran Trojan squad that is looking to improve on their 15th-place finish at the NCAAs. Capsule.

No. 13 Kent State

Corey Conners will lead an experienced Golden Flashes squad that made the NCAA quarterfinals a season ago. Capsule.

No. 14 North Florida

UNF is coming off a solid season and will attempt to ride senior Sean Dale back to the NCAA Championship. Capsule.

No. 15 UNLV

Honorable mention All-American Kevin Penner will lead the Runnin' Rebels into a season with high expectations despite the loss of Derek Ernst. Capsule.

No. 16 Florida State

Chase Seiffert and Daniel Berger will be looked to take the reins left behind by Brooks Koepka and Wesley Graham. Capsule.

No. 17 Georgia

A pair of Mitchells - T.J. and Keith - will lead a younger Georgia squad with high expectations. Capsule.

No. 18 New Mexico

Senior John Catlin will try to lead the Lobos to a NCAA Championship berth after missing out by one stroke in 2011-12. Capsule.

No. 19 Central Florida

UCF, which advanced to the NCAA Championship for the first time since 2009, will look toward Ricardo Gouveia to keep that momentum. Capsule.

No. 20 TCU

TCU will look for sophomore Julien Brun to build off his stellar freshman season as it competes in its first season as a member of the Big 12 conference. Capsule.

No. 21 Duke

Senior Julian Suri will look to help the Blue Devils make more noise at the NCAA Championship. Capsule.

No. 22 Oklahoma

Oklahoma finished 11th at the NCAA Championship last season, and with nearly everyone back, look for the Sooners to contend once again. Capsule.

No. 23 Oregon

After a season during which the Ducks had six victories, Oregon returns a team laden in freshmen and sophomores. Capsule.

No. 24 Chattanooga

U.S. Amateur champ Steven Fox will lead a Chattanooga squad looking to build on last year's success. Capsule.

No. 25 Illinois

Coming off a fifth consecutive trip to the NCAA Championship and a fourth consecutive Big Ten title, Illinois is poised to continue both streaks this season. Capsule.

No. 26 Clemson

The loss of Corbin Mills will leave a void, but the return of Crawford Reeves and Billy Kennerly should keep Clemson in the picture. Capsule.

No. 27 Oklahoma State

The Cowboys' 65-year streak of consecutive NCAA Championship appearances ended last season, but it could be good motivation. Capsule.

No. 28 SMU

In Josh Gregory's first season in Dallas, the Mustangs might have overachieved. Now this team wants more. Capsule.

No. 29 North Texas

In the second of our breakdown of the country's 30 best men's college golf squads, we move to No. 29 North Texas. Capsule.

No. 30 South Carolina

In the first of our breakdown of the country's 30 best men's college golf squads, we begin with the Gamecocks of South Carolina. Capsule.
Golfweek.com readers: We value your input and welcome your comments, but please be respectful in this forum.
---
---
---
---
---
---
---
---
---
---
---
---
---
---
---
---
---
---
---
---
---