Valois, Blanchard to face off at U.S. Mid-Am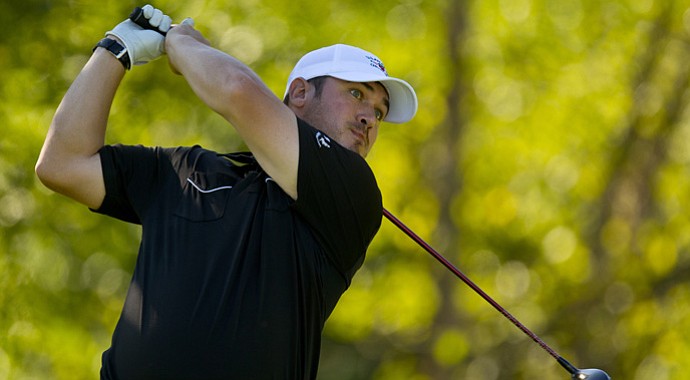 Monday, September 10, 2012
LAKE FOREST, Ill. -- Brad Valois and Charlie Blanchard traveled halfway across the country to do something they've done about 100 times over the years -- play a round of golf together.
That's what they'll be doing at 7 a.m. Tuesday. Only this time the stakes will be much higher for the two left-handers from Rhode Island.
Valois, 25, of Warwick, and Blanchard, 47, of North Providence, won their opening-round matches Monday at Conway Farms Golf Club and will face each other in the second round of the 32nd U.S. Mid-Amateur Championship.
"I've played a lot of golf with Charlie, probably over 100 rounds with him," said Valois, who defeated Kevin Wolf of Lodi, Calif., 2 and 1, in his opening match. "It'll be kind of weird in a way, considering how well we know each other and everything. But I think it will be a lot of fun and that it will be a great match."
Added Blanchard, "Most of the time you come to these events and you really don't know what to expect from your opponent. That's certainly not the case with Brad. I'm familiar with his game and know what I'm up against. I know he's played very well this year and that I'll have a lot of work tomorrow if I hope to beat him.
"I also know that after we hit our tee shots I'll be hitting first from the fairway," laughed Blanchard, who won his initial match on the 19th hole against Dan Crockett of Nashville, Tenn.
Valois, the No. 1 seed in match play after winning the stroke-play qualifying medal the day before, was 2-down after the first two holes, but won Nos. 3 and 4 to square the match. Valois went 1-up by winning the sixth, then Crockett won 7, Valois, 8 and Wolf 9 to square things.
Wolf won the 13th to go back on top, but Valois charged back and won 14 with a birdie and 16 and 17 with pars to close out the victory.
"It feels good to be moving on," said Valois, who advanced to match play last month at the U.S. Amateur only to lose his opening match. "It was a struggle out there today, but I held it together pretty good.
"It was an up-and-down match all the way," said Valois, a self-employed retirement and benefit specialist. "He had a few chip-ins early on and then I put it together at the end. I kept my head in the match today and fortunately things came out my way."
Valois has had good success over the years in match play. He won three Rhode Island State Junior titles and a trio of Rhode Island State Amateur championships, beating Blanchard in the finals in one of those.
His only stroke-play victory of note has come in the 2006 New England Amateur.
"Having success in match play gives me some confidence," he said. "But match play is a whole different game. So, we'll see. I know I'm in for one tough match against Charlie, though."
Blanchard, a four-time Rhode Island Stroke Play champion and seven-time state mid-amateur winner, had to dig down deep to keep his hopes alive. He was 3-down with five holes to play. He cut the margin by two when he won the 14th and 15th with pars and then sent matters to extra holes when he sank an eight-foot birdie putt at No. 18.
At the 19th hole, the par-4 1st, he clinched the win when he sank a par putt that was "about 4 feet with a 3-foot break," he said.
"It was a tough match, that's for sure," said Blanchard, who was an assistant lacrosse coach at Bryant College for a number of years before taking over as head men's golf coach last season. "I played decent to start then hit some loose shots and made bogeys in the middle, but was able to pull it back together in the end.
"I knew I just had to keep on plugging and pushing and it paid off," said Blanchard, who played professional lacrosse for the Boston Blazers for seven years and in 2012 was inducted into the U.S. Lacrosse Hall of Fame Ohio Chapter.
Come Tuesday, it will be lefty vs. lefty. Two near golfing legends within the Ocean State going head-to-head against each other. Two friends battling it out.
It could very well turn out to be the match of the day.
• • •
ROUND OF 64
Brad Valois def. Kevin Wolf, 2 and 1
Charlie Blanchard def. Dan Crockett, 19 holes
Dennis Bull def. Tom Hart, 19 holes
Trevor Sauntry def. Chip Lutz, 1 up
John McClure def. Jeff Wilson, 6 and 5
Tim Jackson def. Patrick Christovich, 2 and 1
John Patterson def. Robert Stelben Jr., 1 up
Ryan Patrick def. Douglas Hanzel, 2 and 1
Walter Todd def. John Engler, 1 up
Corby Segal def. Danny Simmerman, 1 up
Uly Grisette def. Michael Mulieri, 19 holes
Todd Burgan def. Nikhil Desai, 2 and 1
Jeff Murphy def. Edward Richardson, 22 holes
Nathan Smith def. Paul Simson, 2 and 1
Sean Knapp def. Tom Werkmeister, 2 up
Sammy Schmitz def. Andrew Chapman, 7 and 6
Todd White def. Jon Lindstrom, 6 and 5
Mason Casper def. Jason Higton, 3 and 2
Richard Berkmeyer def. Brian Komline, 3 and 2
Kevin Wassmer def. Erik Hanson, 2 up
Casey Boyns def. Tim Hogarth, 23 holes
Brian Tennyson def. Scot Hval, 2 and 1
Michael Muehr def. John Ehrgott, 2 and 1
Kevin Marsh def. Dan Horner, 1 up
Matthew Mattare def. Daniel Day, 4 and 2
Joseph Benedetti def. Doug Clapp, 3 and 1
Joe April def. Kenny Cook, 1 up
Stephen Cox def. Matthew Rosen, 2 and 1
Garrett Rank def. Eric Williams, 4 and 3
Scott Harvey def. Stephen Anderson, 4 and 2
Matt Cohn def. Adam Walicki, 1 up
Nathan Colson def. Bobby Brent III, 6 and 5
Golfweek.com readers: We value your input and welcome your comments, but please be respectful in this forum.
---
---
---
---
---
---
---
---
---
---
---
---
---
---
---
---
---
---
---
---
---