College Men
Complete coverage: Golfweek Program Challenge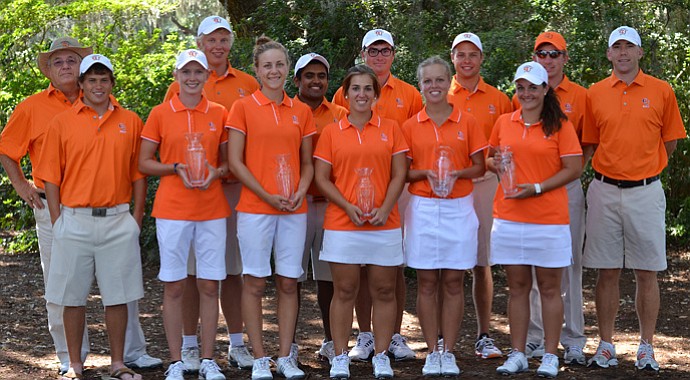 Thursday, September 20, 2012
PAWLEYS ISLAND, S.C. -- Campbell successfully defended its overall team championship at the Golfweek Program Challenge Sept. 9-11 at True Blue Plantation and Caledonia Golf and Fish Club in Pawleys Island, S.C.
But while the Camels needed a playoff to defeat East Carolina for the title last season, Campbell won in convincing fashion in its second appearance at the event.
The Camels captured the women's title by 40 shots over second-place Central Arkansas, which won the men's title by two strokes over runner-up Jacksonville State. Campbell finished eighth on the men's side, 16 shots back, but it was enough for the Camels to win the overall championship by 24 shots over Central Arkansas.
Campbell sophomore Brooke Bellomy and James Madison sophomore Trey Smith claimed their first collegiate individual titles. Bellomy shot 2-under 211 to beat Julia Roth of Central Arkansas by three shots. She led a Campbell squad that had all five players in the top 7. Smith shot 11-under 205 and won by two strokes over Austen Moix of Central Arkansas.
Check out our complete coverage, including features, game stories and videos from the week just outside of Myrtle Beach:
Campbell teams win 2nd Golfweek Program Challenge

Led by individual medalist Brooke Bellomy, Campbell's women's golf team opened its season in record-setting style at the Golfweek Program Challenge. STORY.

Golfweek Program Challenge: Tournament recap

Campbell University won the women's and overall team title at the 2012 Golfweek Program Challenge. VIDEO.

Program Challenge: Smith shakes off rough frosh campaign

After missing out on the Golfweek Program Challenge as a freshman, James Madison's Trey Smith is leading the whole thing as a sophomore. STORY.

Take 5: Day 2 at Golfweek's Program Challenge

Our Take 5 from Day 2 at the Golfweek Program Challenge. VIDEO.

Jacksonville State's Tomasz Anderson sacrifices for his family

Jacksonville State's Tomasz Anderson lost his father last July, and instead of spending the summer honing his golf skills, he got a job to help out his mother with household finances. STORY.

Campbell off to hot start at Golfweek Program Challenge

Defending champion Campbell got off to a great start the Golfweek Program Challenge, with the women leading by 14 strokes and the men trailing by a shot after the first round. STORY.

Take 5: Day 1 from Golfweek's Program Challenge

Lance Ringler and Brentley Romine break down Round 1 outside Myrtle Beach. VIDEO.

Campbell, Anderson set to defend Program Challenge crowns

After winning the overall title at the inaugural Golfweek Program Challenge in dramatic fashion, Campbell returns to defend its crown.STORY.
Golfweek.com readers: We value your input and welcome your comments, but please be respectful in this forum.
---
---
---
---
---
---
---
---
---
---
---
---
---
---
---
---
---
---
---
---
---