Complete coverage: 2012 Ryder Cup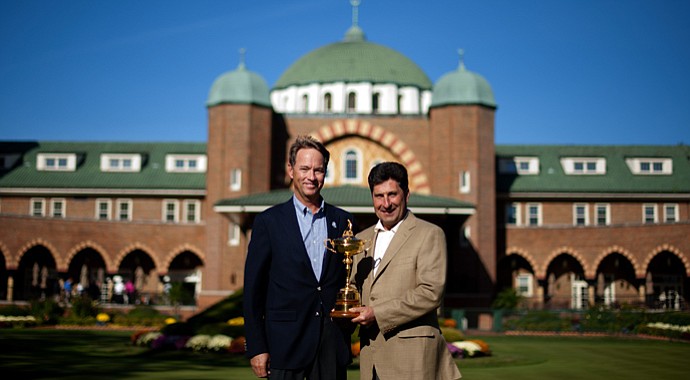 Wednesday, September 26, 2012
MEDINAH, Ill. -- There are plenty of storylines this week at Medinah Country Club, the site of the 2012 Ryder Cup.
Can the U.S. reclaim the title? Will Europe's team philosophy prove victorious again? Will Tiger Woods take on Rory McIlroy in Sunday singles?
All of those questions will be answered come Sunday night, but that's not where the story starts or ends.
We'll keep you up-to-date with wall-to-wall coverage from both the U.S. and European sides, visiting with the players and coaches each day to bring you the latest news and features.
We have seven writers on the ground at Medinah, and you can follow many of them on Twitter all week by simply clicking on their name below:
Check out our coverage thus far . . .
'Overachiever' Poulter has trust of Euro teammates

Padraig Harrington says that Ian Poulter is "one of the guys who wants the ball when the clock's running down" at the Ryder Cup. His impressive resume at the biennial event backs up that lofty praise. Story.

Is there a five-point player in this Ryder Cup?

Jim Furyk did it at the Presidents Cup in 2011. But going 5-0 is difficult, and it also takes a lot of faith from your captain to have a player take to the course five times at a Ryder Cup. Story.

Ryder Cup: Player-by-player look at the U.S. squad

Our Sean Martin breaks down the American squad at the Ryder Cup, highlighting their previous success (or lack thereof) at the Ryder Cup and at Medinah. Story.

Ryder Cup: Player-by-player look at the Euro squad

Our Sean Martin breaks down the European squad at the Ryder Cup, highlighting their previous success (or lack thereof) at the Ryder Cup and at Medinah. Story.

Ryder Cup: Medinah Country Club, hole-by-hole

Our Bradley S. Klein takes you hole-by-hole through Medinah's No. 3 Course, where he says the U.S. might not have the distance advantage as presumed. Story.

Ryder Cup Q&A: Europe's Sergio Garcia

Will Seve be an inspiration? How is he different than the 2008 version of himself? Does he like what he sees at Medinah? Sergio Garcia weighed in on Wednesday morning . . . Story.

Medinah the cure for Woods' Ryder Cup struggles?

Tiger Woods has been on just one winning Ryder Cup team, but he returns this week to a place where he is undefeated: Medinah Country Club. Story.

Notes: Plenty of eyes will be on Medinah this week

Notebook: While plenty of PGA Tour players have returned home after the playoffs, the likes of Adam Scott and Rickie Fowler will still keep their eyes peeled on the happenings at Medinah. Story.

Olazabal pays homage to the late Ballesteros

No golfer epitomized the spirit of European golf like the late Severiano Ballesteros. And his presence will be felt in every shot this week at Medinah Country Club, said European Ryder Cup captain Jose Maria Olazabal. Story.

Rude: Love gets his wish with Medinah setup

Our Jeff Rude sprays it off the tee on everything from the lack of rough at Medinah to the hit-and-giggle get-together on Tuesday for the fans. Story.

Notebook: Lawrie returns to Ryder Cup action

Notebook: Paul Lawrie last saw Ryder Cup action in 1999, but the rejuvenated Scotsman has used a stellar 2012 to add some experience to the European squad. Story.

Ryder Cup predictions and dream matches we want to see

Tiger Woods vs. Rory McIlroy? Yep, we want to see that. The Americans re-taking the Ryder Cup? Some of us feel that way. Check out our predictions, plus our wishes in four-balls, foursomes and Sunday singles. Story.

Top 5 greatest Ryder Cups of all time

When the 39th Ryder Cup gets under way on Friday, new memories will be made. We can only hope the drama at Medinah compares favorably with the five greatest Ryder Cups of all time. Story.

Europe will play as one, even if arrival is disjointed

Notebook: The European team has arrived at Medinah from all corners of the world, while Dustin Johnson continues to monitor his caddie's health. Story.

Britain was great in '57, but momentum didn't endure

In 1957, Britain truly was 'great,' upsetting the U.S. in the Ryder Cup, But the momentum wouldn't endure. Story.

Ryder Cup: Pate's career detours at '91 match

The first blow struck in the 1991 Ryder Cup matches wasn't landed by a competitor. It was absorbed by American Steve Pate when he was involved in a car crash on the way to the traditional gala dinner, changing his career forever. Story.

Man in motion: Love finds his balance off the course

U.S. captain Davis Love III finds the true thrill in life with a healthy balance off the course says our Jeff Rude. Story.

Garcia returns to where it all started: Medinah

Enigmatic Sergio Garcia returns to a happy place: Medinah, where his roller coaster began. Story.

Medinah a brawny track with its modern makeovers

Medinah's modern makeovers and thinned canopy help showcase the brawny Chicago track says our Bradley S. Klein. Story.

Olazabal: A fighter who respects the match

Jose Maria Olazabal has softened over the years, but he still enjoys a heavyweight contest. He'll bring the same fighting qualities as European captain to this month's Ryder Cup that he first revealed as a competitor 30 years ago. Story.
Golfweek.com readers: We value your input and welcome your comments, but please be respectful in this forum.
---
---
---
---
---
---
---
---
---
---
---
---
---
---
---
---
---
---
---
---
---