College Women
Women's Mid-Week Report: Pepperdine defends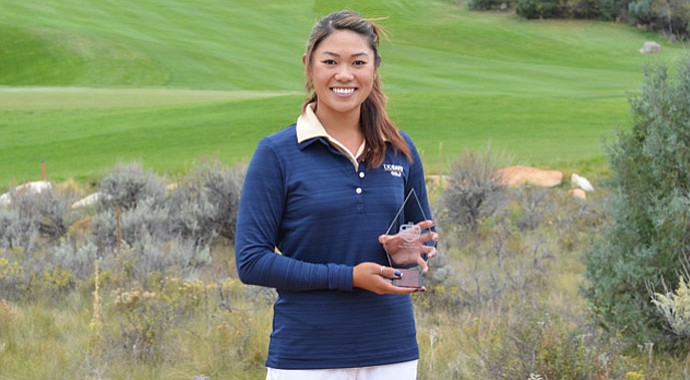 Thursday, September 27, 2012
Welcome to Golfweek's Mid-Week Report. We wanted to use this Hump Day to update you on all the latest college news and give you a quick glance at what to look ahead to this weekend.
• • •
THE BIG 5
Stories you need to know . . .
TEAMS
1. Pepperdine: With its victory at the Golfweek Conference Challenge, Pepperdine becomes the first team in the four-year history of the event to win twice. The Wave bounced back from a season-opening ninth-place finish at the Branch Law Firm/Dick McGuire Invitational.
2. Virginia: The Cavaliers staged a final-round charge (a 9-over 297 in windy conditions) at the Mason Rudolph that left them only three shots behind team champion Arizona. It's the first time Virginia has seen the Vanderbilt Legends Club in Franklin, Tenn., since the NCAA Championship, where the team finished fourth to tie a program-best national championship finish.
3. Nova Southeastern: The Sharks swept the top 3 spots on the individual leaderboard and won the team title by 26 shots over Penn State at the Division I-dominant Yale Intercollegiate. Not a bad way for Nova Southeastern to start its fourth conseutive season as defending Division II national champions.
4. Florida International: Rallied over the final nine holes to catch host Michigan at the Wolverine Invitational and tie for the victory. The Panthers also won this event in 2010.
5. North Florida: The first official tournament is in the books for North Florida's maiden season. Mary Rodgers finished third individually at the Eat a Peach Collegiate to lead the team to a third-place finish.
INDIVIDUALS
1. Kendall Prince, Arizona: The sophomore transfer from Ohio State made an immediate impact for Arizona, finishing as the low Wildcat at the Mason Rudolph Championship. Prince, last year's Big Ten Freshman of the Year, finished T-2.
2. Jacqueline Williams and Hannah Suh, California: The Golden Bears are without three of last season's stellar seniors (Emily Childs, Daniela Holmqvist, Joanne Lee), so senior Jacqueline Williams and Hannah Suh stepped up with T-2 finishes at the WSU Cougar Cup to lead Cal to the team title. Looks like that Cal rebuilding process is going pretty well.
3. Demi Runas, UC Davis: The UC Davis senior recorded a tournament-record 67 in Round 2 of the Golfweek Conference Challenge in route to a three-shot victory. It's the third title of her college career.
4. Caroline Powers, Michigan State: There's something to be said for having a reliable leader. For the Spartans, that player is Powers. She tied for second at the Mason Rudolph as Michigan State finished third, and finished solo second the previous week at the Mary Fossum to lead her team to second.
5. Lee Lopez, UCLA: The senior was the low player on UCLA's four-woman squad at the Golfweek Conference Challenge. The Bruins finished ninth with Lopez, junior Ani Gulugian and freshmen Jacquie LeMarr and Louise Ridderstrom in the lineup.
• • •
BEST OF THE BEST
How the top 5 teams in the Golfweek preseason rankings fared
• 1. Alabama: DNP
• 2. UCLA: ninth, Golfweek Conference Challenge
• 3. Duke: DNP
• 4. USC: DNP
• 5. Arizona: Won, Mason Rudolph Championship
How the top 5 players in the Golfweek preaseason rankings fared
• 1. Lindy Duncan, Duke: DNP
• 2. Stephanie Meadow, Alabama: DNP (Women's World Amateur Team Championship)
• 3. Erynne Lee, UCLA: DNP (Women's World Amateur Team Championship)
• 4. Chirapat Jao-Javanil, Oklahoma: T-5, Golfweek Conference Challenge
• 5. Emily Tubert, Arkansas: DNP
• • •
TOURNAMENT RESULTS
Tournament (team champion; individual winner)
• Mason Rudolph Championship (Arizona; Emilie Burger, Georgia)
• WSU Cougar Cup (California; Kristen Rue, Washington State)
• Golfweek Conference Challenge (Pepperdine; Demi Runas, UC Davis)
• • •
THIS WEEK'S SCHEDULE
Nittany Lion Invitational
Sept. 28-29
Penn State GC, State College, Pa.
The field: Akron, Bucknell, Cincinnati, College of Charleston, Columbia, Georgetown, Harvard, Longwood, Minnesota, Monmouth, Ohio, Old Dominion, Penn State, Princeton, Western Michigan, William and Mary, Yale
The skinny: Two Ivy League schools – Yale and Penn State – are coming off top-5 finishes at the Yale Intercollegiate. Keep an eye on Minnesota after finishing seventh at the Mary Fossum, and Western Michigan, a team that finished second at the Cardinal Classic.
• • •
Windy City Collegiate
Oct. 1-2
Glen View GC, Golf, Ill.
The field: Northwestern, Arizona, Colorado, Iowa State, Kent State, Notre Dame, Ohio State, Oklahoma State, TCU, Texas Tech, UC Davis, Central Florida, North Carolina-Wilmington, Washington, Wisconsin
The skinny: The strongest event in the country on a week when many rosters are short because of the Women's World Amateur Team Championship. Pac-12 teams Arizona and Washington have won already this year, and so have Iowa State and Texas Tech. Northwestern could fare well at its home event with strong upperclassmen leadership in Lauren Weaver and Devon Brown and sophomore transfer Nicole Zhang. A good mix of teams from around the country.
Golfweek.com readers: We value your input and welcome your comments, but please be respectful in this forum.
---
---
---
---
---
---
---
---
---
---
---
---
---
---
---
---
---
---
---
---
---