Neiman painting on sale at Ryder Cup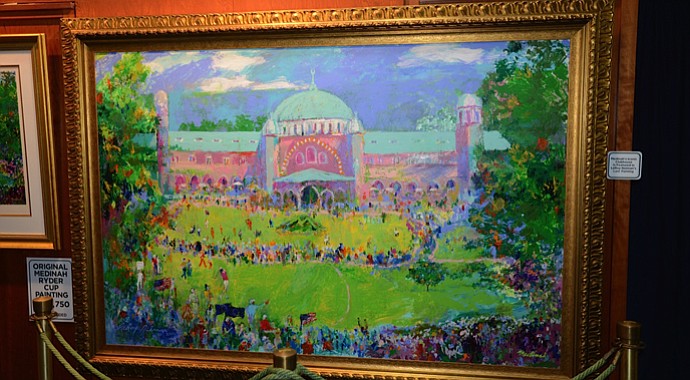 Thursday, September 27, 2012
MEDINAH, Ill. – For less than Englishman Luke Donald earned for tying for third place at the Tour Championship last week in Atlanta, some lucky fan or collector can walk away with an original LeRoy Neiman painting of the famed Medinah clubhouse.
The 4-foot-by-6-foot, oil-on-canvas work, priced at $300,000 – $321,750 with tax – has hung over the fireplace in Medinah's clubhouse for more than a year, but the club had not purchased the artwork, which is displayed in the merchandise tent for this week's Ryder Cup.
Neiman, who died June 20, a day after his 91st birthday, painted the clubhouse as therapy after having had his right leg amputated in April 2010 because of a vascular problem.
"It was necessary for me to tackle a surface 4' x 6' for the Ryder Cup commission to offer myself a challenge," Neiman said by email last December. "I grew up in the Depression and fought in WWII, so am used to hardship. It would have been easy to do a much smaller painting, but I wanted to see if I could paint it from a seated position. It had to be raised and lowered many times. It was tough, but as you know, I finished the painting of the Ryder Cup 2012 Medinah, and it hangs in the clubhouse. I am proud of the painting, though it is probably my last large painting."
Because of the size of the painting and Neiman's having been confined to a wheelchair, his assistants would raise and lower the canvas so that Neiman could paint what, indeed, would be his last large painting.
"The clubhouse at the Medinah Country Club is powerful, even imposing, with a certain formality, and I felt compelled to paint it," Neiman continued in that December email. "There are so many flowers on the grounds near the clubhouse and the umbrellas that right the side facing the course that it is softened by all the color."
According to Don Larson, the Ryder Cup general chairman, Medinah president Anthony Graffia polled members a couple of months ago and received a lukewarm response, much less than the two-thirds vote needed for the club to buy the painting.
"Art is very subjective," Larson said. "Fifty percent liked it and 50 percent didn't."
Larson added that Medinah still might buy the painting after the Ryder Cup and that club officials hope to generate contributions toward the purchase.
Ben Isaacs, who as managing director of Cobalt Artworks commissioned Neiman and represented his works, said the painting was unveiled in May 2011 at a members' open house and was put on loan at the clubhouse.
"We thought that it would be better to have it out so the public could really see the painting because no one can get in the clubhouse," Isaacs said. "It was really more about trying to let more people see the image."
Some members have contacted Isaacs about purchasing the painting, but Larson and Isaacs would like to see the painting hanging back over the fireplace in the Medinah Country Club.
"They feel strongly that it's part of their heritage and tradition, and Medinah is so rich in all that, it makes total sense," Isaacs said. "So there are a couple different paths they're looking at as to how the club will end up ultimately purchasing it anyway."
Golfweek.com readers: We value your input and welcome your comments, but please be respectful in this forum.
---
---
---
---
---
---
---
---
---
---
---
---
---
---
---
---
---
---
---
---
---