Ryder Cup: That's what he said . . .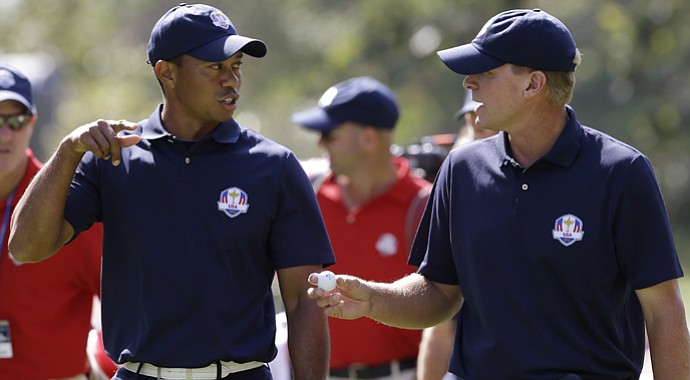 Friday, September 28, 2012
A quick collection of quotes from the players taking part in the Ryder Cup's opening session:
• • •
Jim Furyk-Brandt Snedeker vs. Rory McIlroy-Graeme McDowell
Furyk: "We have similar styles, and I admire his game and the way he played this year: good short game, good putter. ... I've definitely learned a little bit about momentum and getting out in front, and I know getting off to a good start tomorrow will be key to us. We're setting the tone."
Snedeker: "Jim is a straight-down-the-middle kind of guy, been playing really, really well and obviously driving it pretty straight and a lot of quality iron shots. Look for us to go out there and have a lot of fun out there, and I think we'll do really well and I think we'll team up perfectly for each other."
McIlroy: "Leading the side off in the Ryder Cup – we are going to go out there and get the blue on the board early. ... To be honest, they are not the opponents we were expecting. ... It was a little surprise to see a rookie in their first group."
McDowell: "We are going to use the World No. 1's power and precision, and I will just knock a few tap-ins in."
• • •
Phil Mickelson-Keegan Bradley vs. Luke Donald-Sergio Garcia
Mickelson: "(Keegan's) energy gets me excited and helps me stay focused on the next shot and get up for the match."
Bradley: "(Phil's) easy to partner with. And I know if I just get him anywhere on that green, he's got a chance to make it. ... Sergio and Luke have an unbelievable record. They are both legends in the Ryder Cup, and I think it's going to be fun for me and Phil to go up against them."
Donald: "It should be a great atmosphere with Phil playing and hopefully I will get some support as I live in Chicago, and Sergio obviously has some special memories from here. He's very popular around here."
Garcia: "(Luke) is my best friend on tour. ... We both have a great record in foursomes and we are unbeaten, but we aren't concentrating on that. We are just looking to win a point for Europe."
• • •
Jason Dufner-Zach Johnson vs. Lee Westwood-Francesco Molinari
Dufner: "(Zach's) going to guide me around a little bit, ... and he's a good little rock to lean on. ... Both of us tend to hit it pretty straight, hit a lot of greens. Zach is a phenomenal putter, so it should be a good match-up."
Johnson: "We thought it would be good for a number of reasons. Similar games, similar demeanors. I'm pretty calm and cool out there. He might be borderline dead, but I think it's a good thing."
Westwood: "We are going to be very steady and consistent and hopefully very hard to beat. You can give holes away very easily in foursomes."
Molinari: "I hope to live up to the expectations he has and everyone has on the team. I'll do my best to contribute to the team. ... Zach and Jason are two steady players, and they don't give many holes away, so it might be another match which goes all the way to the last."
• • •
Steve Stricker-Tiger Woods vs. Ian Poulter-Justin Rose
Stricker: "It's always fun to go out with a friend. It's a good time and there's a lot of fun, and like I say, a lot of pressure to go along with it, but we have a good time with it."
Woods: "We know what to expect from each other. There are no hidden surprises out there for us."
Ian Poulter: "I have two fantastic new pillows in my room this week, so I've had no problem sleeping at all this week. Tonight will be no different."
Justin Rose: "I have gotten to know Tiger pretty well over the past few years (Woods and Rose share a swing coach, Sean Foley) and I played with him last week, so I feel comfortable about what I am going to face out there on the golf course, and I know I have a great partner alongside me. It is going to come down to who can hit the key shot at the key time."
Golfweek.com readers: We value your input and welcome your comments, but please be respectful in this forum.
---
---
---
---
---
---
---
---
---
---
---
---
---
---
---
---
---
---
---
---
---