U.S. leads 10-6, but late rally saves Europe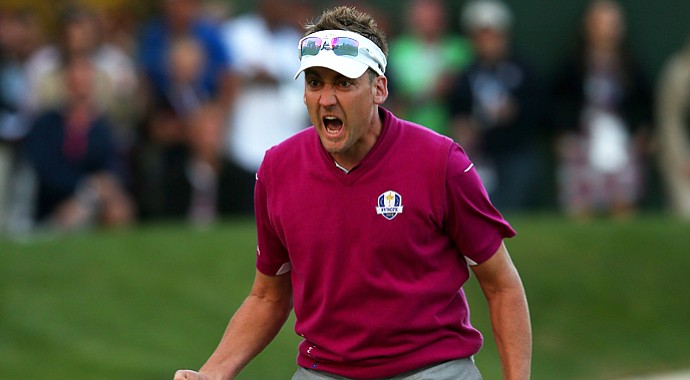 Sunday, September 30, 2012
---
Photo Gallery
2012 Ryder Cup: Day 2
Check out photos from Day 2 of the 2012 Ryder Cup.
---
MEDINAH, Ill. – Europe withstood Tiger Woods' best pressure performance of the year as part of a late rally that kept the Ryder Cup within reach.
The visitors' victories in Saturday's final two matches mean they'll start singles down, 10-6. They'll have to win eight of the 12 available points in the Sunday singles to retain the Cup, a tall task, indeed, but not unprecedented. The United States team faced the same deficit before its record-setting comeback in 1999 at Brookline.
Woods, who's struggled on the weekend of golf's biggest events in 2012, used four birdies in a five-hole stretch to nearly extract his team from a 4-down deficit. Ian Poulter did one better, making birdie on the final five holes to win after trailing 2 down through 12.
Woods played Medinah's 16th and 17th holes in a fashion reminiscent of his former years. He pointed at the hole as his 7-foot birdie putt on the 16th went into the hole, then yelled "Gimme some," as his tee shot on the par-3 17th settled close to the hole.
It wasn't enough for victory, though. Woods' ball settled 4 feet from the 17th hole, but Luke Donald hit his tee shot even closer. It was a crucial halve in a 1-up victory for Donald and Sergio Garcia, who'd previously been winless this week.
They weren't the only European stars to redeem themselves as dark settled on Medinah. Poulter's heroics helped World No. 1 Rory McIlroy salvage a point Saturday. McIlroy could only shake his head and laugh at the Poulter's bug-eyed celebrations after his putts continued to find the hole, including a 10-footer at 18 that followed Jason Dufner's birdie-3.
"When Poults gets that look in his eyes, especially the week of the Ryder Cup, it's really impressive," McIlroy said.
McIlroy may be an unrivaled talent, but Poulter is the latest European who reserves his very best for the Ryder Cup. They won, 1 up, over Jason Dufner and Zach Johnson in the day's final match.
"I love the fight of (match play)," Poulter said. "You get to stare your opponent straight in the face, and sometimes that's what you need to do.
"It's given the whole team a massive boost, to be able to go into tomorrow morning knowing that you can win from this position."
In spite of its late losses, the United States still hasn't seen Ryder Cup success like this for decades. This is the first time since 1981 that the Americans will enter singles with 10 or more points. By comparison, Europe has started the final session with 10-plus points on five occasions.
This is just the third time in the past nine Cups that the United States will enter singles, traditionally the Americans' strongest session, with the lead. They started the afternoon with an 8-4 lead, the first time since Europe joined the Cup in 1979 that the Americans collected that many points in the first three sessions.
The home team never trailed in Saturday afternoon's first two matches. Bubba Watson and Webb Simpson were 1 up through six holes before rolling off seven birdies in an eight-hole stretch. Five of them belonged to Simpson. The Americans' 5-and-4 victory over Justin Rose and Francesco Molinari was completed when Watson two-putted for birdie on the par-5 14th.
Dustin Johnson and Matt Kuchar earned the Americans' other point with a 1-up victory over Nicolas Colsaerts and Paul Lawrie. The match was all square on the par-3 17th, where all four balls found the green, giving one player the opportunity to be the match's MVP. Johnson filled that role, holing a downhill, right-to-left 20-footer for birdie after both Europeans had missed their putts.
Woods and Stricker did their best to avoid another loss, but fell, 1 down, to Garcia and Donald. Love used one of his four captain's selections on Woods' preferred playing partner. They were 0-3 in team play, accounting for half of the United States' losses thus far this week.
Stricker had a 7-foot birdie putt on No. 18 to halve the match, but it lipped out on the hole's left side.
Woods and Stricker were 4 down at the turn, but Woods birdied the par-5 10th to win the hole. Steve Stricker hit 5-iron to 7 feet on the 12th to win with birdie. Woods' 5-iron to 3 feet on the par-3 13th, which cut Europe's lead to 1 up. Then Woods, laying the face of his wedge wide open, pitched to 6 feet and made the birdie putt to halve the next hole.
McIlroy started his team's comeback with a 12-footer for birdie on the par-3 13th that put his team just one down. That set the stage for Poulter's performance, and it kept the Ryder Cup competitive entering the final day.
Golfweek.com readers: We value your input and welcome your comments, but please be respectful in this forum.
---
---
---
---
---
---
---
---
---
---
---
---
---
---
---
---
---
---
---
---
---