Ryder Cup, Day 2: That's what he said . . .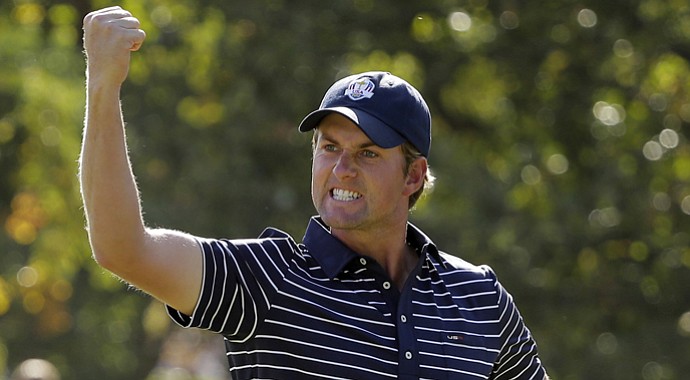 Saturday, September 29, 2012
The best sound bytes from each Ryder Cup team after the teams' exciting 2-2 split in the afternoon four-balls session. The United States will enter the singles session with a 10-6 lead:
• • •
USA
Bubba Watson (on comparisons to the 1999 Ryder Cup, where the United States won after trailing 10-6): "It was 13 years ago. I don't really think it can be compared to it. . . . It's just a different time, different setting, different everything."
• • •
Watson: "Watching Webb play this afternoon in best-ball format, I was just helping him read putts, seven birdies, he made all the putts. I birdied the par-5s because he can't reach them."
• • •
Webb Simpson: "I think our start tomorrow is going to be big. I think if we can get some guys playing good early and get the crowd loud like they were today . . . I think that's going to be big. Not that one match is more important than the other, but we want to keep the momentum on our side like it is right now."
• • •
Matt Kuchar: "Match play is definitely a momentum game. In the morning matches, Dustin and I were watching on TV and seeing all the red kind of got me fired up. . . . It certainly helps to see guys doing well."
• • •
EUROPE
Rory McIlroy (on Poulter's birdies on Nos. 14-18): "I could have just walked into the clubhouse. It was the Poults show from there on in, and it was just a joy to watch."
• • •
Ian Poulter: "I surprise myself. Match play, I love the fight of it. You get to stare your opponent straight in the face, and sometimes that's what you need to do."
• • •
Sergio Garcia (on the United States' comeback from a 10-6 deficit in 1999): "There's no doubt that it was hard, because when you have it so close to the palm of your hands or the tip of your fingers, obviously they take it away from you and it's hard. I hope that we can make them feel something similar. Hopefully we'll get off to a good start and see how they react. . . . It would be nice to kind of give it back the way they did to us in '99."
• • •
Poulter (on his final putt): "I got me teammates right behind me. I'm not going to miss it for them, am I? That point is huge for the team. . . . It's given the whole team a massive boost, to be able to go into tomorrow morning knowing that you can win from this position."
• • •
Poulter (on Sunday singles): "We've got a chance and that's all we can do. It was crucial to get at least two points out of this session for the guys to go out tomorrow."
• • •
Justin Rose: "The guys going out early (Sunday) can make a statement."
Golfweek.com readers: We value your input and welcome your comments, but please be respectful in this forum.
---
---
---
---
---
---
---
---
---
---
---
---
---
---
---
---
---
---
---
---
---