College Men
Cal players highlight final Palmer Cup rankings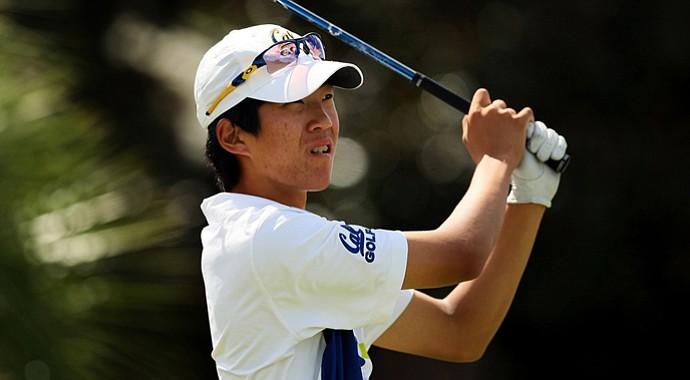 Thursday, April 4, 2013
The final Palmer Cup Ranking before team selections was announced Wednesday. Six of the 10 roster spots for both the United States and Europe will be determined by the rankings. The six participants selected by the rankings will be announced April 17, with the remaining four roster spots filled the following week.
Three of Cal's players are in the top 6 of their respective rankings. Michael Kim is the top-ranked United States player, while Michael Weaver is ranked fifth. Joel Stalter of France is No. 3 in Europe's rankings.
North Florida also has teammates who could be Palmer Cup foes. Sean Dale is No. 4 in the U.S. rankings, while Kevin Phelan of Ireland is fifth in the European standings. UCLA has two of the top six players in the European rankings -- No. 1 Pontus Widegren of Sweden and No. 6 Pedro Figueiredo of Portugal.
• • •
Team USA
Rank, Name, Year, School, Percentile
Michael Kim, Soph., California, 1.000
Patrick Rodgers, Soph., Stanford, .9974
James Erkenbeck, Sr., New Mexico, .9922
Sean Dale, Sr., North Florida, .9904
Michael Weaver, Jr., California, .9879
Justin Thomas, Soph., Alabama, .9845
Cameron Wilson, Jr., Stanford, .9835
Evan Beck, Sr., Wake Forest, .9826
Brinson Paolini, Sr., Duke, .9826
Daniel Berger, Soph., Florida State, .9818
Cody Gribble, Sr., Texas, .9799
Cory Whitsett, Jr., Alabama, .9793
Bobby Wyatt, Jr., Alabama, .9766
Chris Williams, Sr., Washington, .9749
M.J. Maguire, Soph., North Florida, .9748
Trevor Simsby, Jr., Washington, .9723
Ollie Schniederjans, Soph., Georgia Tech, .9721
Brandon Hagy, Jr., California, .9714
Andrew Yun, Sr., Stanford, .9659
Max Homa, Sr., California, .9653
• • •
Team Europe
Rank, Name, Year, School, Country, Percentile
Pontus Widegren, Sr., UCLA, Sweden, .9948
Julien Brun, Soph., TCU, France, .9845
Joel Stalter, Jr., California, France, .9827
Greg Eason, Jr., UCF, England, .9791
Kevin Phelan, Sr., North Florida, Ireland, .9757
Pedro Figueiredo, Sr., UCLA, Portugal, .9753
Scott Fernandez, Soph., Iowa State, Spain, .9713
Victor Perez, Soph., New Mexico, France, .9503
Sebastian Cappelen, Jr., Arkansas, Denmark, .9427
Pontus Gad, Sr., TCU, Sweden, .9423
Sebastian Soderberg, Sr., Coastal Carolina, Sweden, .9409
David Boote, Fr., Stanford, Wales, .9373
Jonathan Grey, Fr., Georgia State, England, .9307
Mads Soegaard, Duke, Denmark, .9293
Daniel Jennevret, Sr., TCU, Sweden, .9268
Toni Hakula, Jr., Texas, Finland, .9226
Tom Berry, Sr., San Diego State, England, .9194
Clement Sordet, Soph., Texas Tech, France, .9163
Jon Rahm, Fr., Arizona State, Spain, .8978
Robin Sciot-Siegrist, Fr., Louisville, France, .8856
Golfweek.com readers: We value your input and welcome your comments, but please be respectful in this forum.
---
---
---
---
---
---
---
---
---
---
---
---
---
---
---
---
---
---
---
---