After Round 1 of Masters, the envelope, please. . .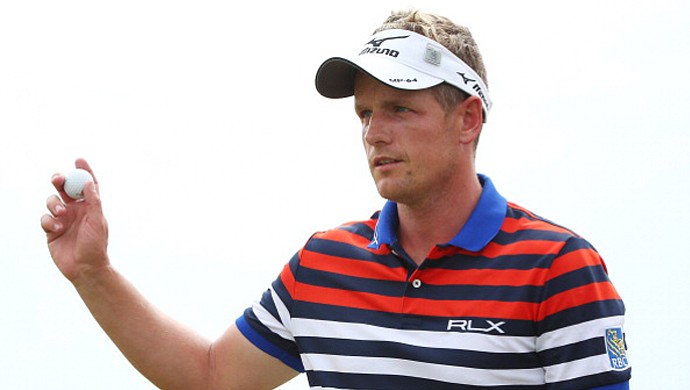 Thursday, April 11, 2013
AUGUSTA, Ga. – Birdies, eagles, scores in the 60s. It seemed the only guy who didn't break par in the opening round of the Masters was Augusta National Golf Club chairman Billy Payne, and he didn't play.
Regardless, some intriguing comments from a collection of golfers deserved extra recognition. These players merited awards that had nothing to do with their ability to play golf.
The Diehard Dufnering Award: "I had a guy that was on a transport plane in the military," said Jason Dufner, "and they dropped the bottom part out, and they were about 20,000 feet in the air, and he was doing it right on the back end of the plane."
The Broken Driver Award: Luke Donald wins in a runaway. On the 14th hole, he discovered a crack in his TaylorMade RocketBallz driver. A rules official told Donald that he could finish the round with the club, which he did, playing the last five holes 1 under to shoot 71. However, Donald does not have a backup driver with him and needs to find a substitute for Friday's second round.
The Unimaginative Cheer Award: To fans of defending Masters champion Bubba Watson. "It didn't matter if I was defending champ or not," Watson said. "It was just 'Go Dawgs,' which was nice," said the former Georgia collegian. C'mon, man. I can think of a suitable retort: "Dawgs. We used up all our creative with the name."
The Nathan in Wonderland Award: Mid-Amateur czar Nathan Smith finally got to see Arnold Palmer, Gary Player and Jack Nicklaus hit their ceremonial tee shots. That's because he was in the first group of the day, following the three legends. "It was kind of special to be over there and watch that, get a ringside seat," said an emotional Smith.
The Somebody Always Has to Oversleep Award: John Peterson, also in Smith's 8 a.m. group, who said, "I slept too long. I was so tired last night. I went to bed at 8:30 and slept until about 5. I was rushing a little bit." John, if you really want to rush, try getting up an hour before your tee time.
The Best Answer to a Dumb Question Award: Also to John Peterson, who collects two crystal goblets for his second award. He was asked (seriously), "Do you think if you played this tournament 1,000 times you could win it once?" His answer was brief: "I'm not going to live to be 1,000, so I won't get that chance."
The Best Description of an Over-Par Round Award: To former Masters winner Sandy Lyle, who said of his 73, "It wouldn't win a beauty contest."
The Best Advice for Amateurs Award: To another former Masters champ, Larry Mize, who said, "You just have to have the mentality that it doesn't matter what club you hit into the green. Just get on the green and give yourself a birdie putt."
The "Where Have the Tight Lies Gone?" Award: Tom Watson talked about the condition of the Augusta National turf, saying, "The turf here is now very bristly and the ball sits up on the turf versus before, it used to lay down in the turf."
The Too Soon Award: On the ninth hole, after his caddie announced, "You're leading the Masters," David Lynn replied "I'd rather be leading it Sunday afternoon." That was a nice way of telling him to shut up.
The I Miss/I Miss/I Miss/I Miss/I Miss/I Make Award: One of the pre-tournament favorites, Lee Westwood, opened with a double-bogey 6 on the first hole before rebounding with a 70 for the day. His explanation of No. 1: "I hit it left, clipped a tree coming out, finished 50 yards short of the green, pitched it up there on the wrong side of the slope, watched it roll off the green, chipped it 15 by, missed that." Sorry I asked.
The Best Short Answer Award: Former Masters champion Charl Schwartzel also stumbled with a double-bogey 6 on the first hole. "What club did you play?" he was asked. "Which one?" he replied. "I hit a lot of shots."
The Ouch Award: The often-injured Mike Weir, battling torn or inflamed cartilage between his ribs, talked about two swings that hurt. "It (the first one) gave me a nice little jolt, that's for sure. There was one more on the back side that got me." To his credit, Weir shot 72.
The Ouch II Award: K.J. Choi said, "I'm a little hurting on my side, and my side muscle was in pain months ago, and it just hurt a lot, and when the hip turned, the more it's hurting."
The Bad Idea Award: Jim Furyk's decision to carry two drivers last week at the Valero Texas Open seemed to be a failure, but Furyk is one stubborn guy. After arriving here in Augusta, he said, "So the driver idea was, I think, a good idea." What? Jim, you abandoned the strategy after one round. You shot 69 in the first round of the Masters. Repeat after me: One driver, one driver.
The Smelling Like a Rose Award: Englishman Justin Rose, who managed to skillfully rank the Open Championship ahead of the Masters. "Eight Masters into it, you really begin to understand the magic of the place," Rose said, "but I'll have to stick to my roots."
The Ben Hogan Lookalike Award: Marc Leishman, tied for the Masters lead, has an affinity for Ben Hogan. No, not the swing. Leishman has a clothing contract with the Ben Hogan Performance apparel brand. "That's part of the Perry Ellis Company," he said.
The Faulty Reasoning Award: Another Masters winner, Zach Johnson, talked about the improving state of his golf game after shooting 69 in the first round of the Masters. "It wouldn't matter if it was Augusta or Hartford or wherever," he said. We're not buying that one for a minute, Zach.
Golfweek.com readers: We value your input and welcome your comments, but please be respectful in this forum.
---
---
---
---
---
---
---
---
---
---
---
---
---
---
---
---
---
---
---
---
---