Finsterwald's 1960 penalty a precedent for Tiger?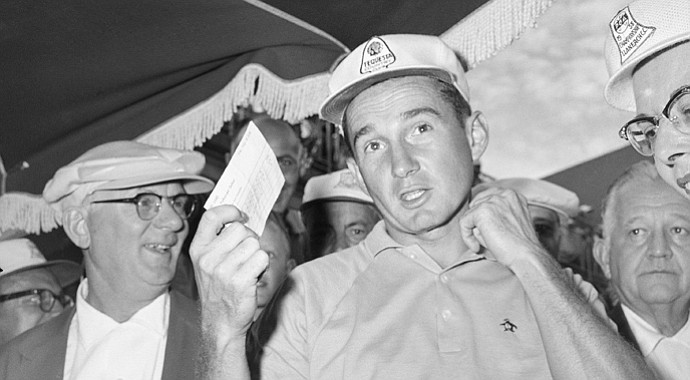 Saturday, April 13, 2013
AUGUSTA, Ga. — Dow Finsterwald was leaving a package at an area hotel around 9 a.m. Saturday morning when he learned that Tiger Woods had made an illegal drop during the second round and might be disqualified from the 2013 Masters.
Finsterwald immediately recalled his own experience at the 1960 Masters when he "retroactively" was assessed a two-stroke penalty for practice putting on the green.
Finsterwald thought this might be relevant. So upon arriving at Augusta National, he sought out Fred Ridley, the chairman of the Masters Competition Committee, and recounted his incident. Finsterwald's main point: Precedence existed at the Masters for a less-severe penalty.
Besides being the 1958 PGA champion, Finsterwald is a rules expert and has served as a member of the Rules Committee since the 1978 Masters.
"I think (Ridley) was appreciative of what I told him. He didn't appear to know that that had happened here before," Finsterwald said.
It also appears Finsterwald's incident didn't influence the Committee's decision not to disqualify Woods. Ridley confirmed he was made aware of Finsterwald's case, but said, "that was not a factor."
What exactly happened 53 years ago? Finsterwald, who was stationed as a rules official behind the 10th green Saturday, remembers it well.
"Second round, I'm paired with Bill Casper, and after missing a putt on the first hole, I dropped a ball on the first green and prepared to practice again when Billy cautioned me nicely that he didn't think I could practice putt. I picked it up," Finsterwald said.
But he also knew he had violated the rule the day before on the fifth green when he signed for a 69 in the opening round. As he left the green, Finsterwald reported the potential rules violation to Ed Carter, a PGA official, and asked for a clarification. Carter investigated, tracked down Finsterwald and flipped over the scorecard, which stated a local rule prohibiting practice putting.
Finsterwald asked to speak to a member of the Competition Committee, and continued to play. Ward Foshay, former USGA president, was chairman of the Rules Committee. They spoke at the 14th green. Finsterwald explained that he had practiced on the fifth green after completing the hole.
"Were you just knocking the ball off the green?" Foshay asked, noting that it might absolve him of a penalty.
Finsterwald shook his head. "I was trying to get the speed of the green," he explained. He also noted he wasn't sure if he had practiced on any other green.
Foshay instructed him to keep playing, but not to sign his card while the committee convened. Finsterwald said he expected he might be disqualified, but the committee met and elected to assess a 2-stroke penalty -- "retroactively. Is that a good word for it?" Finsterwald said -- raising his first round score from 69 to 71. They also waived the disqualification for turning in an incorrect scorecard.
In Woods's case, he was penalized two strokes for an improper drop, a violation of Rule 26. The penalty of disqualification was waived by the Committee under Rule 33 "as the Committee had previously reviewed the information and made its initial determination prior to the finish of the player's round."
Finsterwald didn't recall a rule being cited in his situation. He claimed it was simply a committee decision on the grounds that the breach of the rules did not influence the play of the ball on the hole where it occurred.
Did Finsterwald think Woods received the appropriate punishment? He demurred.
"I think it would be inappropriate for a member of the Rules Committee to question a decision of the Rules Committee," Finsterwald said.
What he knows for sure is this: "To this day I feel very fortunate that I was allowed to continue."
Finsterwald went on to finish in third-place, two strokes shy of a playoff with eventual champion Arnold Palmer. Does he regret missing out on winning a green jacket due to his mistake? Finsterwald laughed and said, "Had I not had the penalty, I probably would've gagged it more than I did anyway."
Golfweek.com readers: We value your input and welcome your comments, but please be respectful in this forum.
---
---