Junior Boys
2013 Masters: Reaction from junior golfers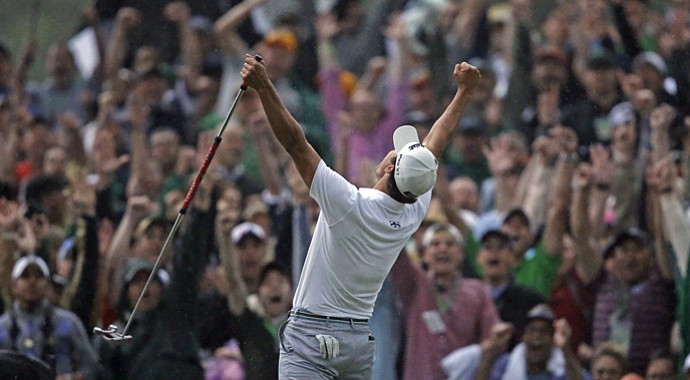 Tuesday, April 16, 2013
Much attention was on Augusta National this past week, including that of some of the top junior golfers in the country. Here is some of the Masters reaction from golf's younger generation on Twitter.
First, juniors sounded off the Tiger Woods' penalty:
• Bethany Wu, @bethwuuuuu: Another penalty?! Seriously? i would never wanna wake up to be told that i got 2 stroke penalty #TheMasters
• Brad Dalke, @BradDalkeGolf: Crazy though how a player that has worked his whole life on his game doesn't know a simple rule like that. Rules are a part of the game too
Then one golfer showed his support for Angel Cabrera after Cabrera sent the tournament to a playoff:
• Jack Maguire, @JMAJ94: He doesn't always show up, but when he does he wins #Angelissuchaballer nobody can do what he does #nobody
But in the end it was Adam Scott wearing the green jacket. Scott was a popular champion according to Twitter:
• Andy Zhang, @AndyTheZhang: Ladies and gents I give Adam Scott!!! #unbelievable #awesome #wow
• Kendrick Vinar, @kjrvinar: What an incredible Masters. Congratulations to Adam Scott on the win, especially after last year's British Open. Classy response by Cabrera.
• Sierra Sims, @sies07: SO PROUD OF YOU ADAM SCOTT!! #youdabest #whoopwhoop
• Casie Cathrea, @Casiecathrea: The Masters is now HOT!
• Samantha Wagner, @SamWagner66: Well the #Masters certainly didn't disappoint this year!
• Austin Langdale, @A_langdale_: Deserving win by Scott. Gotta give props to Cabrera for showing that much sportsmanship. #classyguy
• Adam Wood, @AdamWoodGolf: What. A. Phenomenal. Masters. #AdamScott
• Michael Pisciotta, @M_PisciottaGT: Truly inspired by Adam Scott...what a deserving champion!!
Now many of the top junior boys have an important tournament to look forward to, as well, in the Junior Invitational at Sage Valley:
• Brad Dalke, @BradDalkeGolf: Can't believe the masters is over but now it's sage valley time. #8moredays
Golfweek.com readers: We value your input and welcome your comments, but please be respectful in this forum.
---
---
---
---
---
---
---
---
---
---
---
---
---
---
---
---
---
---
---
---
---