Junior Boys
Sage Valley: Junior Invitational tee times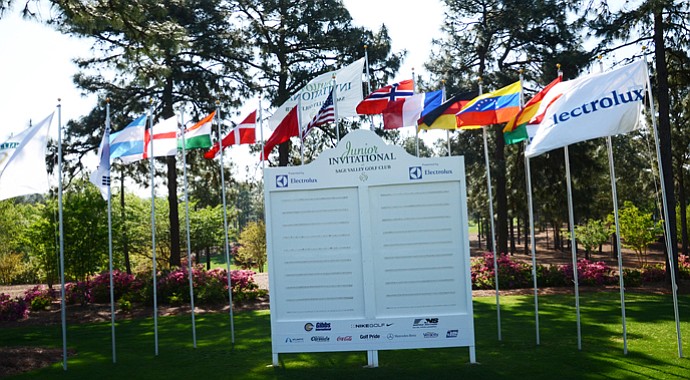 Thursday, April 25, 2013
Defending champion Zachary Olsen will begin his title defense when he tees off in the first round of the Junior Invitational at Sage Valley on Friday.
Olsen, an Oklahoma State signee, will play with Alabama signee Robby Shelton, Golfweek's top-ranked junior, and England's Patrick Kelly, who has won both the Fairhaven Trophy and the Carris Trophy.
Other notable pairings include the 11 a.m. group of Andrej Bevins, Tae Wan Lee and Jack Maguire. Lee and Maguire are ranked in the top 13 of the Golfweek/Sagarin Junior Rankings.
Also, a couple talented Matts will tee off at 10:30 a.m., as Matt Gilchrest and Matthew Fitzpatrick will play with Austen Truslow. The Cameron Champ-Austin Langdale-Max Orrin pairing at 11:10 a.m. should be a good one, too, as will the Max Greyserman-Ki Taek Lee-Sam Horsfield pairing at 11:30 a.m.
Here are the complete tee times and pairings for the first round of the Junior Invitational at Sage Valley Golf Club in Graniteville, S.C. (All times are local):
9 a.m.: Austin Connelly, Emil Sogaard, Danny Guise
9:10 a.m.: Nicolo Galletti, Carson Young, Carl Yuan
9:20 a.m.: Romain Langasque, Brad Dalke, Michael Pisciotta
9:30 a.m.: Thomas Lim, Alejandro Tosti, Greyson Sigg
9:40 a.m.: Dylan Wu, Victor Wiggins, Kristoffer Ventura
9:50 a.m.: Jan Szmidt, Kyle Sterbinksy, Sam Burns
10 a.m.: Adam Wood, Won Jun Lee, Corey Pereira
10:10 a.m.: Aaron Wise, Jeremy Grab, Rigel Fernandes
10:20 a.m.: Patrick Kelly, Robby Shelton, Zachary Olsen
10:30 a.m.: Austen Truslow, Matthew Fitzpatrick, Matt Gilchrest
10:40 a.m.: Jorge Garcia, Derek Castillo, Jose Montano
10:50 a.m.: Dominic Foos, Zachary Bauchou, Davis Riley
11 a.m.: Andrej Bevins, Tae Wan Lee, Jack Maguire
11:10 a.m.: Cameron Champ, Austin Langdale, Max Orrin
11:20 a.m.: Maximillian Mehles, Gordon Neale, Doug Ghim
11:30 a.m.: Max Greyserman, Ki Taek Lee, Sam Horsfield
11:40 a.m.: Benjamin Griffin, Peter Kim, Alexander Matlari
11:50 a.m.: Jaime Lopez Rivarola, Jacob Joiner, Rico Hoey
Golfweek.com readers: We value your input and welcome your comments, but please be respectful in this forum.
---
---
---
---
---
---
---
---
---
---
---
---
---
---
---
---
---
---
---
---
---