Bulldog's Blog: Lewis caps great Scotland jaunt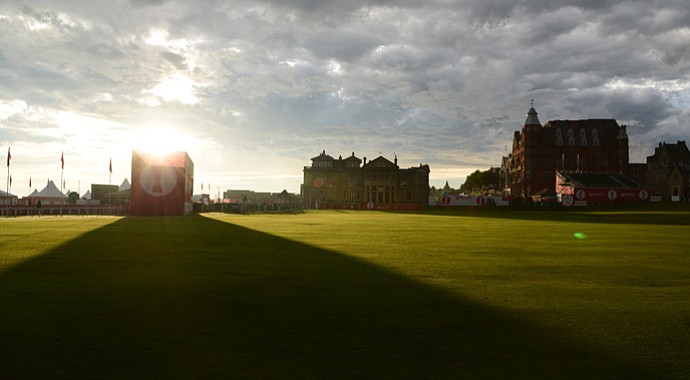 Monday, August 5, 2013
My one-month odyssey in the U.K. comes to an end with a Monday flight to Newark, then Boston and off in my car to Rochester for the PGA Championship at Oak Hill.
Of course as I write this, my plane is delayed out of Edinburgh, making me miss my connection in Newark for Boston.
Well, I'll eventually get to Rochester and the PGA Championship.
I guess if this is the worst thing that happened on this trip, it was pretty insignificant.
---
Photo Gallery
PHOTOS: St. Andrews during Women's British Open week
Images from our Bulldog's Blog writer, Alex Miceli, during Women's British Open week at St. Andrews and The Old Course.
---
Unlike other times when I have spent a week or two overseas and can't wait to get home, this time I will actually miss Scotland, where I spent most of my time on this trip.
I can honestly say I have no idea what has been going on in the U.S. over the last month, except for the fact that the Dodgers swept the Cubs at Wrigley on Sunday afternoon. After a great West Coast swing for the Cubbies, they look like the same team I've cheered for since Ernie Banks played for them.
It's been a great month and it will be interesting going back to the U.S.
• • •
The last couple of days were spent covering the Women's British Open at the Old Course and fitting in a round of golf or two.
Elie Golf Club was one of the rounds that had a bit of everything. A great little course on the other side of Fife, it's about 15 miles from St. Andrews.
With a forecast of no precipitation, it made no sense to bring outerwear or umbrella, big mistake.
In all my rounds this trip I had not broken out rain gear. I didn't this round either, this time getting as wet as if I had stood under a shower for 15 minutes in my clothes.
It was clearly a wet T-shirt event and I don't have six-pack abs.
The morning was clear with a nice blue sky, but it didn't take long for a big black cloud to come off the North Sea and for 15 minutes drench everything in sight.
Of course luck would have it that we were on the 10th tee when the rain became a torrential downpour and basically as far away from the clubhouse as possible.
So once we all decided that enough was enough, in the middle of the 10th fairway, we started to make the long walk back to the clubhouse. By the time we reached the 16th hole, the storm had blown over and the blue sky returned.
Its clear why weather men/women keep their jobs in this country – because they have absolutely no chance of being right, so you can't fire them.
The front nine at Elie was an interesting experience. It doesn't overpower you, but is a great mixture of long and short, with no par 5s, and requires precision off the tee.
Unfortunately, the front nine is not as strong as the back nine, which I guess, will have to experience on my next trip.
• • •
I had arranged a tour of Hamilton Grand that afternoon. The skyline of St. Andrews, behind the 18th hole of the Old course, has a large brown bricked building that started in the 1800s as the Grand Hotel. It was taken over by the RAF during WWII and then after the war was a dorm for the St. Andrew's University students and renamed Hamilton Hall.
Once the building got to about 2005, it was no longer in good enough shape to have students live there; the university sold the building to a U.S. investor group that had a lot of ideas, but eventually didn't work. Herb Kohler, the owner of the Old Course Hotel, bought the property out of receivership and restored it to an amazing property.
It has 26 apartments that start at about $1.7 million and go up to more than $11 million for the best view in St. Andrews.
I took some photos of the model, but also some photos of the shoot from the deck on the roof, which is in a word spectacular.
It was well worth the tour and the Kohler people couldn't have been nicer since they knew I wasn't a potential client.
• • •
The next day was a morning round at Kingsbarnes before the third round of the Women's Open.
Kingsbarnes is about seven miles towards the East Neuk of Fife.
---
Photo Gallery
PHOTOS: Kingsbarnes and Elie, Scotland golf
Images from our Bulldog's Blog writer, Alex Miceli, as he toured Kingsbarnes and Elie in Scotland.
---
With water views on most of the holes and high points throughout, Kngsbarnes is scenic, but also is a solid design and plays like a links course.
I think the best part about Kingsbarnes is not only is it picturesque, but also very fun. With the wind up as it was Saturday – the same wind, mind you, that forced a halt to the Women's British Open – it was very challenging.
Let me just add that it was windy, but most people believe that the wind was not enough to stop play for the day. Part of the defense of links courses is the wind and the greens were running slow enough to keep the women in place and get them through the round.
I'm not a fan of constant updates, waiting each hour if we are or not going to play. I didn't think the situation was handled the best and if I was one of the women that played most or my entire round in that wind I would have been hopping mad.
The final round at the Old Course was exciting. The leaders had to go off between 6:00 and 7:00 just to get their third round started and then play another 18 holes in the afternoon.
Its not like it's impossible, they used to play the last two rounds of a major on one day all the time. But in the modern game, a player gets into a routine; 36 holes in one day changes that.
All that aside, when Stacy Lewis stuck that second shot on the Road Hole, it got me out of my seat. And then as she was prowling over her birdie putt, I was right behind her with a camera and all I saw through my viewfinder was a fist pump.
After that, Lewis had to literally find things to do since she had finished five groups ahead of the 36-holes leader because of no re-pairing after the third round.
She eventually found the putting green and took refuge there. Getting periodic updates when she learned Na Yeon Choi had bogeyed the 17th hole and would need to eagle the 18th to force a playoff, Lewis relaxed and put her putter cover on her putter, knowing that it was only a matter of time.
What would ensue was bagpipes, skydivers, pictures on the Swilcan Bridge of the new champion with her trophy and the long night of writing and of course the delayed flight.
• • •
I see Tiger won at Bridgestone, not a surprise, so now I return to the U.S. with Woods a favorite in another major. Just how I left the U.S., with Woods favored in another major.
It's been a gas and hopefully I will stop saying, "aye," when I get home or people will look at me funny. Not that it doesn't happen all ready.
Thanks for reading and you never know when the Bulldog Blog will reappear so stay tuned and congrats to Phil Mickelson, Mark Wiebe and Stacy Lewis, the Americans that swept the Open Championships this year in the U.K.
Obviously the summer of British Sport got turned around a bit and the colonials got a little revenge.
Golfweek.com readers: We value your input and welcome your comments, but please be respectful in this forum.
---
---
---
---
---
---
---
---
---
---
---
---
---
---
---
---
---
---
---
---
---