Prince beats Danielson in 20 holes at Women's Am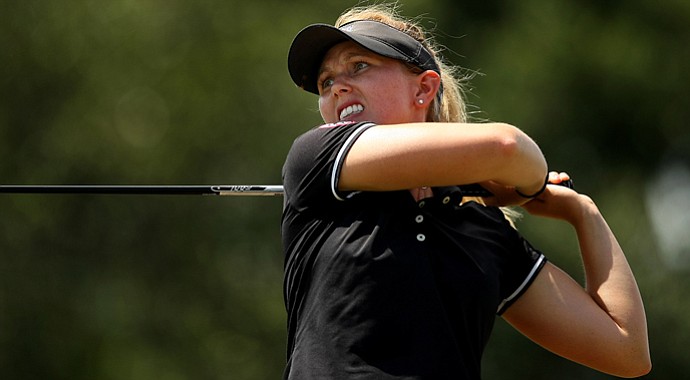 Wednesday, August 7, 2013
CHARLESTON, S.C. – For Casey Danielson and Kendall Prince, 17 was the magic number at the end of stroke play at the U.S. Women's Amateur.
The two players employed the same counting technique Tuesday evening at the Country Club of Charleston. Prince was 17 spots from the top of the leaderboard, Danielson 17 spots from the bottom, and thus the two drew each other in the first round of match play.
---
Photo Gallery
PHOTOS: U.S. Women's Amateur (Round of 64)
Check out pictures from the Round of 64 at the U. S. Women's Amateur at Country Club of Charleston (S.C.).
---
"I think we're both pretty good players," said Prince, who needed 20 holes to knock off Danielson on Wednesday. Danielson made it to the quarterfinals in this championship two years ago.
The two players are nearly identical in stature and game. Both are petite grinders who have an above-average ability to score from difficult places. Their match turned at all square on Wednesday morning before the dogfight began.
Danielson had made a hole-in-one at the par-3 11th in the practice round, but against Prince, she left her approach short and the ball rolled down to a collection area several yards in front of the green. Two chunked pitches later, Danielson conceded the hole to go 2 down. She won the next hole with birdie, her first of the day.
When Prince made a 30-footer for birdie at No. 13, Danielson answered by dropping another 8-footer for birdie. It was her strongest rally moment of the match.
"I felt better with my putter after 12," Danielson said.
At No. 14, Prince drove it into a shallow hazard right of the fairway, and made par from there to tie. Danielson birdied the par-5 15th to bring the match back to all square, and both players traded pars until the match ended on the 20th hole, where Danielson bogeyed from a greenside bunker.
"I didn't feel like anything was in my favor going down the stretch at all," Prince said. "I think we both felt like we had to grind pretty hard."
It was a year ago that Prince, fresh off a freshman season at Ohio State during which she earned Big 10 Freshman of the Year honors, announced she would transfer to Arizona. It has proven to be the right decision. The Oregon native began working with Mike Malaska in nearby Phoenix shortly after the transfer, and says she has added 20 yards off the tee. She now averages about 260 yards, which as far as the 5-foot-4 player has ever hit her driver.
"I throw everything into it," she joked.
Good health also helps. Prince missed two tournaments in the spring with a bad case of mononucleosis, but will start the year at full strength.
"I am looking forward to a healthy year," she said.
Danielson, meanwhile, is looking forward to a move. The freckled, blond Wisconsin native will enroll at Stanford in the fall. She doesn't move west for another month, however, and because the university is on a trimester system, classes don't start until the end of September.
Head coach Anne Walker already has informed Danielson that based on summer play, she has made the traveling squad for the first tournament – the NCAA Fall Preview at Tulsa (Okla.) Country Club. Danielson wants to reinforce that decision.
"I'm going to take pride in playing for Stanford," Danielson said.
In Pac-12 country, she and Prince likely will meet again.
Golfweek.com readers: We value your input and welcome your comments, but please be respectful in this forum.
---
---
---
---
---
---
---
---
---
---
---
---
---
---
---
---
---
---
---
---
---