Musings on Oak Hill: Players' Day 1 via Twitter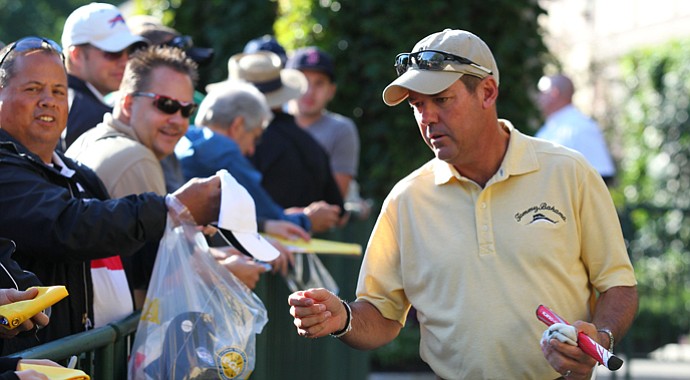 Thursday, August 8, 2013
The weather delay gave some of the top pros in the world an extra chance to jump on social media and let fans know what they're thinking – while others took to Twitter before and after their rounds. Here's a sampling:
• • •
Rich Beem, @beemerpga: "Oak Hill not playing as tough as 2003. Graduated rough helps out longer hitters. But greens are way smoother and that's why scores are low"
Paul Lawrie, @PaulLawriegolf: "72 +2 today which was poor as overnight rain made course much easier , loads of guys making birdies out there"
Gonzalo Fernandez-Castano, @gfcgolf: "Game suspended just at the right time for me as I was about to jump to the creek on 12th after 3 straight bogeys. #timetothink"
Kevin Streelman, @Streels54: "Very cool seeing @nickterryMRO @StenhouseJr @DanicaPatrick out at PGA today Thx for support Good luck birdie on 18!!! :)"
Mikko Ilonen, @MikkoIlonen: "After back to back bogies its the right time to have a break. Early dinner, then hope to get back out. 9holes left. #PGAChamp"
David Hearn, @HearnDavid: "Excited to be in the mix early! Lots of golf to go. Only downside - takes longer to get to lunch after pressers. #pgachamp #oakhillcc"
Bernd Wiesberger, @BWiesberger: "Lot of everything today I guess. Started well but it seems i have a tough time closing out a round lately. Three more low ones! #PGAChamp"
Marcus Fraser, @Marcusfraser: "Nice to get off to a good start at the @PGAChampionship played great after a bogey bogey start. Made some good putts for -3, 67."
Ben Crane, @bencranegolf: "14 yrs ago RT @alexkstewart: @bencranegolf pic.twitter.com/HrxeU9h4Jr"
Ian Poulter, @IanJamesPoulter: "I love it when people tweet me how they have put hard earn't money on me. Like its going to make me try any harder. Hahahaha very funny"
Ken Duke, @DukePGA: "Honored to be here competing in the 2013 PGA! pic.twitter.com/eEzwoVrDmF"
Graeme McDowell, @Graeme_McDowell: "1st rd pins here at #USPGA for ur perusal. Storm looks like its cleared out and we have nice morning for scoring now! moby.to/pj9iux"
Jason Dufner, @JasonDufner: "@Keegan_Bradley make sure to get you some in player dining this week. pic.twitter.com/gKri2COvV6"
• • •
Elsewhere, a couple of tweets of note about the upcoming Solheim Cup:
Michelle Wie @themichellewie: "#TBT 2009 Solheim Cup #USAALLTHEWAY instagram.com/p/cw_O5up-ph/"
Chelsea Bach, @CB_Golf: "@ThePCreamer Your biggest fans from the 2009 @Solheim_Cup opening ceremonies! #TBT pic.twitter.com/kKBwXdPPO5"
Golfweek.com readers: We value your input and welcome your comments, but please be respectful in this forum.
---
---
---
---
---
---
---
---
---
---
---
---
---
---
---
---
---
---
---
---
---