Musings on Oak Hill: Players' Day 2 via Twitter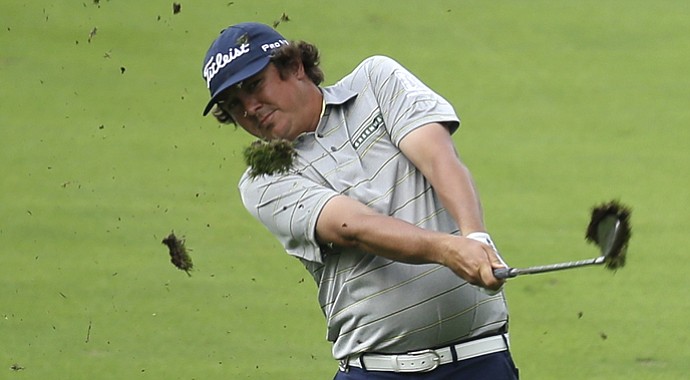 Friday, August 9, 2013
At Oak Hill, not everything was about a potential new definition for Dufnering as players took to Twitter on Friday:
PGA Championship, @PGAChampionship: "Nice memento from @JasonDufner from his record breaking round at #OakHill #PGAChamp @Titleist pic.twitter.com/abzREJScom"
Keegan Bradley, @Keegan_Bradley: "Nice playin duffdaddy." – Dufner replied, "thanks" via his Twitter account, @JasonDufner, as the two often exchange tweets. And Bradley then responded, "I threw up in my mouth a little after typing that."
Gary Player, @garyplayer: "What a fantastic round of 63 today @JasonDufner. All my best over the weekend. Regards, Gary"
Paul Azinger, @PaulAzinger: "Hey @JasonDufner I shot 63 in a major before, but I was on the 16th hole. Congratulations."
Francesco Molinari, @F_Molinari: "Are they going to put flags into bunkers tomorrow after today's scores?"
Graeme McDowell, @Graeme_McDowell: "Decent two days of fairways and greens. Putter was a little cold. Heating it up for a low weekend. #letsgo"
Ian Poulter, @IanJamesPoulter: "Glad to make 2 birdies to finish. Still [upset] with the end result though. played really nice golf. Weekend charge is in order."
Rickie Fowler, @RickieFowlerPGA: "Bad cell service kept me from getting this out...o well...solid day #GOTIME onto the weekend instagram.com/p/cz11B0Quwe/"
Shane Lowry, @shanelowrygolf: "Cut made. Looking forward to the weekend. #onwardsandupwards"
Joost Luiten, @joostluiten: "Double bogey on the 18th to miss the cut by 1 shot. Played good in the heavy rain but just couldn't keep the mistakes away at the end!!"
Paul Lawrie, @PaulLawriegolf: "Another 72 +2 today means missed cut this week , hit it much better today but two doubles killed me pity"
Gonzalo Fernandez-Castano, @gfcgolf: "See you next year @PGAChampionship pic.twitter.com/QSAUbt3ioM"
• • •
And some tweets away from Oak Hill:
Steve Elkington, @elkpga: "Minus Garrigus the Top 10 is jammed with all straight hitters...... #pga"
Steven Fox, @StevenFox4: "Back in the winners circle again!! #tennesseeamateur #tga #bostonherewecome instagram.com/p/czkFgkiB6F/" (See more about Fox's victory here.)
Sandy Lyle, @SandyLyle1: "The new addition is a Miniature Schnauzer. Still nameless. Very entertaining. She'll be part city and part townie dog."
Lizette Salas, @LizetteSalas5: "Great news! My coach @gorms9 will be going 2 @Solheim_Cup Chemo couldnt keep him away 4rm this event! What a fighter! #WeDMTSU #teamgorms"
Blair O'Neal, @BLAIRONEAL: "Not a good sign when you get a Tornado Warning Alert on your phone...Uummm Sharknado???!"
Bud Cauley, @BudCauley: "8 hours on the range today without my sun screen.. owwww #dummy might need long sleeves tmrw instagram.com/p/czoMkCMqGe/"
Golfweek.com readers: We value your input and welcome your comments, but please be respectful in this forum.
---
---
---
---
---
---
---
---
---
---
---
---
---
---
---
---
---
---
---
---
---