Musings on Oak Hill: Players' Day 3 via Twitter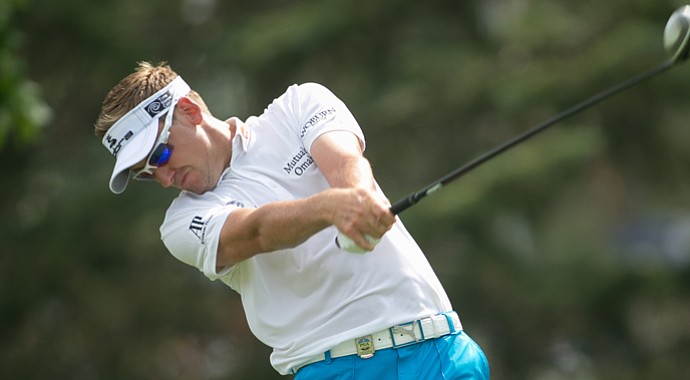 Saturday, August 10, 2013
Pro golfers took to social media early Saturday and throughout the day – beginning with posts from the PGA Championship at Oak Hill via Twitter:
Rickie Fowler, @RickieFowlerPGA: "#GOTIME instagram.com/p/c108eKQuy8/"
Ian Poulter @IanJamesPoulter, before teeing off: "Saturday morning at the last major of the year. Feels like a great day to make a run. pic.twitter.com/CXCtWRIX93"
Poulter, afterward: "I was absolutely [expletive] today. I the best news is I get back to Orlando really early afternoon to see my wife and kids. Always a bright side."
Poulter: "Well played @McIlroyRory. Very solid round of golf today."
Justin Rose, @JustinRose99: "Not the finest start!! What could've went wrong did! It was a long day trying to just hang in there and recover. #Only1MajorThisYearThen"
Zach Johnson, @ZachJohnsonPGA: "Executives of the PGA of America #dufnering for #duffdaddy this Sat morn of the @PGAChampionship. @JasonDufner has gone viral."
PGA Championship, @PGAChampionship: "SPOTTED: @ThePGAofAmerica officers #Dufnering at #OakHill #PGAChamp @JasonDufner pic.twitter.com/wdRiv5aMlT"
Tommy Gainey, @TwoGlovesGolf: "Little man wanted me to dress just like him today....so I did! pic.twitter.com/UGpew6wkD"
• • •
Others posted from afar with their thoughts about the PGA – not all of them pro golfers:
Michelle Wie, @themichellewie: "Loving the idea that fans can vote for pin positions! #Coolidea #pgachamp"
Jonathan Garrick, @garrickjonathan: "Who ever would have guessed the fans picked the pin closest to the water on the 15th, amateurs...."
Olin Browne, @OlinBrowne: "Looks as though Oak Hill is firming up. Now we'll all see the genius of Donald Ross #ClassicCourse"
Kristy McPherson, @KRISTY2208: "I see that Rochester rough is giving the guys fits too!"
Bob Estes, @BobEstesPGA: "Interesting to see that Justin, Hunter, & Tiger are all struggling this week. I hope Justin isn't hurt(+7 after 7)."
Gary Player, @garyplayer: "Sad to see most of our South African players miss the cut @PGAChampionship but all the best to Tim Clark over the weekend."
Evan Longoria, @Evan3Longoria: "Wow. Fun to watch that pounding @JasonDufner just put on Oak Hill. #dufnering at Dodger Stadium! pic.twitter.com/rC9Qwg0TfD"
John Rollins, @John_Rollins: "Eric church band Dufnering on stage. @JasonDufner @michaeltoddtn pic.twitter.com/0JNThnBBPh"
Kyle Thompson, @KyleThompsonPGA: "#Gamecock fans need a reason to pull for Henrik Stenson? He married a ex-gamecock golfer Emma Lofgren and practiced w/men's team a lot. #PGA"
Greg Norman, @SharkGregNorman: ' "@GolfweekSchupak: @SharkGregNorman with a bold prediction for his mate Adam Scott: "He will win going away!!" And why not pull for a mate?'
Norman: "Love the contouring of the Par 5 4th green @OakHillCC. Too bad TV does not show it. Gr8 design gr8 course for @PGAChampionship or any major."
Norman: "Impressive play by Jim @PGAChampionship. Most of the day had the right weight on his shots. @OakHillCC bared her teeth 2moro will b exciting"
Joe Ogilvie, @ogilviej: "Would be pretty epic to see Adam Scott get in a Tiger-like zone with the putter for next 5-6 years. How many majors would be on his shelf?"
• • •
And still others were focused elsewhere the world:
JJ Killeen, @jjkilleentcu: "Gonna have to make some birds this afternoon at the @Hunterhaas invitational."
Bubba Watson, @bubbawatson: "Missed cut = @jtedscott gets home for daughter's birthday party, @tweetlessfish spend time with dad, more family time for me! #GodIsGood"
Joost Luiten, @joostluiten: "What a great place,niagara falls!Missing cut by 1 always feels bad but seeing this place makes you forget golf a bit pic.twitter.com/zPrwcPdAoP"
Steven Fox, @StevenFox4: "Chattanooga to Nashville to Boston... #usam #repeat"
Challenge Tour, @Challenge_Tour: "Course here looks magic right now. This is the conjoined 9th & 18th green. #NorwegianChallenge @ Losby… instagram.com/p/c1MlFBmsjd/"
Michelle Wie, @themichellewie: "Early morning walk with my Lola bear instagram.com/p/c1M5HEp-iG/"
Ryan Taggart, @R_Taggart23: "@jake_troyer & I finished our practice round at Charles River CC…greens are pure & tricky in places. Course is simply beautiful.#USamateur"
Wil Besseling, @wbesseling1: "Nice view from above @aigc!" // "pic.twitter.com/g4kBai54i2"
Golfweek.com readers: We value your input and welcome your comments, but please be respectful in this forum.
---
---
---
---
---
---
---
---
---
---
---
---
---
---
---
---
---
---
---
---
---