PGA's 'Pick the Hole' garners 92,000 votes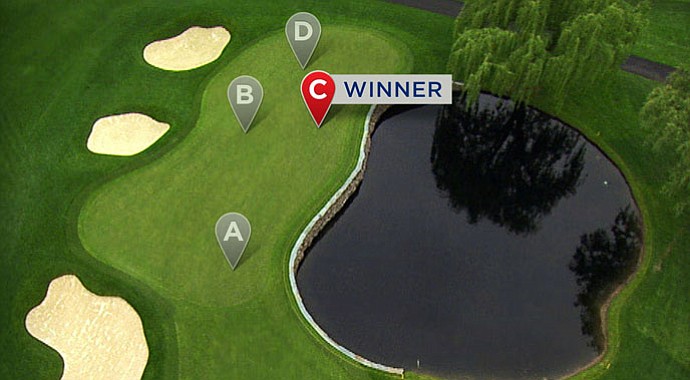 Monday, July 28, 2014
For the 2014 PGA Championship contest to choose a hole location at Valhalla, click here.
• • •
More than 92,000 votes were tallied in the PGA Championship's "Pick the Hole Location Challenge," with option "C" crowned the winner on Saturday afternoon at Oak Hill CC.
Location C at the par-3 15th hole will be 25 yards from the front of the green and just four yards from both the right side of the green and lake that is just beyond the right edge. The 15th is a downhill, 181-yard hole that features a narrow green where the wind normally blows the ball toward the hazard on the right.
The tough pin location will bring the water into play, and will present a tough choice for those in contention down the stretch.
The challenge – co-hosted by the PGA of America and legend Jack Nicklaus – was intended to educate fans on how pins are chosen, allow for fan engagement and how hole location information is parsed to players every day.
"Our goal was to ensure that golf fans worldwide were more engaged with the 95th PGA Championship than ever before, and we are delighted with the results," PGA president Ted Bishop said. "Just as important, the players have been very complimentary about the interactive nature of the initiative and the innovative opportunity for fan participation."
Nicklaus was pleased with the final result – he also voted for Location C – and says that he'd likely play it safe if he was in the tournament, depending on where he was on the leaderboard on late Sunday.
"The chance for golf fans to interact with the PGA Championship and play a role in shaping the outcome of the final round fascinates me," said Nicklaus, who also voted for Hole Location C on PGA.com. "It's like being able to call the shots during the fourth quarter of the Super Bowl.
"Now, if I was in the field, I would look at a hole location like option C and think, 'No, no, no.' I would likely stay away from going at that. Because option C is the closest to the water, it's probably the most dangerous of the hole locations, especially if a player is trying to get it close. But that hole also gives a player an option if he wants to play conservatively, because there is plenty of room short left."
Golfweek.com readers: We value your input and welcome your comments, but please be respectful in this forum.
---
---
---
---
---
---
---
---
---
---
---
---
---
---
---
---
---
---
---
---
---