Musings on Oak Hill: Players' Day 4 via Twitter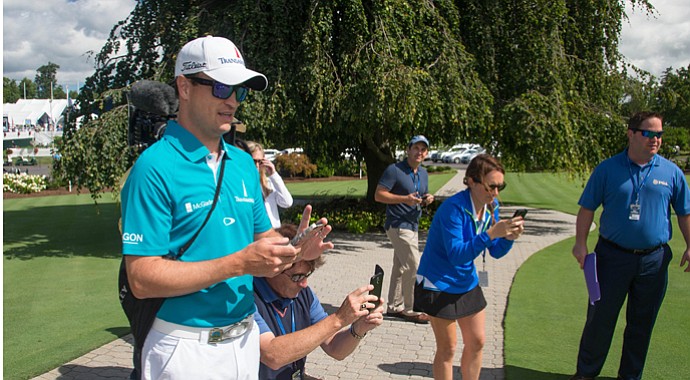 Sunday, August 11, 2013
A few players took to Twitter early Sunday before their PGA Championship final round – while others chimed in after it was time to congratulate first-time major champion Jason Dufner. And some tweets from players outside Oak Hill focused on the season's final major as well, while other pros from all walks had different topics in mind from Solheim Cup to bachelor partying. We'll update musings from throughout the world of golf during the day.
• • •
Brandt Snedeker, @BrandtSnedeker: "Congrats @JasonDufner.. Hogan would have had nothing on u this week.. Very impressive..#worthychamp"
Keegan Bradley, @Keegan_Bradley: " '@JasonDufner: Yea man!!!! pic.twitter.com/JLcRLELlXs' What you doin with my trophy???"
Dustin Johnson, @DJohnsonPGA: "Congrats to my buddy Duff Daddy @JasonDufner winning the #PGAChamp!!!"
Paula Creamer, @ThePCreamer: "In honor of @JasonDufner pic.twitter.com/CRpLnTwH5w"
Gary Player, @garyplayer: "Congratulations @JasonDufner on your impressive 1st Major victory in the @PGAChampionship. I guess I need to start "dufnering" now champ..."
Justin Rose, @JustinRose99: "Congrats @JasonDufner. Pure striking. See you in Bermuda. #PGAGrandSlam"
David Duval, @david59duval: "@JasonDufner Congratulations. Beautiful play . Out hit everybody. Enjoy it you earned it"
Duval: "@JasonDufner From what I hear the Wannamaker holds 63 beers."
Ian Poulter, @IanJamesPoulter: "Congrats @JasonDufner that was class golf. Very impressive. Enjoy that Wanamaker trophy."
John Huh, @JohnHUH1990: "Congrats to @JasonDufner for his first major. Well done!!!!"
Kyle Thompson, @KyleThompsonPGA: "Congrats @JasonDufner on the win. Great playing today."
Zach Johnson, @ZachJohnsonPGA: "Encouraging words and perspective by @LeeJanzen in the #PlayersDevotional this week for the @PGAChampionship. #ThanksLeon"
Rickie Fowler, @RickieFowlerPGA: "#GOTIME instagram.com/p/c4UCV7wu8D/"
Ian Poulter, @IanJamesPoulter: "How else would you like to shoot Level par. 18 pars would be really boring. Might as well throw 6 birdies, 6 bogeys, 6 pars. #Simples" (Which is exactly what Poulter did during his early-Sunday round.)
Poulter: "We should be allowed to take 10'000 volt tazers onto the course and tazer ever muppet who shouts out something stupid. I would laugh then."
Poulter: "RT @randy_schmitt Thanked Ian for coming to ROC @IanJamesPoulter pic.twitter.com/MF6B2gxgCa >> Pleasure sir.!matching my golf bag today."
Paul Lawrie @PaulLawriegolf: "My Nicklaus just said if Rory or Westwood shoot 66 they have chance #hewouldknow"
John Cook, @johncookgolf: "Before we start talking DLove, DToms into HOF... MO'Meara needs that spot. 2 majors, POY, perennial top 10 $$$ list. 5 RCups... Etc"
Greg Norman, @SharkGregNorman: " '@mrmjo2508: How does Furyk get away with that scoop swing? Your thoughts?' Scoop does not matter. Square at impact does & he does it well"
Bob Estes, @BobEstesPGA: "This may be the longest round of Brooks Koepka's life but he'll learn from it and become a better player. #PGAChampionship"
Peter Uihlein, @PeterUihlein: " '@ryancrysler: Little airtime and interview for @BKoepka today. #Showman' terrible stache!"
Stacy Lewis, @Stacy_Lewis: "One last practice at home before heading to Denver tomorrow! GO USA!!! @SolheimCup"
Virginia Tech Golf, @VT_MGolf: "Congratulations to Johnson Wagner and the other 5 individuals selected for induction into the Virginia Tech Sports Hall of Fame. #Hokies"
Olin Browne, @OlinBrowne: " '@Rich_S_Johnson: Jupiter Hills Village Course Instagram.com/p/c4IbcuTOm9/' great course to work on driving. Underrated"
Scott Langley, @Scott_Langley: "Some photos from the bachelor party... pic.twitter.com/YSEGdbAq6X"
Chelsea Bach, @CB_Golf: "Last day as a 27 year old. Fabulous year, but I know 28 will be that much better...cuz I'll have married @dave_kinard!! #SixMonthsToGo"
• • • 
• Musings on Oak Hill: Players' Day 3 via Twitter
• Musings on Oak Hill: Players' Day 2 via Twitter
Golfweek.com readers: We value your input and welcome your comments, but please be respectful in this forum.
---
---
---
---
---
---
---
---
---
---
---
---
---
---
---
---
---
---
---
---
---