Westwood apologizes for lashing out on Twitter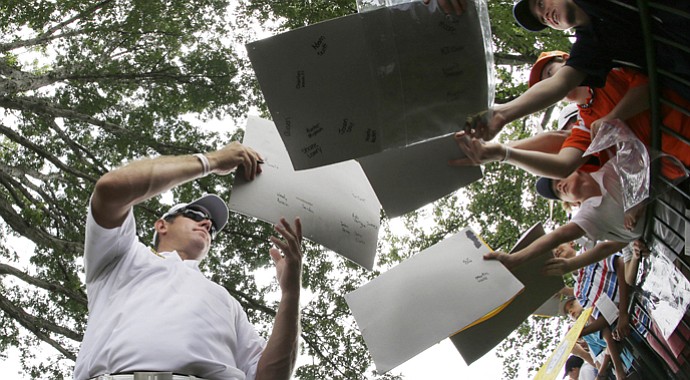 Monday, August 12, 2013
While newly crowned PGA Championship victor Jason Dufner has become known this season for starting the #Dufnering trend on social media, Lee Westwood seemingly stole the World Wide Web spotlight for a few hours late Sunday and early Monday.
It began with a fairly innocuous, yet clear, message from Westwood's Twitter account to his critics at 11:44 p.m. EDT, via @WestwoodLee: "You minions need to live from the inside out rather than the outside in!!!!"
Nothing unusual there. Pro golfers, pro athletes or any celebrity sometimes see fit to defend themselves on social media. The critical posts can be cruel and vulgar all too often.
But what followed was, indeed, beyond ordinary. Westwood continued to take on the "trolls," as they have long been called among Internet users, and retort while holding little back. It ended nearly three hours later with this remark: "Not been hacked. Just honest. Bored now. Westy out."
There was also an apology via Westwood's account just before noon Monday: "Sincere apologies to my sponsors and true followers for my earlier comments . It was out of order and out of character ,Westy ."
Most golfers and celebrities employ the discretion-is-the-better-part-of-valor approach to posts by "trolls." Some major media entities even discourage their public figures from engaging in such back-and-forths. Yet others are knows to stand up for themselves. Ian Poulter can occasionally be seen using a handful of tweets to turn back critics – and joined the fray with Westwood for a moment from his account, @IanJamesPoulter: "Morning my Sharkshootout partner @WestwoodLee. You been having some twitter trouble. Let me know next time we both let them have it. Funnier"
Westwood retweeted some remarks from "trolls," tacking on his own replies at the end of the post to which he was replying. His account's posts even on occasion showed a self-deprecating sense of humor, or merely talked soccer. Other times, his account's remarks simply employed the old theory that the best defense is a good offense.
By the way, Westwood shot 76 Sunday in the final round of the PGA Championship to finish T-33 at 3 over par.
• • •
Here is a sampling of tweets from Westwood's account during a busy post-major flurry of activity (view the entire thread at twitter.com/westwoodlee):
@WestwoodLee: '@BeastMODE916: @WestwoodLee Thoughts on @JasonDufner winning the PGA championship?"great. Deserved it!'
@WestwoodLee: ' "@Greeny781: @WestwoodLee How do you feel about your round today?"tried100% all the way round!'
@WestwoodLee: ' "@Louis_Evison: @WestwoodLee Will you just STFU and go and learn how to putt!!!"will you get a life first?'
@WestwoodLee: ' "@D4vidElliott: @WestwoodLee don't rise to it mate"just sick of negative a..holes sat behind a keyboard with a pitiful life mate !thats all!'
@WestwoodLee: '"@Louis_Evison: @WestwoodLee and you was obviously on the pints the night before your final round. You owe me £20 as well. Cheers xxx"oo £20'
@WestwoodLee: 'Like I give a [expletive] what the haters say! That's life ! Some people will always be just a little bit better and work just a little bit harder'
@WestwoodLee: 'Not my decent human beings followers of course. Just the [expletive] that should be locked up by the twitter police.'
@WestwoodLee: 'Oh yeah you're all quite now arnt you ! Come on ! Bring it on big boys! Yeah I thought not!'
@WestwoodLee: ' "@20_and_counting: @WestwoodLee put the phone down Westy before it gets out of hand - ill swap my career for yours #JustSaying"nowhyshouldi!'
@WestwoodLee; ' "@normy_kidd: @WestwoodLee you deserve all the stick you get after that last round of golf!"and I tried all the way. And you're a [expletive]!'
@WestwoodLee: 'Come on you girly boy trolls! I've only won just over 2 mill on course this year! Need you to keep me entertained a bit longer than this'
@WestwoodLee: 'The standard of spelling on twitter is diabolical ! Even with predictive!'
@WestwoodLee: ' "@JBeckett23: @WestwoodLee Has someone hacked your account Lee.. drink doesn't solve anything!"oh it does! Plenty!'
@WestwoodLee: ' "@tmckeever89: @WestwoodLee Lee what you make of monty slagging your game in commentary? Thought it was bit harsh.."who?'
@WestwoodLee: ' "@11_shaun: @WestwoodLee shut it Westwood. Your boring us all now #zzzzzzzzzz"haha! Look at Shaun and his perma tanned boy banned! Geltastic'
@WestwoodLee: 'Get to training Joey ! You need to run a bit of fat off! Trust me, I know!'
Golfweek.com readers: We value your input and welcome your comments, but please be respectful in this forum.
---
---
---
---
---
---
---
---
---
---
---
---
---
---
---
---
---
---
---
---
---