3 Tech players find ways to avoid U.S. Am traffic jam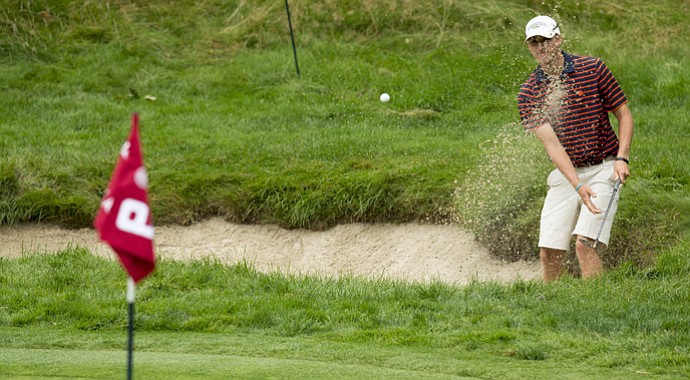 Wednesday, August 14, 2013
BROOKLINE, Mass. – If they think morning rush-hour traffic can be a brute in the Boston area, it will be nothing when compared to what will go on Wednesday morning in the middle of The Country Club's quiet back nine.
Seventeen players trying to jam into a space that is wide enough for only 15? Good luck trying to move quickly through that.
Then again, if you love golf –- especially when it's flavored of the amateur variety and the stage should be declared a National Historic Landmark because it is saturated in so much aura -– then the enjoyment doesn't come any better than this.
• • •
• • •
And, yes, we say that with all due respect to the two players who will be ousted when the playoff is completed to round out the field of 64 for match play in the 113th U.S. Amateur.
For the 49 players who finished 3 over or better, it was time to exhale and start brushing up on match-play strategies, because that's what they have the rest of the way. As for the 17-player logjam that at 7 a.m. will be headed to the 14th hole, nothing like a little 508-yard, par 4 with your morning coffee, eh? And the 491-yard, par-4 15th? A hefty breakfast, no doubt.
Just don't think that the 4-over 144 crowd is a record-setter, because it's not. Back in the 1988 U.S. Amateur, a 31-for-8 tussle broke out at The Homestead in Hot Springs, Va.
Perhaps the most intriguing storyline in the playoff is the presence of Patrick Rodgers, who has already been named to the U.S. Walker Cup team. The thing is, he's the only one of the five who has the chance to advance to match play, because Justin Thomas, Cory Whitsett, Max Homa, and Michael Kim were unceremoniously dismissed after surprisingly scratchy play at The Country Club and Charles River CC, a few miles away.
So, yeah, the championship is only two days and it's already a major bummer to Jim Holtgrieve, the Walker Cup captain.
But, hey, Bruce Heppler is fairly happy with the way things have unfolded. The Georgia Tech coach spent the better part of the last two days watching six of his Yellow Jackets compete and he went to dinner Tuesday night knowing three had advanced – Richy Werenski (73 at TCC for a 1-under 139 total), Bo Andrews (a sizzling 63 at Charles River to also get in at 139) and Seth Reeves, who rallied for a 67 at Charles River to finish T-27, at 142.
Though Anders Albertson, Ollie Schniederjans and Michael Hines did not advance, Heppler considered the week a rousing success, given that school isn't that far off and what has gone on the last few days can be considered great for team morale.
"The practice rounds were enjoyable," Heppler said. "And a lot of time the challenge is, how do you handle the down time? Do you sit around and stress about it? Or can you go to dinner and leave it at the golf course? What do you do when you're away from the golf course? So when you're here with your friends, and you do some stuff, you get away from thinking what it all means."
Heppler conceded that it's not always easy for players to balance all of this properly and Werenski is a perfect example. Conceding that it was a tough blow to be left off the team Georgia Tech sent to the NCAAs last spring, the senior-to-be sees this week as a "good way to end the summer."
Making an albatross at Charles River's par-5 16th, as he did Monday, was a positive way to begin his week and even when he backed up with a 73 at The Country Club, Werenski could smile. It's not something he did a lot of last spring. "I had some stuff going on, I was working on some things, just trying to get better," he said.
It's just that Heppler thought he was going about it the wrong way.
"Finally, it came to a head," Heppler said. "He just killed himself, beat himself up. It cost him."
Having stressed time and time again that "you'd be a better player if you were more positive," Hepler made a decision. Frustrated by Werenski's stubbornness to lighten up, the coach told the kid from South Hadley, Mass., that indeed "five guys got better than him."
Humbling? No doubt.
Instead of the NCAAs, Werenski's spring golf included a visit home where he and younger brother Mickey made a late decision to enter the Massachusetts Four-Ball Championship. They won.
"We thought it would be fun," Werenski said. "And it was."
There's no telling how much that one tournament helped, but Werenski is pleased with summer thus far and is wearing a smile to know that he's through into match play. Heppler? He wore a smile, too, but it came after Werenski hit a wild shot left at The Country Club's historic par-4 17th. Sound weird, to smile after one of your players went off line? No, because what Heppler liked is the way Werenski handled the mishap.
He took his drop, played another shot, accepted bogey, and didn't compound a mistake with another mistake.
With so many Yellow Jackets in the field, Werenski said he pondered the possibility that they might meet in match play, but "it wasn't actually something we talked about. But it would be cool. We fight against one another all the time at school."
It won't happen right away, because in Wednesday's first round, Werenski will take on Blair Hamilton of Canada, while Reeves will face Jordan Niebrugge.
And Andrews, he of the mighty 63 at Charles River? He'll play a guy named To Be Determined.
Popular name, To Be Determined. There are 15 of them presently in the pairings.
They will be properly named once that traffic jam is concluded Wednesday morning.
• • •
Scores through two rounds
Neil Raymond, England 67-67--134 CR
Brady Watt, Australia 68-66--134 CR
Oliver Goss, Australia 70-67--137 CR
Justin Shin, Canada 71-66--137 CR
Matt Fitzpatrick, England 67-70--137 T
Michael Miller, Brewster, N.Y. 69-69--138 CR
Nick Hardy, Northbrook, Ill. 65-73--138 T
Bryson Dechambeau, Clovis, Calif. 67-71--138 T
Sean Dale, Jacksonville, Fla. 70-69--139 CR
Stewart Jolly, Birmingham, Ala. 74-65--139 CR
Wyndham Clark, Greenwood Village, Colo. 71-68--139 CR
Bo Andrews, Raleigh, N.C. 76-63--139 CR
Max Orrin, England 69-70--139 T
Scott Wolfes, St. Simons Island, Ga. 72-67--139 T
Charlie Hughes, Canada 71-68--139 T
Richy Werenski, South Hadley, Mass. 66-73--139 T
Nathan Holman, Australia 72-68--140 CR
Sebastian Cappelen, Denmark 73-67--140 CR
Xander Schauffele, San Diego, Calif. 69-71--140 T
Adam Ball, Richmond, Va. 72-69--141 CR
Rico Hoey, Rancho Cucamonga, Calif. 73-68--141 CR
Brandon Matthews, Dupont, Pa. 69-72--141 T
Ricardo Gouveia, Portugal 68-73--141 T
Greg Eason, England 70-71--141 T
Rodolfo Cazaubon, Mexico 71-70--141 T
Matthias Schwab, Austria 71-70--141 T
Eli Cole, Beverly Hills, Calif. 76-66--142 CR
Blake Morris, Waterbury, Conn. 73-69--142 CR
Jim Liu, Smithtown, N.Y. 72-70--142 CR
Carr Vernon, Poplar Bluff, Mo. 75-67--142 CR
Seth Reeves, Duluth, Ga. 75-67--142 CR
Julian Suri, St. Augustine, Fla. 71-71--142 CR
Zachary Olsen, Cordova, Tenn. 75-67--142 CR
Jordan Niebrugge, Mequon, Wis. 69-73--142 T
Matt Emery, Franklin, Tenn. 71-71--142 T
Chelso Barrett, Surry, N.H. 72-70--142 T
Cory McElyea, Santa Cruz, Calif. 73-69--142 T
Charlie Danielson, Osceola, Wis. 72-71--143 CR
Adam Schenk, Vincennes, Ind. 74-69--143 CR
Corey Conners, Canada 70-73--143 CR
Michael Weaver, Fresno, Calif. 74-69--143 CR
Brandon Hagy, Westlake Village, Calif. 72-71--143 CR
Matt Pinizzotto, Salinas, Calif. 73-70--143 CR
Bobby Wyatt, Mobile, Ala. 71-72--143 T
Joey Petronio, Orlando, Fla. 70-73--143 T
Richard Hearden III, Green Bay, Wis. 68-75--143 T
Steven Zychowski, Mendham, N.J. 70-73--143 T
Andrew Price, Lake Bluff, Ill. 71-72--143 T
Blair Hamilton, Canada 70-73--143 T
*Sean Yu, Chinese Taipei 75-69--144 CR
*Chase Koepka, Lake Worth, Fla. 76-68--144 CR
*Gerrit Chambers, Brush Prairie, Wash. 76-68--144 CR
*Gavin Hall, Pittsford, N.Y. 73-71--144 CR
*Jason Anthony, Fairfeld, Calif. 72-72--144 CR
*Rhys Pugh, Wales 70-74--144 CR
*Jordan Smith, England 72-72--144 CR
*Ian Davis, Edmond, Okla. 76-68--144 CR
*Scottie Scheffler, Dallas, Texas 74-70--144 CR
*Patrick Rodgers, Avon, Ind. 73-71--144 CR
*Sean Walsh, Keller, Texas 71-73--144 T
*Jade Scott, Daingerfield, Texas 74-70--144 T
*Zac Blair, Ogden, Utah 69-75--144 T
*Tyler Klava, Pace, Fla. 67-77--144 T
*Toni Hakula, Finland 70-74--144 T
*Mario Clemens, Mexico 70-74--144 T
*Gavin Green, Malaysia 73-71--144 T
Failed to qualify
Sam Bernstein, New York, N.Y. 74-71--145 CR
Ryan Benton, Dothan, Ala. 73-72--145 CR
Beau Hossler, Mission Viejo, Calif. 72-73--145 CR
Zach Hughes, Mobile, Ala. 74-71--145 CR
Stewart Hagestad, Newport Beach, Calif. 74-71--145 CR
Greyson Sigg, Augusta, Ga. 72-73--145 CR
Brendan Leonard, Canada 75-70--145 CR
Chad Ramey, Fulton, Miss. 74-71--145 CR
Anders Albertson, Woodstock, Ga. 72-73--145 CR
Oliver Schniederjans, Powder Springs, Ga. 72-73--145 CR
Peter Williamson, Hanover, N.H. 74-71--145 T
Nicholas Reach, Moscow, Pa. 73-72--145 T
Scott Fernandez, Spain 69-76--145 T
Turner Southey-Gordon, Canada 68-77--145 T
Robby Shelton, Wilmer, Ala. 72-73--145 T
Glen Scher, Agoura Hills, Calif. 72-73--145 T
Golfweek.com readers: We value your input and welcome your comments, but please be respectful in this forum.
---
---
---
---
---
---
---
---
---
---
---
---
---
---
---
---
---
---
---
---
---