Youth is served, as Europe romps past U.S. at Solheim Cup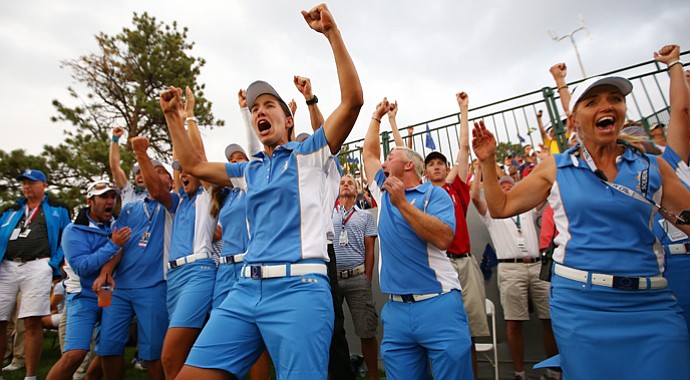 Monday, August 19, 2013
PARKER, Colo. – Two years ago many questioned the relevance of the Solheim Cup. The U.S. had won four of the last five Cups and Europe seemed a distant second.
---
Photo Gallery
PHOTOS: Team Europe celebrates Solheim Cup win
The European team was understandably exuberant in winning the 2013 Solheim Cup – it being the squad's first victory on U.S. soil. See some of their celebration here!
---
"Bring on the Asians, some said."
And now, as Dottie Pepper sat beside the 18th green waiting for the final match to come in, the Europeans an hour deep into their celebration, one of the fiercest competitors the game has ever seen stated an obvious, yet painful fact about American golf:
"The world has caught up and passed (us)," Pepper said.
For the first time in Solheim Cup history, the Europeans won on American soil. But they didn't just win, they dominated, taking the Cup with a final tally of 18-10.
Caroline Hedwall, a ferocious Swede playing in only her second Solheim Cup, doesn't know what it's like to lose. The only player in the competition to play all five matches, Hedwall became the first player to win five points.
"I'm just shaking," said Hedwall after making a 4-foot birdie putt on the last hole to defeat Michelle Wie and assure the Europeans of taking the Cup. Hedwall called it the best moment of her life.
The European rookies – six in all – combined to win 13 points. Credit European captain Liselotte Neumann for having the guts to pick these youngsters and then giving them a chance to run hard for her Saturday afternoon, when they swept the four-balls session 4-0 to set up a commanding 5-point lead going into singles. Europe's three most experienced players were on the bench that session.
---
Photo Gallery
PHOTOS: Solheim Cup (Sunday)
A look at photos from singles play at the 2013 Solheim Cup.
---
"It's massive for women's golf," said Suzann Pettersen. "We took it to them and they couldn't answer."
The brightest spot in the three-day competition was 17-year-old Charley Hull, who delighted fans with her mature demeanor on the golf course and impressive play. Hull's comments all week showed a young psyche that wasn't at all phased by the game's most pressure-packed stage. Before she teed off in her Friday four-ball with Catriona Matthew, Hull asked Matthew when she was supposed to feel nervous.
"If you don't feel nervous now, you might not ever," Matthew replied.
Just how fresh-faced was Hull?
When Pettersen told her Sunday morning she was playing against Lizette Salas, Hull asked "Who is Salas?"
Turns out fearless and clueless are a tough to beat.
Brittany Lang was the only player on the U.S. team to win three points. Next in line with two points: Michelle Wie. Meg Mallon's controversial pick more than justified her place on the team, taking Cup MVP Hedwall to the 18th green.
When Hedwall closed her out with birdie on the last, Wie hugged her teammates and then went back to her bag to get out her sunglasses to hide the tears.
"Heart-breaking, absolutely heart-breaking," Wie said.
The Americans lead the series 8-5, but one gets the feeling it won't get any easier for the Stars-and-Stripes in years to come.
"I think it was time for a change," said Pettersen. "Time to let the more experienced go and let the future in."
Alison Nicholas, the European captain who tried to instill the Americans' can-do attitude into her 2011 team (and won), was wiping away tears of her own after hugging Neumann beside the 18th green. Nicholas said some of the players who competed in this year's Junior Solheim Cup will likely be on the European team in 2015 when it's contested in Germany for the first time.
The youth is rising.
"Now that we've done it in America," said Nicholas, "there will be no stopping us."
Golfweek.com readers: We value your input and welcome your comments, but please be respectful in this forum.
---
---
---
---
---
---
---
---
---
---
---
---
---
---
---
---
---
---
---
---
---