Barclays delay brings out players' cellphone cameras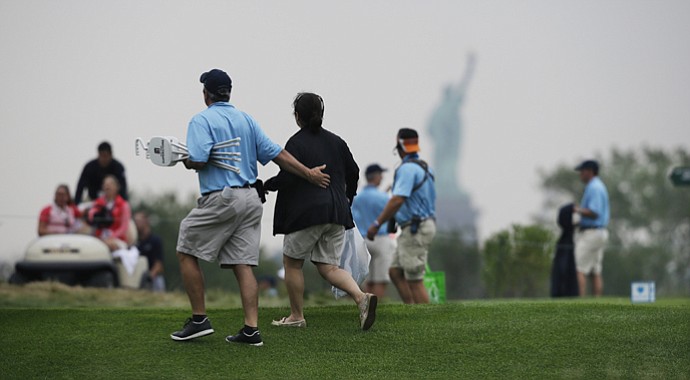 Thursday, August 22, 2013
During the first-round rain delays at the 2013 Barclays, a few cellphone cameras came out in and around the Liberty National clubhouse. Here are some pictures that have been posted on the Twitter accounts of players, caddies and other golf notables during the delays and earlier Thursday:
• • •
Jordan Spieth, @JordanSpieth: "Rain delays on tour #chalmers #playoffs #barclays instagram.com/p/dUyAoShR95/"
John Rollins, @John_Rollins: "I guess @BrandtSnedeker is dreaming of winning his second straight #FedExCup pic.twitter.com/4YBYZXARqv"
Caddie Craig Connelly, @theweeman77: "Here's what legends do during rain delays... The one and only Mike 'Fluff' Cowan... moby.to/78x5i8"
Connelly: "Down on the 14th you have a view of Lady Liberty, Jersey City, Manhattan and Brooklyn... moby.to/ahqxw5"
Graeme McDowell, @Graeme_McDowell: "Rough looking radar here in the NY area #ouch moby.to/gaw7oc"
McDowell: "Could be long day but ready for night golf thanks to my new @iliacgolf covers! Giving my @Nonabluetavern love! #like? moby.to/3e23jc"
Golfweek.com readers: We value your input and welcome your comments, but please be respectful in this forum.
---
---
---
---
---
---
---
---
---
---
---
---
---
---
---
---
---
---
---
---
---