Orange out: Fowler, Blixt wear identical outfits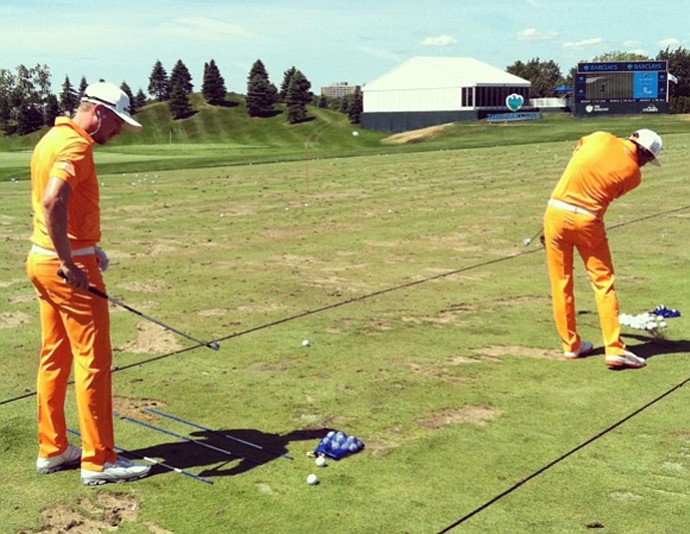 Tuesday, August 27, 2013
JERSEY CITY, N.J. – You can almost hear the joke now.
"Knock, knock."
"Who's there?"
"Orange."
"Orange who?"
"Orange you glad I wore orange?"
Ah, those lovable Puma guys, Rickie Fowler and Jonas Blixt, showed great teamwork – not to mention a marketing savvy – by getting together to don matching outfits for Sunday's final round of The Barclays at Liberty National.
No surprise, the color was orange, given that Fowler has adopted that as his personal color. Credit his love of his alma mater, Oklahoma State, but to Fowler, he's Sunday Orange the way Tiger Woods is Sunday Red.
But when the pairings came out late Saturday and Blixt discovered he'd be paired with Fowler, both at 7 under and five off the lead, the Puma minds got spinning.
The decision to wear matching top-to-bottom orange in Sunday's final round of The Barclays?
"His idea," Fowler said, pointing to Blixt.
Blixt shook his head and offered a slight grin. He knew the outfits, especially in front of a New York crowd, were going to bring much attention to his play. When he shot 81, it wasn't easy. "It brings you down a little bit," Blixt said.
Would he do it again?
"No, obviously," said the Swede. "I'm going to burn (the outfit)."
Fowler made it sound like that wouldn't happen. The second orange outfit, after all, was his. Yes, he travels with more than one set of orange pants and orange shirt. "Five or six pairs," Fowler said. "Orange is a warming color."
What surprised Fowler is that "a lot of people didn't understand that we are friends and that this was planned."
Golfweek.com readers: We value your input and welcome your comments, but please be respectful in this forum.
---
---
---
---
---
---
---
---
---
---
---
---
---
---
---
---
---
---
---
---
---